La Jolla News Nuggets: Whaling Bar, pothole forum, walking tours, more
Plans submitted to San Diego for Whaling Bar's return to La Valencia
In the first of many steps to come, the La Valencia Hotel has submitted plans to the city of San Diego for the return of its renowned Whaling Bar.
"This is still part of the initial permitting process ... [so] we don't have a date … for an estimated opening," said marketing director Annalise Dewhurst.
The La Valencia opened as an apartment hotel in December 1926. The Whaling Bar opened in the late 1940s and hosted authors, Hollywood personalities and more. The Whaling Bar officially closed in February 2013 and became Cafe La Rue later that year.
In 2021, designers issued a survey about the Whaling Bar and received more than 300 responses. At the time, Dewhurst said the hotel was "aiming to finalize a design that celebrates the Whaling Bar's rich history and story in the current space. Like all businesses and industries, the challenges of the [COVID-19 pandemic] have slowed the project, but we look forward to continuing with the design phase."
La Jolla Town Council will hold forum about potholes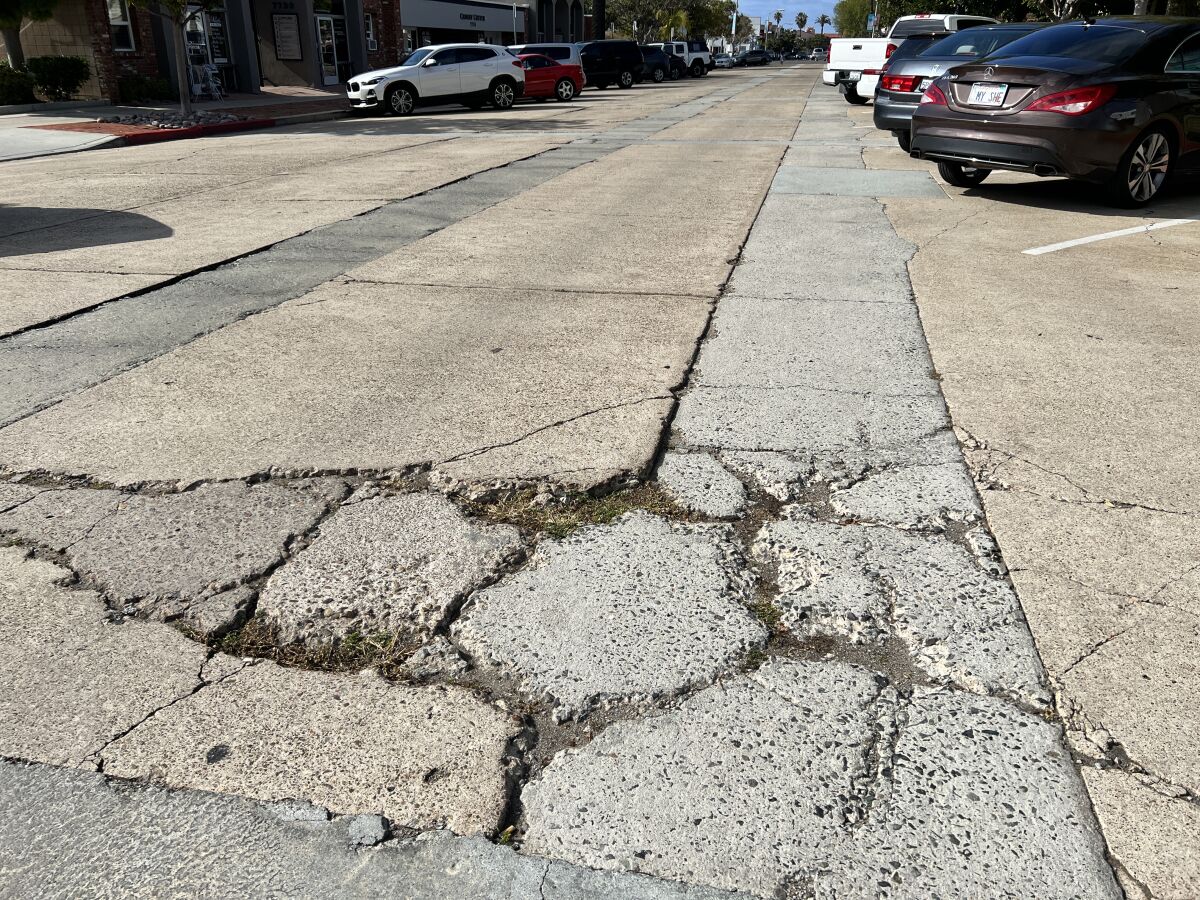 The La Jolla Town Council meeting on Thursday, Feb. 9, will be a forum to discuss local road conditions.
If you have experienced tire damage due to potholes in La Jolla or have a safety concern about driving over them, you are invited to speak at the meeting, which will begin at 5 p.m. at the La Jolla Recreation Center, 615 Prospect St.

In addition, the Town Council is seeking new trustees and is taking nominations through February.
Candidates must live or work in the 92037 ZIP code and should have attended at least three Town Council meetings in the 12 months before the March selections. Each candidate will be required to complete consent-to-serve and conflict-of-interest forms and must commit to attend the monthly meetings.
The existing trustees will vote on the candidates. To apply, visit lajollatowncouncil.org.
For more information, email ljtowncouncil@gmail.com or call (858) 454-1444.
Historical Society walking tours to look at beach, Village and churches
The La Jolla Historical Society will resume its walking tours this month and has announced the first three dates and themes.
The first of the Thursday tours will be "Let's Go to the Beach" on Feb. 16, followed by "The Well-Lived Village" on March 16 and "Village Churches of Historic La Jolla" on April 6.
The walks, led by historian Carol Olten, last about 90 minutes, starting at 2 p.m. from Wisteria Cottage, 780 Prospect St. (unless otherwise noted). Comfortable shoes, hats and sunglasses are encouraged.
The cost is $10 per person, or free for Historical Society members. Learn more at lajollahistory.org.
UCSD neurodegenerative researcher receives funding from Rainwater Foundation
UC San Diego researcher Don Cleveland is part of a team that recently received $400,000 from the Rainwater Charitable Foundation, one of the largest independent funders of research on neurodegenerative diseases, as this year's recipients of the Rainwater Annual Prize for Outstanding Innovation in Neurodegenerative Research.
Cleveland, professor and chairman of cellular and molecular medicine at UCSD, discovered, purified and determined the properties of the tau protein, the major component of the intracellular deposits that define several neurodegenerative diseases, including progressive supranuclear palsy, according to the Rainwater Foundation. He also helped develop designer DNA drugs that use technology that silences genes in the human nervous system that have been studied in seven clinical trials aiming to treat ALS and Huntington's, Parkinson's and Alzheimer's diseases.
Along with Cleveland, Frank Bennett, chief scientific officer at Carlsbad-based Ionis Pharmaceuticals, and Dr. Timothy Miller of Washington University in St. Louis were awarded the prize as a group.
UC San Diego Health gastrointestinal endoscopy unit is recognized nationally
UC San Diego Health's gastrointestinal endoscopy program has been recognized as a leader in quality and safety by the American Society for Gastrointestinal Endoscopy.
The unit is one of 35 endoscopy centers in California and 600 nationally to be recognized. It was first awarded the honor in 2009, the inaugural year of the ASGE endoscopy unit recognition program.
In the 2022-23 U.S. News & World Report "Best Hospital" survey, gastroenterology and GI surgery at UCSD Health ranked No. 11.
Veterans Memorial and garden groups participate in fundraiser
Members of the Mount Soledad Veterans Memorial Association and The Village Garden Club of La Jolla came together recently for a fundraiser to highlight the Mount Soledad National Veterans Memorial in La Jolla and provide grant funding for local schoolyard gardens.
The Village Garden Club and guests heard stories from docents about the 5,527 veterans honored at the memorial and learned about its history from Veterans Memorial Association Executive Director Neil O'Connell.
Garden club members also received a peek at landscaping plans from Christian Economue, owner of Inclusive Gardening.
Grants from the garden club support schools throughout San Diego County and provide a place for students to learn about gardening practices and nutrition. Last year, the club provided more than $16,500 in gardening grants to 37 schools in the county.
For more information about the Mount Soledad National Veterans Memorial, visit mtsoledadmemorial.org.
— Compiled by La Jolla Light staff ◆
Get the La Jolla Light weekly in your inbox
News, features and sports about La Jolla, every Thursday for free
You may occasionally receive promotional content from the La Jolla Light.