Enhance La Jolla hoping for contract change to reduce trip-and-fall liability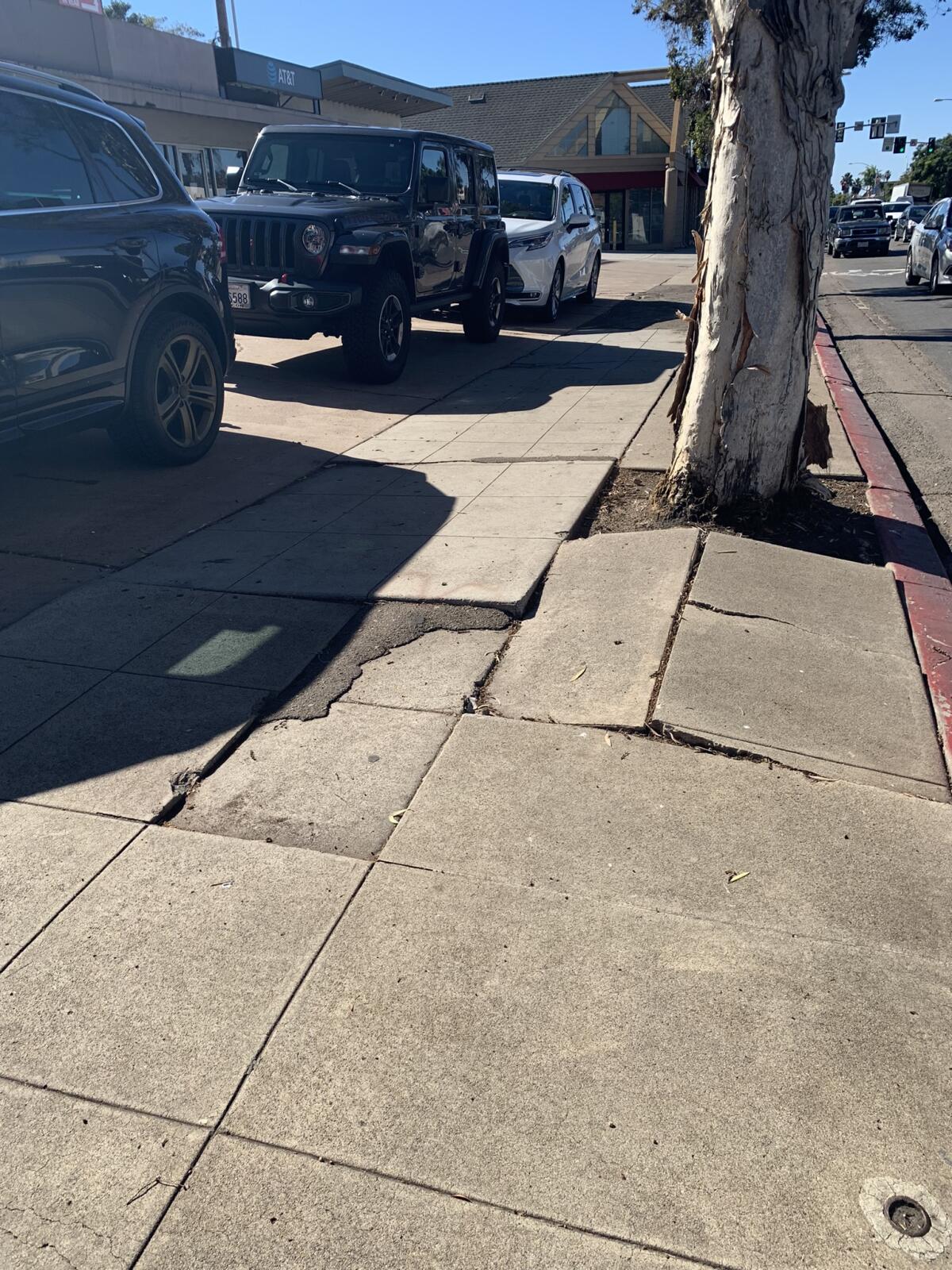 Change may be coming to reduce Enhance La Jolla's liability in trip-and-fall lawsuits like those that have plagued the board recently. Enhance La Jolla Chairman Ed Witt said contract language with the city of San Diego that outlines certain responsibilities is in the process of being revised.
Enhance La Jolla is a nonprofit that manages The Village Maintenance Assessment District with authority to enhance city-provided services, including landscape maintenance, street and sidewalk cleaning, litter and graffiti abatement and additional trash collection. It also can privately fund and complete capital improvement projects in public spaces, such as trash can upgrades, bench installation, sign augmentation, park improvements, public art, and tree canopies on main thoroughfares.
Enhance La Jolla was brought into two lawsuits filed against the city after the plaintiffs tripped on sidewalks in The Village. The city argued the group bore some responsibility.
Get the La Jolla Light weekly in your inbox
News, features and sports about La Jolla, every Thursday for free
You may occasionally receive promotional content from the La Jolla Light.
"I have talked to our councilman [Joe LaCava, whose City Council District 1 includes La Jolla], who has been very hard at work in trying to handle this, and it appears the city is working on new contract wording to lessen the liability of MADs all over the city," Witt said at Enhance La Jolla's Jan. 19 meeting.
City representatives did not respond to the La Jolla Light's request for comment about the contract.
A lawsuit last year stated that in January 2020, a resident tripped in an empty tree well on the sidewalk on Pearl Street in La Jolla, fell and hit her face on the ground.
The suit contended the city had removed the tree but did not fill or otherwise fix the hole left behind and failed to ensure the sidewalk was safe to use.
Eleven months after the trip reportedly occurred, Enhance La Jolla began a tree-planting project along Pearl Street in collaboration with The Village Garden Club of La Jolla for strategic placement of 21 trees in empty tree wells and dirt patches. The well involved in the lawsuit was among the ones filled with a tree.
The city told Enhance La Jolla that it was of the impression that the group had removed the tree and therefore created the hole, meaning it may share in the responsibility. However, Witt said the tree well had been empty for years.
The suit was settled for $40,000, and Enhance La Jolla's insurance paid for it, Witt said.
A second fall reportedly occurred in September 2021 on the sidewalk next to the Empress Hotel and a suit was filed in June 2022. Enhance La Jolla was again brought into the case because the city argued that it should have identified and "barricaded" the hazard with caution tape and/or cones and notified the city.
"In 2019, Enhance La Jolla Inc. signed a four-year contract with the city to manage operations of the La Jolla Maintenance Assessment District, the boundaries of which include the sidewalk where the alleged incident occurred," said Leslie Wolf Branscomb, public information officer for the San Diego city attorney's office. "In that contract, Enhance La Jolla Inc. agreed to regularly maintain all sidewalks consistent with [a] City Council policy and to barricade all sidewalk safety hazards and to notify the city. Plaintiff alleges the sidewalk condition was a safety hazard."
A new contract is to go into effect July 1, which could leave the board susceptible through June 30. So Witt said work is underway to change the existing contract. "We want to get that amended … and [the city] is working on that," he said.
Witt said he has been assured that a contract revision is in process to reduce or eliminate the barricade requirement and make changes to other levels of liability. "I haven't seen it in writing," he added.
In November, Witt, Enhance La Jolla board member Steve Warfield and MAD Manager Mary Montgomery submitted a document to the city listing 1,270 trip hazards compiled after several days of walking Village sidewalks to identify them.
Other Enhance La Jolla news
Services: Another aspect of the new MAD contract will be better delineation between the responsibilities of the city and Enhance La Jolla, Montgomery said.
There will be "a differentiation between baseline services and enhanced services" to clarify what is within Enhance La Jolla's jurisdiction, she said. "We're looking at the core language to determine what is a baseline city service and can be dealt with as such."
Witt said "the baseline work that is supposed to be going on isn't always happening. But I think all of us being involved, doing what we do, staying focused, is going to move this forward."
Next meeting: Enhance La Jolla meets quarterly or as needed. The next meeting is scheduled for 4 p.m. Thursday, April 20, likely at the Museum of Contemporary Art San Diego, 700 Prospect St. Learn more at enhancelajolla.org. ◆
Get the La Jolla Light weekly in your inbox
News, features and sports about La Jolla, every Thursday for free
You may occasionally receive promotional content from the La Jolla Light.