'Mount Soledad Wave': La Jollan organizes airborne salute to military veterans
Video: Two biplanes fly over the National Veterans Memorial in La Jolla, rocking their wings in a gesture of respect.
Two biplanes "saluted" the Mount Soledad National Veterans Memorial in La Jolla on Jan. 18 in what organizers hope will take flight as a tradition.
Organizer and La Jolla resident Bill "Sweetwater" LaBarge called it the "Mount Soledad Wave." Two biplanes from San Diego Sky Tours took off from Montgomery-Gibbs Executive Airport in San Diego shortly after noon and flew west, circling Mount Soledad twice before rounding it a third time and rocking their wings side to side in salute.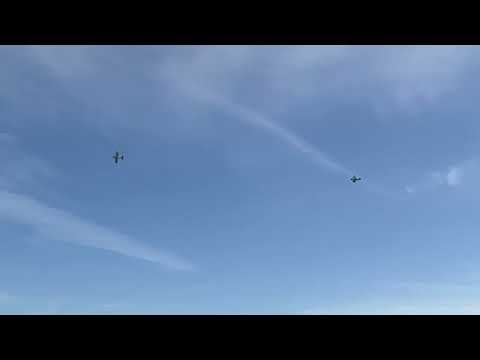 LaBarge, a former Navy carrier pilot, commercial airline captain and author whose plaque is among the more than 5,000 honoring veterans at the La Jolla site, said the Jan. 18 salute wasn't an airshow but simply a way to bring awareness to the sacrifices made by military service members.
In many visits to Mount Soledad, he said, he noticed aircraft flying overhead and figured having planes tip their wings in salute would be a great way to pay tribute to those memorialized on the walls. Rocking a plane's wings mimics the military's gesture of respect among its personnel.
Todd Fisher — whose late father, Leonard Fisher, lived in La Jolla and has a plaque on Mount Soledad — helped organize the Mount Soledad Wave. "It's a military salute," he said. "That's the important thing."
Fisher and LaBarge cheered as the biplanes, piloted by former Marines Earl "The Pearl" Wederbrook and Scott "Jake" Jacobson, flew around and rocked side to side.
"That was great," LaBarge said.
Fisher, a resident of South Dakota who has an office in Point Loma, said he and LaBarge will promote photos and videos of the Wave on social media in hopes that more pilots will take on the gesture and more people will visit the memorial.
"Let's honor the honorees," Fisher said. ◆
Get the La Jolla Light weekly in your inbox
News, features and sports about La Jolla, every Thursday for free
You may occasionally receive promotional content from the La Jolla Light.