La Jolla woman finds her first world triathlon championship after 24 years of competition 'very gratifying'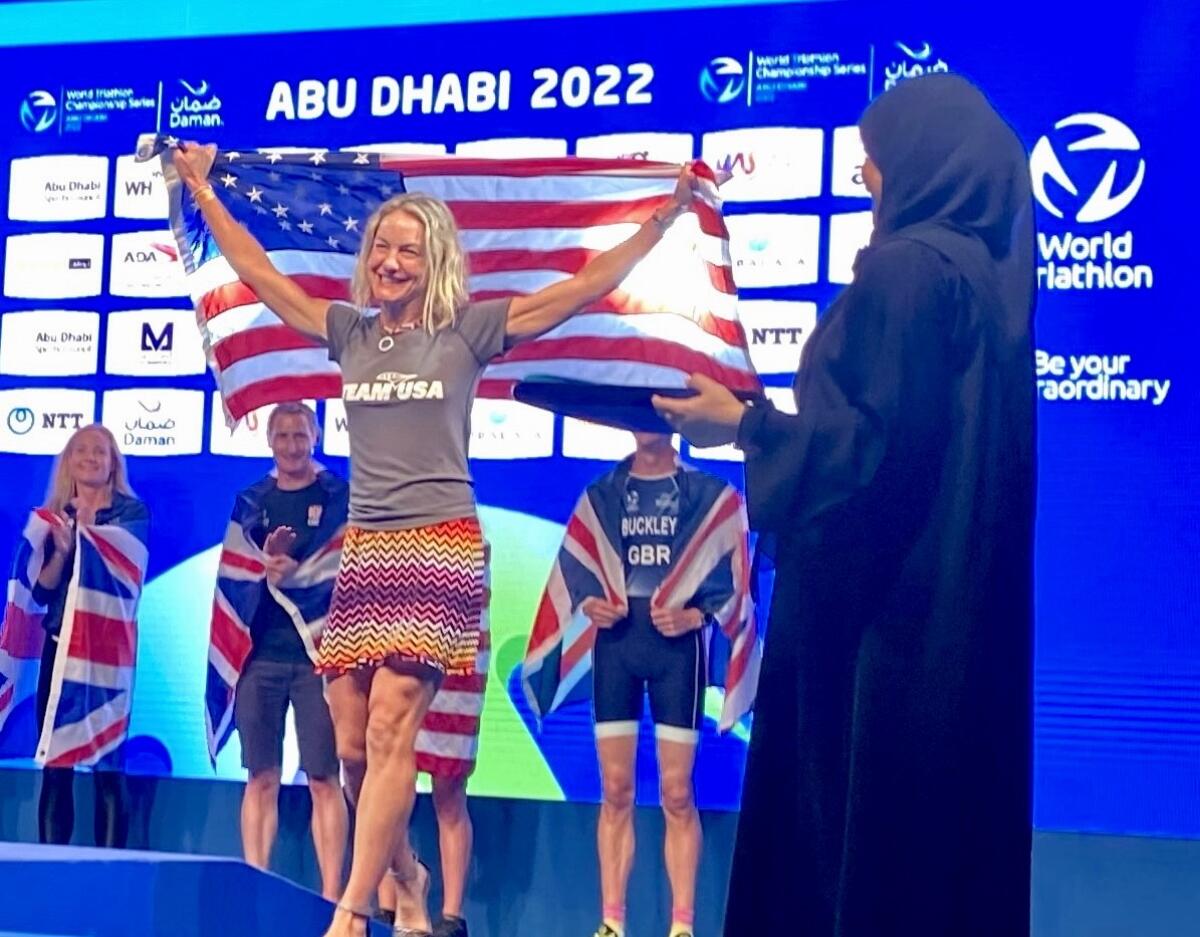 One might think La Jolla resident Marisa Rastetter would cool her heels a bit after winning a world triathlon championship, but Rastetter says there's no downtime as she races toward her next event.
Rastetter, 48, won first place among 11 entrants in the Supersprint distance for ages 45-49 at the 2022 World Triathlon Championships in Abu Dhabi, United Arab Emirates, in November.
Two days later, she took third place among 33 entrants in the Olympic-distance triathlon for her age group.
A triathlon combines swimming, cycling and running.
Those accomplishments feel "amazing," she said. "I've never won a world championship before. … It was very gratifying to win.
"Winning a world championship is even more special because [when] you're on the podium, they give you a USA flag. It's all different countries represented, and it's always nice to be on the top of the podium."
Rastetter, who qualified for the November event at a 2021 competition in Milwaukee, has been competing in triathlons for more than 24 years. She said there are five types of triathlons: Ironman, a 2.4-mile swim, 112-mile bike ride and 26.2-mile run; Half-Ironman or 70.3 Ironman, a 1.2-mile swim, 56-mile bike ride and 13.1-mile run; Olympic distance or Standard distance, a 0.93-mile swim, 24.8-mile bike ride and 6.2-mile swim; Sprint distance, a half-mile swim, 12.4-mile bike ride and 3.1-mile swim; and Supersprint distance, a quarter-mile swim, 6.2-mile bike ride and 1.6-mile run.
Rastetter said her victory at Abu Dhabi was especially satisfying because she was challenged by staggered start times in which all female entrants jumped into the water at different times.
"When I crossed the finish line, I didn't actually know I had won," said Rastetter, who completed the Supersprint in 38 minutes.
"I prefer to race head to head" so she can keep her opponents in view, she said.
She raced in the Ironman World Championship in Kona, Hawaii, the month before racing in the Emirates. "I basically went from the longest triathlon you can race to the very shortest," she said.
Rastetter, a lawyer who moved to La Jolla in 2005, said she was hooked on triathlons from her first one in 1998.
"I swam in college and I ran to keep fit," she said. "When I moved to Washington, D.C., after college, I kept swimming for social and fitness reasons. And then I started running a little bit more and entered some local run races there."
An intern in her office told her about triathlons and encouraged her to train for one. Rastetter has never looked back.
"I love the sport," she said. "I love having the challenge of having to do all three sports in one event."
She said she moved to San Diego expressly for triathlons, as San Diego, along with Boulder, Colo., is known as a "triathlon hub." She also has family locally.
Rastetter has competed in up to 15 triathlons a year at various distances.
"I don't do an Ironman every year," she said. "It's a huge commitment."
"Winning a world championship is even more special because [when] you're on the podium, they give you a USA flag. It's all different countries represented, and it's always nice to be on the top of the podium."
— Marisa Rastetter
The biggest investment for a triathlon athlete is the bike, Rastetter said. She bought a triathlon-specific bike that she took to Abu Dhabi and other competitions.
She said she trains every day and about 15 hours a week, often with a triathlon coach in Carlsbad who tells her when to work out and how long to exercise each week. "Sometimes people actually tend to work out too much," Rastetter said, and a coach can keep athletes in balance.
"There are days when I just do one sport and there's a few days when I do all three sports," she said. "And there are days I also do weightlifting. As I've gotten older, I add in mobility and stretching."
Rastetter said the triathlons enable her to travel the world and see new places like Abu Dhabi. She noted that the 2023 championships are in Spain.
She enjoys "the community of triathlon," she said, "getting to know other athletes [who] now are my friends." ◆
Get the La Jolla Light weekly in your inbox
News, features and sports about La Jolla, every Thursday for free
You may occasionally receive promotional content from the La Jolla Light.