'I never think about my age': La Jollan Lucienne Guillemin reflects on a century of loss, love and music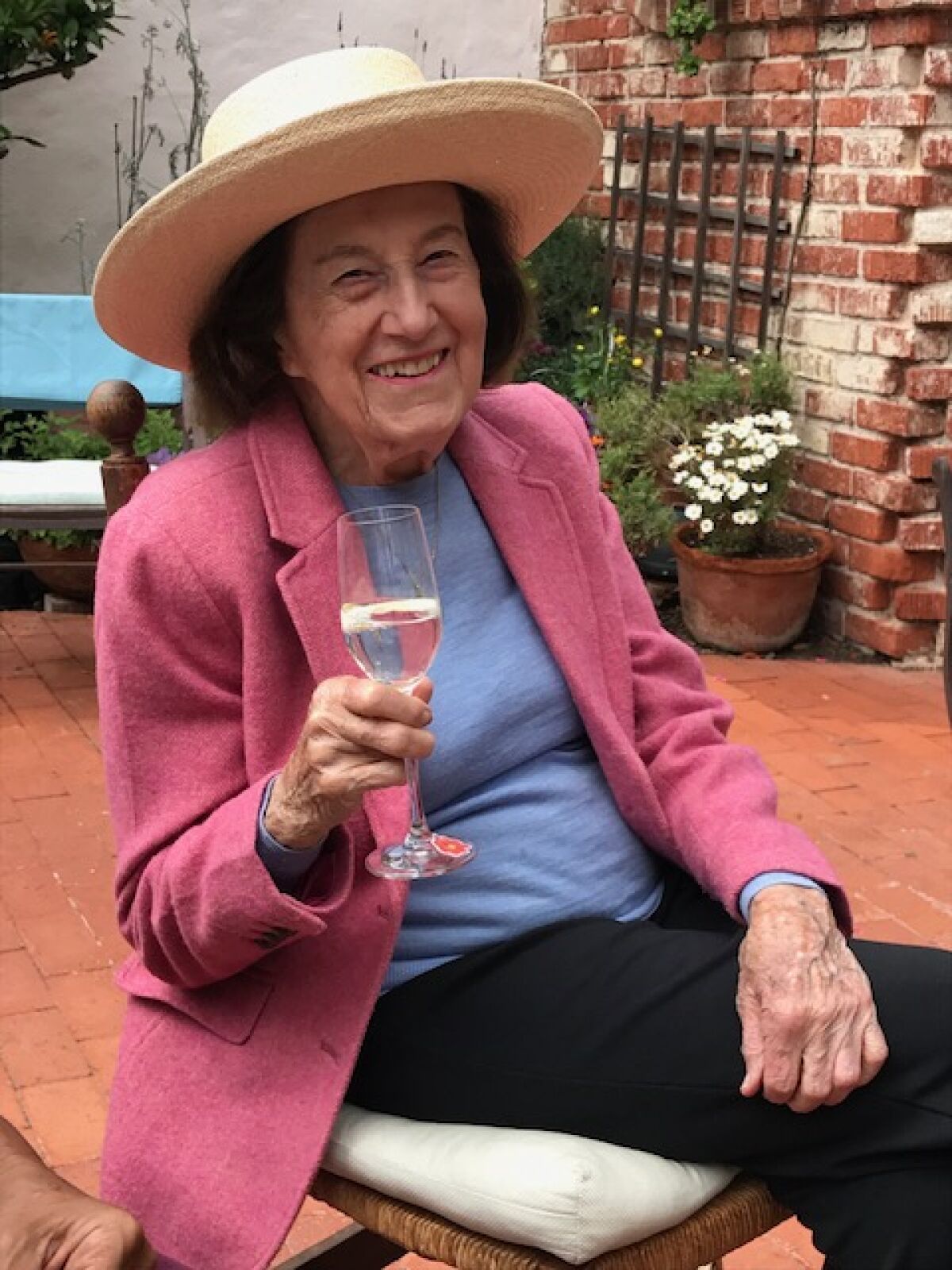 La Jolla gains another centenarian next week in Lucienne Guillemin, who will celebrate with cake and wine, surrounded by those she loves after a century of travel and music.
Guillemin was born Lucienne Billard on Feb. 18, 1921, in Paris but moved to French Canada shortly afterward.
She experienced her first and most profound loss as a young child, when her mother died of tuberculosis.
Guillemin said her earliest memory is "on the boat back to France from Canada with my sister and our deceased mother on board. I was 3 years old."
Guillemin and her year-older sister, Charlotte, were being sent to Guillemin's maternal grandmother, who raised the girls for a few years.
"I did not have a father either; he was traveling in Canada," said Guillemin, who added that she saw him only a couple of times throughout her childhood.
When she was 5, her father sent her and Charlotte to a boarding school in Tassin, France, where Guillemin met the person she said has influenced her the most — "my first music teacher ... a nun named Madame France. She made an impression on me."
Guillemin said Madame France imparted to her a love of music. She learned to play piano and later harpsichord and continued to study music over the next several decades until arthritis prevented it. She attended concerts until the coronavirus pandemic kept her at home.
Charlotte died of tuberculosis meningitis when Guillemin was 16. Two years later, World War II began and Guillemin, who worked as a secretary in Lyon, France, at the time, hid Jews in her apartment until the war was over.
"Everybody was kissing" when Lyon was liberated from Nazi occupation in 1944, she said. "We got rid of the enemies."
Guillemin said her best decade was the one after World War II, marked by the expansion of her family. At 27, she moved to Canada to be near her father and half siblings, learning English and earning a nursing degree in Montreal.
While working in a hospital, she cared for Roger Guillemin, a medical student from France who was suffering from tuberculosis meningitis. He recovered and the two were married in 1952. They welcomed their first child a short time later.
They moved to Houston, where Roger, a neuroendocrinologist, led a research lab at Baylor College of Medicine, and the couple had five more children. Lucienne worked to ensure that all six of their children were literate in English and French and cultivated musical talents.
In 1960, the family moved to France as Roger began research at the Collège de France in Paris. They returned to Houston in 1963 because Roger felt his research would advance faster in the United States.
Seven years later, Roger and Lucienne relocated the family once more, this time to La Jolla. At the invitation of Jonas Salk, Roger established his research laboratory at the Salk Institute for Biological Studies. He received the Nobel Prize in Physiology or Medicine in 1977.
Lucienne traveled the globe extensively, with Roger or alone, in the decades to come but has always returned to her home in La Jolla's Country Club neighborhood. "We have the beautiful sunsets; nowhere else you can get," she said.
She and Roger, now 97, still enjoy the view of the sunset over the ocean from their house nightly.
Get the La Jolla Light weekly in your inbox
News, features and sports about La Jolla, every Thursday for free
You may occasionally receive promotional content from the La Jolla Light.
Lucienne said the secret to her longevity is "very simply the way I am living my life with my husband and my children. I have six children, four grandchildren and one great-grandchild. I get great sleep. … I eat fresh food and I never think about my age."
Reflecting on her early years, she said she is "very sensitive to the loss of people. I've had many problems in my early life. I've lost my family and many friends. It is not easy."
Enduring grief, however, strengthened her, she said. "I learned to depend on myself to be able to handle the situations."
"I've had a lot of energy since I was very young," she added. "I tried to put the stress into energy, to give me more energy."
Three of her daughters, Claire Guillemin (who currently lives with Lucienne and Roger), Helene Guillemin Weiss and Chantal Guillemin, said Lucienne is still full of that energy and has never used a cane or walker to move about.
In celebration of Lucienne's 100th birthday, Guillemin Weiss and another daughter, Elisabeth Guillemin, are coordinating a party for Feb. 20 with a pandemic-friendly dinner including masks, cake and California-made wine called Lucienne.
Family members are expected to call in from Europe and Canada via Zoom.
"It'll be busy," Claire Guillemin said.
Lucienne replied with a smile: "Yes!" ◆
---
Get the La Jolla Light weekly in your inbox
News, features and sports about La Jolla, every Thursday for free
You may occasionally receive promotional content from the La Jolla Light.