Photos of the Week: La Jolla through our readers' eyes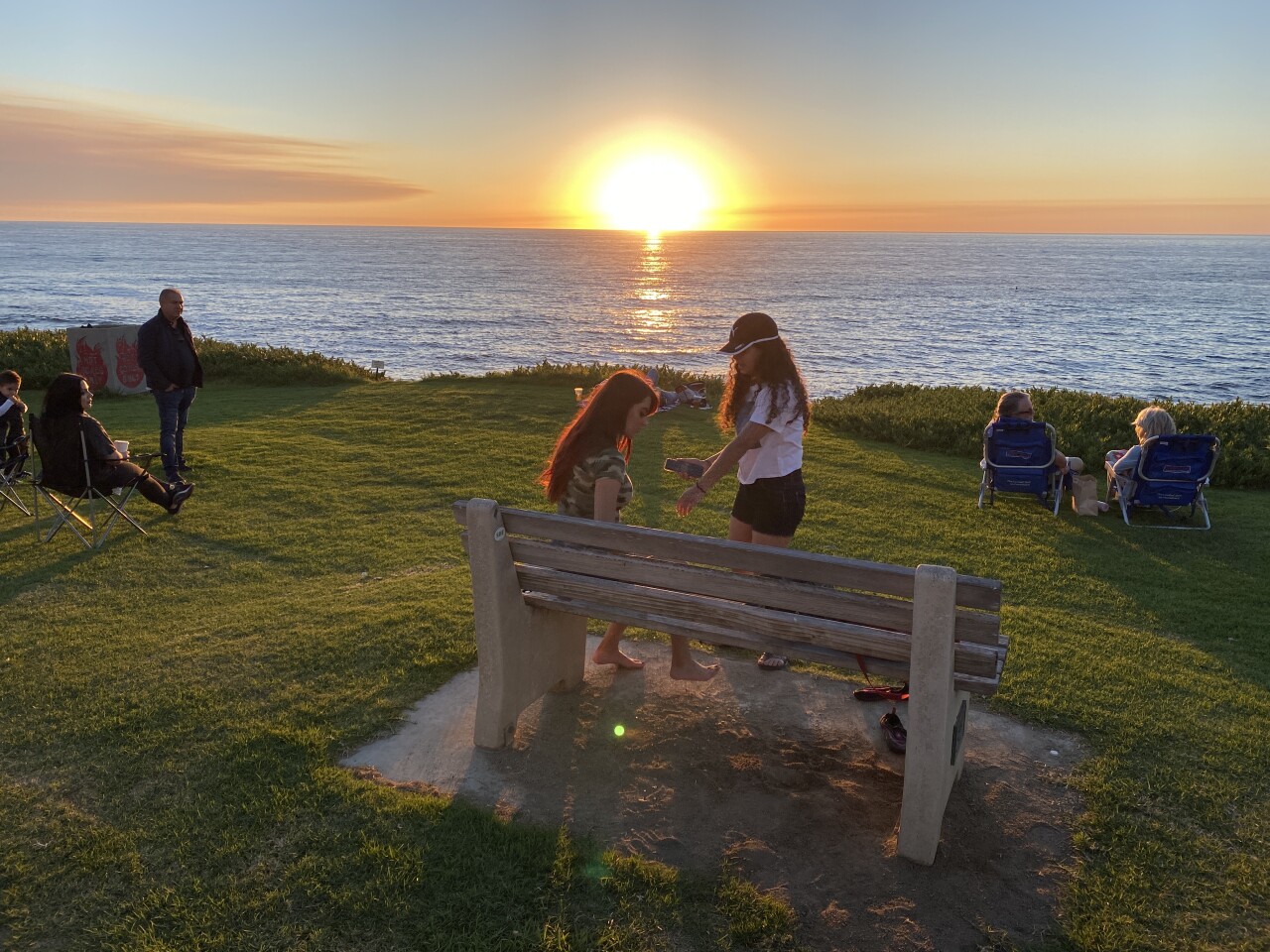 Three groups await the sunset at the grassy area adjacent to the Wedding Bowl (Cuvier Park).
(Alan McAnally)
Cats on leashes? You saw it here first! Actually, Vanessa Rodriguez saw it and shot this photo.
(Vanessa Rodriguez)
A peregrine falcon roosts along Via Capri.
(Ross Rudolph)
Ted Shafer captured a sunny day at La Jolla Cove during the coronavirus shutdown, with a ring of cormorants along the edge.
(Ted Shafer)
Bram Wiley got this shot overlooking Windansea.
(Bram Wiley)
Deanne Monte said she walking near La Jolla Cove and watched in wonder as a sea lion gave birth to a pup.
(Deanne Monte)
A cormorant prepares for launch.
(Penny Wilkes)
Sequoia Coles and Alison Donald steal a kiss at Windansea.
(Beverly Sahn Coles)
Liz Peris took this shot of a fledgling hawk from Pottery Canyon testing its wings near her home in La Jolla Woods.
(Liz Peris)
An osprey dives in to capture breakfast just below the Coast Walk Trail.
(Jerry Allen)
Phyllis Thomson encountered a couple of young entrepreneurs selling painted rocks in front of Starkey Park. When asked what they would do with their profits, they replied, "Buy candy."
(Phyllis Thomson)
Jill Murray took this photo of the back of the La Valencia Hotel from Scripps Park as part of a digital photography class offered by the Athenaeum Music & Arts Library via Zoom.
(Jill Murray)
A flying friend greeted Justin Maletic as he was swimming in La Jolla Cove.
(Justin Maletic)
Stephen Fitting goes kayak fishing at La Jolla Shores at sunrise.
(Rene Acosta)
Is this bird on beach litter patrol? Or did it find something to its liking?
(Patricia Bainter)
La Jolla's spectacular scenery and village atmosphere provide a lot of opportunities for great photos.
Here are some that were taken recently.
Send your photos from around La Jolla to robert.vardon@lajollalight.com and they just might end up in the Light.
Include your name, where the photo was taken and a brief description of what's going on in the shot and what you were doing when you took it. ◆
---
Get the La Jolla Light weekly in your inbox
News, features and sports about La Jolla, every Thursday for free
You may occasionally receive promotional content from the La Jolla Light.