A Few Good Women: Sgt. Major Jennifer Simmons talks about her life as a Marine
U.S. Marine Corps Sgt. Major Jennifer Simmons is one of 23 females in her rank across the force (there are 419 male Sgt. Majors). In the first "Women in Leadership" lecture of the next series (which will be dedicated to women serving in the military), Simmons spoke of her experience in a male-dominated field May 24 at the La Jolla Woman's Club.
Women make up seven percent of the Marine Corps, Simmons said. "The history of women in the Corps began August 1918 when the first woman enlisted," she said, and she went on to relate how between World War I and II women weren't allowed to serve. It was 1948 when Congress passed the Women's Armed Services Integration Act that allowed females to become permanent, regular members of the Armed Forces in the Army, Navy, Marine Corps and Air Force.
"The playing field is not completely level, but neither is it as gender institutionalized as it once was," she explained. "The Marine Corps prides itself on the motivation, tenacity and ambition of its women."
Simmons has served in the Marine Corps for 29 years, and in that time she has led roles that range from intelligence to recruitment. In her words, "It has not been easy. (But) I cherish it, and when I think about it, I'm glad I went through all those troubles and tribulations because it made me a stronger woman."
She said she joined the service right after high school because "I grew up poor in North Carolina and didn't want to be on welfare." However, the reason she gave for choosing the Marine Corps was "everyone in my high school was joining the Army and I wanted to be different," which sparked audience laughter.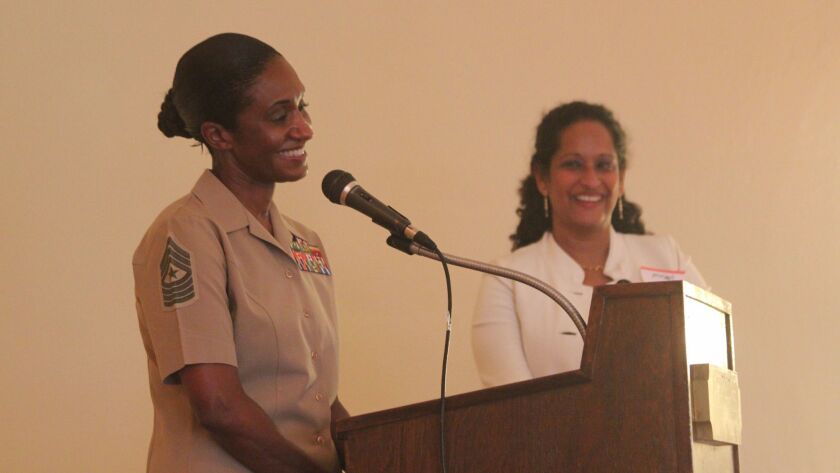 During her first years on the Force, she got married and had a daughter, but ended up getting a divorce and raising her daughter as a single parent. "I used to live payday to payday," she began, "My leaders in the Marine Corps had no idea what I was going through because I knew how to put on a different face, because I had to represent women and myself. I felt at times I was leading a double life."
As an active service member, Simmons went on many deployments to remote parts of the world. When asked how she managed to raise her daughter while away on duty, she said, "Some of the people I've met in the Marine Corps I find myself closer to than my blood relatives. (When) I deployed as a single parent, there was always a family on base that helped me. We rely heavily on each other." Nonetheless, the support of other Marines didn't save her the heartache of not being present for her daughter's 16th birthday.
After many years, Simmons remarried another Marine and she's proud to say she outranks him. "We've been married for 12 years, and he's my best friend, but I have an issue with him, he retired before me," she explained, "But trust me ladies, I have your back, I make sure that he does the laundry and keeps the house!"
All Active Duty Marine Corps members have education benefits. Simmons said she took advantage of them and completed her associate, bachelor and master's degrees. Also, she reported, "I got all my credits for my doctorate, I just haven't had a chance to do my dissertation, but as soon as I retire, the first thing I want to do is defend my dissertation so I can get my business degree with a concentration in National Security, Policies and Leadership."
For her last years on the Force, Simmons requested to be sent to the Wounded Warrior Battalion-West, based out of Camp Pendleton. "Currently, we have about 289 recovering service members. We have a few who returned to service in the Marine Corps, but the majority transition out, because when they come to us it's not just with a broken leg; we take the ones who are more seriously wounded and have multiple things going on," she explained, adding that many of her patients have terminal illnesses.
Because the Marine Corps operates around the world, it's first in readiness. "Women in the Marine Corps boldly proclaim the title of Marine, 24 hours/7 days a week," she said, "Our reputation as the 'First to Fight,' has rightfully earned us the title 'Marines,' a title that's earned and not given. Every member of the service — whether active, retired, veteran or civilian Marine — understands their mission. The Marine Corps is a small organization and that's why we are 'A few good men, and a few good women.' "
---
Get the La Jolla Light weekly in your inbox
News, features and sports about La Jolla, every Thursday for free
You may occasionally receive promotional content from the La Jolla Light.