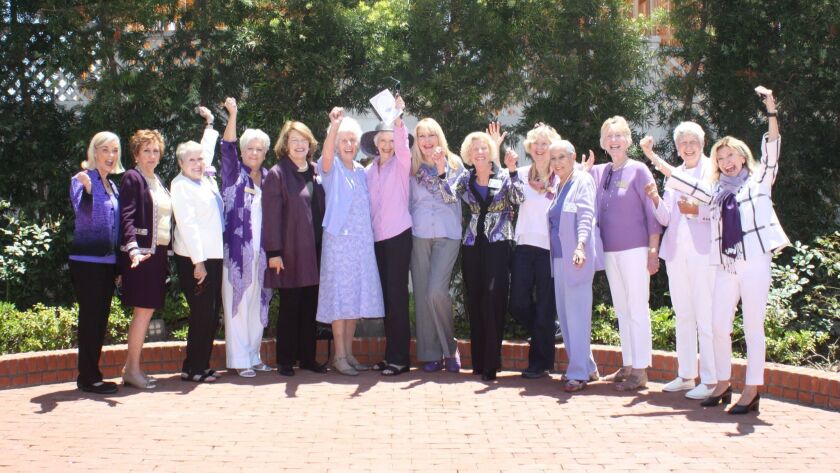 Surrounded by greenery in the picturesque courtyard of the Darlington House at 7441 Olivetas Ave., Village Garden Club of La Jolla members and donors wearing purple, gathered for a Jacaranda Tree Dedication Ceremony on May 16.
Speakers thanked those whose contributions make it possible for the club to keep its jacaranda tree-planting program going. Since its inception in 1986, the club has planted more than 2,200 of these purple-flowering trees county-wide. (The club itself was established in 1974.)
"Just as (famed horticulturalist) Kate Sessions planted the gorgeous jacarandas along Seventh Street in front of the Marston House, we are doing the same for our neighborhoods, one street at a time," said Jacaranda Committee co-chair Linda Shaw. "In time, they too, will be majestic large trees with abundant lavender blooms for all to enjoy.
"We receive requests for these trees from community and civic organizations, parks, libraries, churches, rec centers and anywhere the public can enjoy them," she continued. "We have planted jacaranda trees at La Jolla High School, The Bishop's School, as well as Pacific Beach, Torrey Pines, Kate Session and Marie Curie elementary schools. It is a delight for the children to watch them grow and bloom and leaf out."
Noting the established trees that are about ready to bloom for the season (some for the first time), Shaw added that there are 42 jacaranda trees in the Embarcadero Esplanade in downtown in front of the USS Midway aircraft carrier; a grove of 100 trees along East Mission Bay Drive; and some in front of the San Diego Central Library.
Jacaranda trees that have been planted, but are not quite to their purple stage, include the 21 gifted to the Balboa Park Conservancy last year.
"The Park Conservancy was thrilled to have them donated, as the park lost many trees during the five-year drought, followed by severe winter storms," Shaw explained. They were planted during last year's Dedication Ceremony.
Locally, club member Devonna Hall, who is also a member of the La Jolla YMCA, organized the planting of 40 jacaranda trees along Cliffridge Avenue between the Dan McKinney Family YMCA and Torrey Pines Elementary School. "In a few years, that street will be a sea of purple in the spring and there for children to enjoy as well," Shaw said.
Looking forward, club president Penelope West added: "The committee has made impressive strides in expanding locations for our jacaranda trees this year." The trees will be planted at the City's recently completed Bayside Fire Station on Cedar Street, downtown; the new Washington Street Hillcrest/Mission Hills Library; Capeheart Dog Park in La Jolla; and Orion Park in South County.
And while planting jacarandas was the club's first community project, it is not their only community project. West said the club also distributes $10,000 to 19 San Diego schools for its Schoolyard Garden Project; creates and delivers 150 seasonal bouquets to hospitalized veterans at the VA facility in La Jolla through its Bouquet of Thanks program; and on a weekly visits, restores and maintains the Healing Garden at UC San Diego's Moores Cancer Center.
To conclude the presentation, the names of all 84 donors who contributed funds to plant a tree were read aloud in recognition. Funds to purchase the jacaranda trees come from donations of at least $50, but all donation amounts are welcome.
— The Village Garden Club of La Jolla meets monthly at Congregation Beth Israel, 9001 Towne Center Drive. For more information about its activities, visit vgclj.com
---