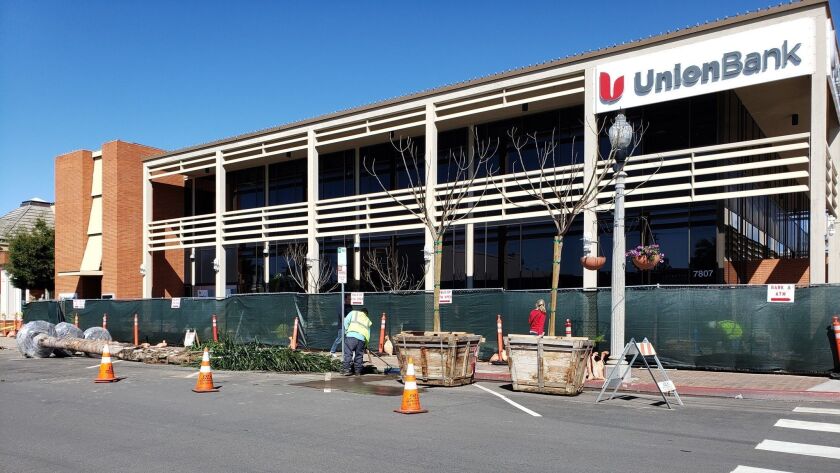 The streets surrounding Union Bank at 7807 Girard Ave. are drawing La Jollans' attention.
The sidewalk on Girard Avenue that fronts a side of the bank is tarped off so a beautification project can improve the walkway.
On the Silverado Street side, a resident is wondering what happened to the six trees that were removed in 2016?
Girard Avenue
The Light has learned that the traditional sidewalk, starting at the corner of Girard Avenue and Silverado Street and fronting Union Bank, will be replaced with decorative pavers and new trees will be planted.
"It's actually pretty neat what's going to go there," said Alcorn & Benton architect and engineer Paul Benton.
"The entrance will be framed by big palm trees and the rest will be colorful trees. It will definitely be different from what's there now."
Of the sidewalk itself, Benton added the decorative walkway will have "lots of joints and patterns."
The City has a summer construction moratorium from Memorial Day (May 27) to Labor Day (Sept. 2) when no construction can take place, so Benton said crews are on track to finish by Memorial Day.
Silverado Street
A resident approached the Light wondering what happened to the "six beautiful trees on Silverado Avenue? These trees added exceptional beauty to The Village."
In a story from April 2016, the Light reported that former City Council member Sherri Lightner said the trees were evaluated by the City Arborist and removed because they were "unhealthy."
But, at the time, Lightner said the City was committed to replacing the trees.
Last week, City spokesperson Anthony Santacroce told the Light that in 2018, the City reached out to the Union Bank management regarding replanting the trees.
Choosing to implement its own plan, Union Bank spokesperson Erika Montelongo explained that the bank would plant and maintain new Chinese Elm trees along Silverado Street, sometime in late April or early May.
---