City updates utilities undergrounding plan for La Jolla, seeks community feedback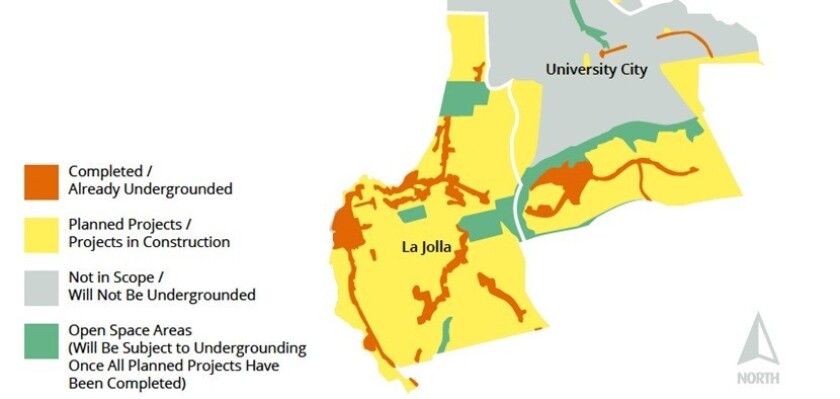 The City of San Diego is revamping its utilities Undergrounding Master Plan and needs your input. By the fall, an updated Master Plan will be drafted, presented to the public for comment and then released. There were four community meetings in January (none were in La Jolla) but feedback is still being accepted online at: sandiego.gov/undergrounding/overview/master-plan
The City plans to take the comments received at these meetings, along with those submitted online, and adjust the methodology report this summer, before updating the Master Plan.
"The City created a sophisticated Master Plan with a schedule so people could go online, type in their address and see when their street utilities would be undergrounded. But the City had to stop every once in a while because there would be conflicts with other projects or other problems district-by-district," explained consultant Joe LaCava. "After a few years of all those postponements or delays, the whole system got out of alignment. So the City is taking a step back, and will try to be smarter about how they draw those boundaries and schedule those undergrounding areas, hoping to be more sophisticated and efficient with better ties to other construction projects in the area."
The City plans to have overhead electrical lines and poles taken down and San Diego Gas & Electric (SDG&E), cable and phone lines moved underground. It reports that since the work began in 1970, each year approximately 30 to 35 miles of overhead utility lines are placed underground. There are still more than 1,000 miles of power lines to go.
The undergrounding work creates large "blocks" of several streets. For example, block 1J in La Jolla Shores is bounded by Avenida de la Playa and La Jolla Shores and the ocean and Ruette Monte Carlo near UC San Diego. Undergrounding on block 1J was supposed to start in April 2016, but had to be postponed due to ongoing construction on Avenida de la Playa.
According to the City's website, "The 2009 Master Plan was operating using the old district boundary lines. Additionally, the program has new methods for making undergrounding projects more efficient, including a smarter prioritization sequence; a focus on residential areas over commercial areas; prioritization to avoid construction fatigue in neighborhoods; optimizing project boundary sizes for efficient project management; and friendlier naming conventions for projects."
The 2009 Master Plan will be followed until a new plan is approved.
Got undergrounding questions, concerns?
Call: (619) 533-3841
E-mail: undergrounding@sandiego.gov
Visit: sandiego.gov/undergrounding/overview/master-plan
---
Get the La Jolla Light weekly in your inbox
News, features and sports about La Jolla, every Thursday for free
You may occasionally receive promotional content from the La Jolla Light.