La Jolla's UC San Diego downsizes Marine Conservation facility plans to add more ocean view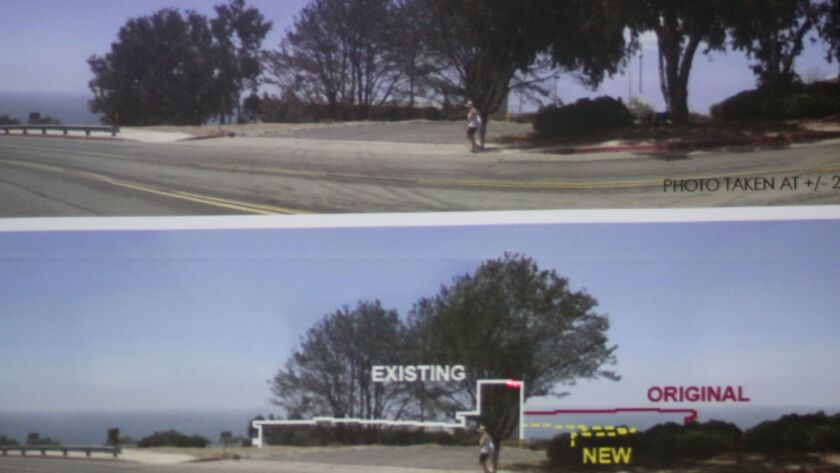 Following a less-than-stellar reception by the La Jolla Community Planning Association (LJCPA) in March, plans for the UC San Diego Marine Conservation Facility were revised to create more of an ocean view around the proposed development. The updated plans were presented as an information item (not subject to a vote) at the LJCPA meeting May 4 and include: reducing the length of a canopy that cantilevers out over the rooftop café, reducing the height of a second story, and removing a cluster of non-native trees to create more of a view for pedestrians.
The project calls for the conversion of the former National Oceanic & Atmospheric Administration and Southwest Fisheries Science Center buildings on the northern end of the campus, into laboratories for Scripps Institution of Oceanography students, and the addition of a two-story building and a café. Architectural firm Safdie Rabines, who designed the nearby Caroline's Seaside Café, also designed the new facility. The $22 million project, paid for with campus funds, is expected to start construction in October and be complete one year later.
The current footprint for the project includes the vacant and seismically retrofitted "Building D" (as it's known) and the base for "Building A," which was partially demolished, leaving only the first floor.
When it was introduced in March, board members expressed concern over losing some of the view from La Jolla Shores Drive, and hesitated to take the university at its word that what was being presented was what would be built.
"We wanted to let you know we listened to your concerns and we believe we heard many of the comments in the room and have made modifications to the project," said Anu Delouri, UCSD assistant director for communications and community planning. "Since the last time we were here, we've reduced the height of Building A (additions), reduced the length of the canopy and opened up additional ocean views."
Added Robert Cloissin, director of UCSD campus planning, "After the March meeting, we met with our architect team to say 'what are some things we can do to reduce the scale of the project?' One of the things we looked at was … setting the mechanical equipment down in a certain way that is allowed us to lower the roof line by about two feet."
The canopy structure, he added, can be pulled back by some 11 feet, and a group of eucalyptus trees could be removed to open up more of a view on the other side of the facility.
Of removing the trees, Delouri said, "I believe it opens up a magnificent view of the ocean."
A view, some members said, is "owed" to La Jolla residents. Trustee Mike Costello noted when the UCSD Marine Ecosystem Sensing, Observation and Modeling Laboratory (MESOM) was built in 2012, also located off La Jolla Shores Drive, it was constructed at a height greater than what was initially presented.
"The university owes us some view back. They took views from us and did not tell us the truth. They owe us something for that," he said.
As an offer, Cloissin said he would install story poles to show height of planned work as plans get closer to construction. He also invited interested parties to participate in a walk near the site to get a better sense of the scope of work, details of which have yet to be decided.
The project must still be approved by the California Coastal Commission, but it will be discussed informally at the next meeting.
In other LJCPA news:
Sound wall discussion revived: Residents of Ardath Road, hoping for noise abatement from the volume of traffic on La Jolla Parkway (which runs parallel to Ardath Road), asked that the plans for a "sound wall" be readdressed. In 2015, plans for a sound wall extension along La Jolla Parkway made the rounds at La Jolla Community Planning groups, gaining support at La Jolla Shores Association and La Jolla Town Council, but raising eyebrows at La Jolla's Traffic & Transportation board. Trustee Dolores Donovan asked that the discussion be placed on the next month's agenda. A motion passed to send a letter to the City asking why it hasn't acted on the issue.
Officers re-elected: After tabling the election of officers from LJCPA's April meeting, the board individually nominated and elected a slate of officers, many of whom were re-elected. They include: Cindy Greatrex re-elected as president (who was not present at the meeting, but relayed her willingness to serve if elected), Helen Boyden re-elected as first vice president, Robert Steck re-elected as second vice president, Janie Emerson re-elected as treasurer and Dolores Donovan elected as secretary.
— La Jolla Community Planning Association next meets 6 p.m. Thursday, June 1 at La Jolla Rec Center, 615 Prospect St. lajollcpa.org or sandiego.gov/planning/community/cpg/agendas
---
Get the La Jolla Light weekly in your inbox
News, features and sports about La Jolla, every Thursday for free
You may occasionally receive promotional content from the La Jolla Light.