La Jolla Town Council forms aircraft noise sub-committee
Following a presentation on the increase in airplane noise in La Jolla, the La Jolla Town Council (LJTC) at its May 11 meeting, created a sub-committee to address the issue and represent the Town Council at applicable meetings.
La Jolla resident and San Diego Airport Noise Advisory Committee (ANAC) subcommittee representative Chris McCann and La Jolla resident Matthew Price spoke about how the noise problem has increased since this time last year, and the combination of factors that lead to the current state.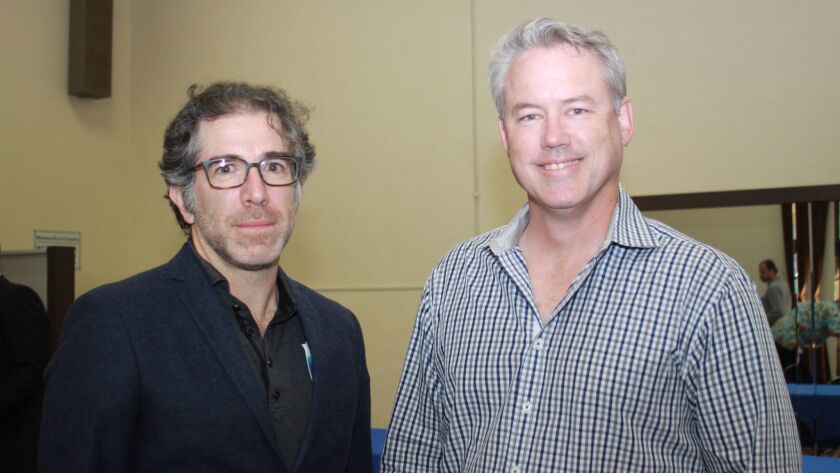 "We have a confluence of factors, including changes the Federal Aviation Administration (FAA) is implementing, the amount of air traffic going in and out of San Diego Airport, and the equipment the airplanes are operating — all creating a problem that literally wasn't there a year ago," said McCann.
Price reported in August 2016, when ANAC reviewed complaint data, La Jolla was not on the map nor list of areas from which complaints were registered. But by December 2016, though La Jolla was still not on the map, the number of complaints registered were listed. Come February, when data from the preceding two months was discussed, there were 1,566 complaints from Bird Rock; 193 from La Jolla; 85 from La Jolla Mesa; and 72 from La Jolla Shores.
The trend continued, with ANAC reporting number of households that filed a complaint rather than individual complaints at its April meeting. "And that represents a small portion of those who are bothered by it but don't lodge a complaint," Price said. Among the changes implemented that lead to the noise increase, McCann said there are new flight plans designed to improve efficiency.
"One of the driving factors in this is something called NextGen, which is part of a national FAA plan to make air space more efficient, get more traffic in the air space so you can have more options for flights, have planes fly more efficiently and use less fuel. Those are all great things, but there has to be a balance with the quality-of-life issues for those who live here. We're not getting that balance right now," he explained. "With NextGen, planes fly using GPS navigation systems and satellite-based navigation that is accurate within centimeters rather than miles (as was the case) with the old system. So now the air traffic that was once spread out is on a laser line. So the concentration of traffic is one problem."
Further, the new paths associated with NextGen allow for flights to be closer to the coast and at a lower altitude.
Another problem, he noted, is that planes are bigger and flights are fuller. "The fuller the airplane, the heavier it is. The heavier it is, the longer it takes to climb higher, so that is another problem."
As a solution, Price pleaded with LJTC for something official to show the severity of the impact on residents. "We need a formal voice from the community. Citizens need to continue to complain, but the ANAC does not recognize that there's a problem in La Jolla. We ask that this board write a letter to ANAC, the FAA, and the City Council to say there is a problem that needs to be addressed," Price said.
LJTC president Ann Kerr-Bache offered to form a sub-committee authorized to write the letter on behalf of LJTC and have her sign it, as LJTC president. "We can charter you as a sub-committee of the Town Council … representing the Town Council to ANAC and we can task you with writing what needs to be said and we will support it."
A motion to create the sub-committee passed unanimously. To contact McCann regarding noise problems, e-mail info@airnoise.io
In other LJTC news:
Trustees Term-out: As the terms of LJTC trustees Cindy Greatrex, Charles Hartford and Brandon Heesse ended this month, representatives from the offices of City Council member Barbara Bry and Congress member Scott Peters thanked them for their service with special commendations. Greatrex was not in attendance.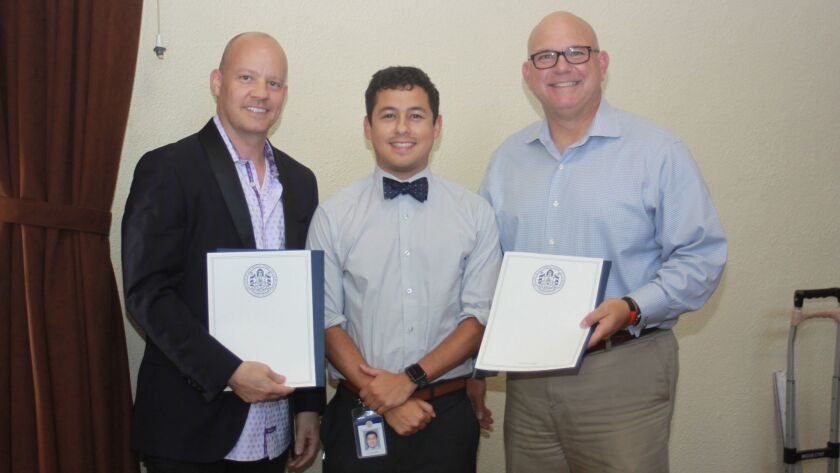 By way of parting words, Hartford called upon fellow La Jollans to come forward and be of service before next month's board elections.
"It has been a great privilege to be on this board. I encourage anyone who wants to advocate for our special community to step up and volunteer your time. We are in a crisis situation right now in La Jolla. Jimmy Buffet once said, 'fins to the left, fins to the right and you're the only bait in town,' well, we have sea lions to the left, short-term vacation rentals to the right, and airplane noise up above. It is a critical time for La Jollans to advocate for their community and the special people who live here."
June 8 Election: The LJTC annual election will be held during the next meeting, 5:30 p.m. Thursday, June 8 at La Jolla Rec Center, 615 Prospect St.
An application to become a trustee is available at lajollatowncouncil.org and the deadline to apply is May 19.
Ballots will be counted ahead of the meeting. Potential trustees must be at least 16 years old and have a residence or business in La Jolla.
---
Get the La Jolla Light weekly in your inbox
News, features and sports about La Jolla, every Thursday for free
You may occasionally receive promotional content from the La Jolla Light.