Three La Jolla houses received historical designations from the San Diego Historical Resources Board (HRB) April 26: The Anna Dyble Spec House No. 1 at 7747 Ivanhoe Ave. in The Village, the Thomas Shepherd House at 345 Via Del Norte in Lower Hermosa, and the Robert and Alma Lard/Lloyd Ruocco & Homer Delawie House at 2218 Vallecitos in La Jolla Shores.
All were on the HRB's consent agenda, and were passed without discussion.
The Anna Dyble House was designated under Criterion C, which qualifies a house because it "embodies distinctive characteristics of a style, type, period or method of construction or is a valuable example of the use of natural materials or craftsmanship."
Among the HRB notes: "This two-story, single family residence was constructed in 1928 in the Spanish Colonial Revival style. The stucco house is asymmetrical and features a low-pitched, hipped roof at the front with a flat roof covering the rear of the structure. The front section of the roof is covered in red clay half-barrel tiles and features little eave overhang and exposed carved rafter tails. An arched entryway leads to a small, one-story covered front porch. A wooden tripartite focal window is featured on the front façade. All other windows are wooden in a variety of double hung and casement styles."
The Robert and Alma Lard/Lloyd Ruocco & Homer Delawie House qualifies under Criteria C and D, the latter of which states a house: "is representative of a notable work of a master builder, designer, architect, engineer, landscape architect, interior designer, artist or craftsman."
Staff finds: "The house continues to convey the historic significance of the Modern Contemporary style by embodying its historic characteristics, including a strong, low-pitched gabled roof form with wide overhanging eaves; vertical wood siding; floor to ceiling windows/doors; privacy fencing designed to form courtyard areas; and an attached similarly designed garage. The resource is representative of a notable work of Master Architect Homer Delawie and retains integrity as it relates to the original design. Projects designed by Delawie and his firm have received more than 65 awards. Delawie also received Service Citations in 1972 and 1973 from the AIA, a Presidential Citation in 1997, and a Lifetime Achievement Award in 1997."
The Thomas Shepherd House also qualifies under Criteria C and D.
Staff finds: "The one-story single family-residence was constructed in 1940 in the Italian Renaissance style. The front façade is symmetrical and set far back from the street, centered on axis with a circular driveway in front. An uncovered, terra cotta tile porch leads to a central entry located on a portion of the house that projects slightly forward of east and west wings. Four flat pilasters with simple Tuscan order capitals support a wide horizontal cornice at the building's central massing.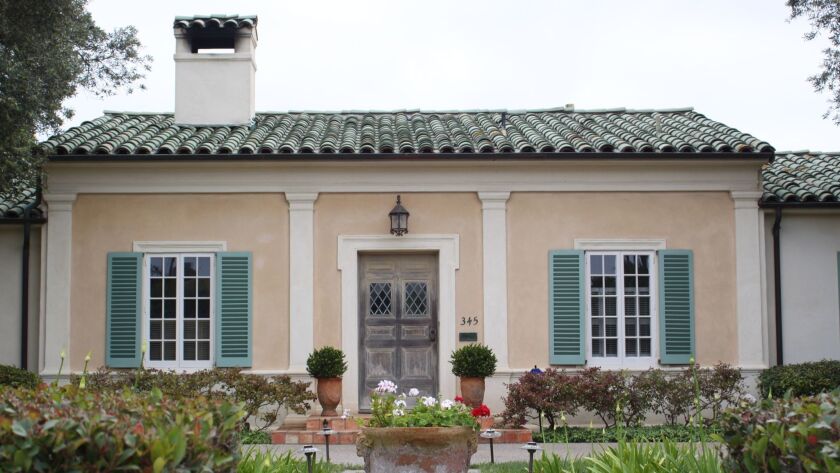 The resource is representative of a notable work of Master Architect Thomas Shepherd, and retains integrity as it relates to the original design. Shepherd designed and built the house in 1940 for himself and his wife Ruth as their personal residence. Shepherd's work includes some 200 houses and other buildings in La Jolla, but he also practiced throughout the San Diego region ... 19 of Shepherd's buildings have been designated as historical resources by the City of San Diego HRB."
—The HRB meets fourth Thursdays in downtown San Diego and is comprised of 11 members appointed by the Mayor. Duties include designating individual historical sites, establishing historical districts, and reviewing development projects that may affect historical resources. Learn more here
---