Grad student rides the waves to research surfers' bacteria
UC San Diego chemistry graduate student Cliff Kapono has surfed waves all over the world, collecting body surface and fecal samples from fellow surfers to answer the question: Do those who surf in different oceans and seas have the same bacteria and/or chemicals?
An aggregate of microorganisms (including bacteria, fungi and viruses) inhabit the human body and, in some cases, are essential to its functioning. But there are other organisms living on humans that, whether or not they make people sick, are harmful.
"There have been studies that show people who recreate in the ocean are more likely (than those who do not), to become exposed to harmful bacteria," Kapono told La Jolla Light. "So we have reason to believe surfers might be exposed to harmful bacteria, and we want to be able to identify some of this bacteria, and if so, we can point to sources of exposure and this knowledge may help us keep our beaches cleaner."
In fall 2016, Kapono embarked on a worldwide adventure to surf in remote places and connect with surf communities to ask for samples to bring home to analyze at the UCSD labs of biologist Rob Knight and pharmacologist Pieter Dorrestein. He named his project the "Surfer Biome" and visited England, Ireland, Morocco, San Diego, San Francisco and Hawaii, from where he hails.
"I usually spend a few sessions surfing with people out in a place, I make friends, and then, hopefully, they're willing to participate," Kapono said. "It's easier to recruit (surfers) in water than on land. Once you're out in the water, for the most part, there's not as many rules. It's just you and the other person in the ocean."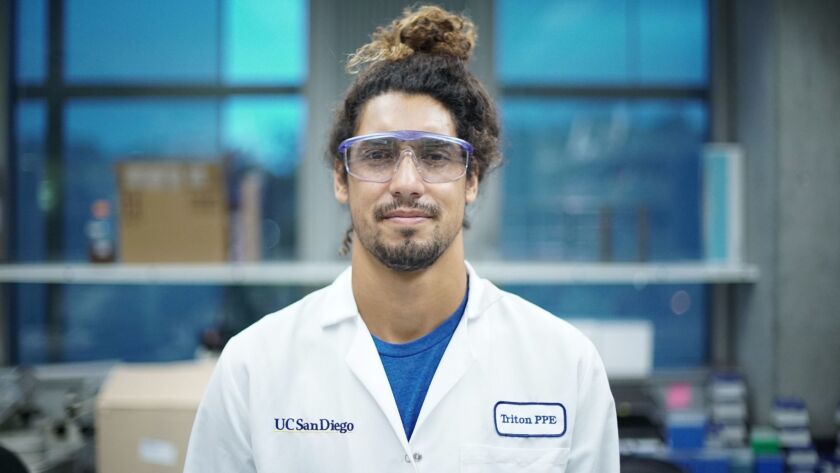 The collected samples have been sequenced (transformed into data) and Kapono is in the process of analyzing the data. He hopes to get results by the summer, and then include the results in his thesis and earn his Ph.D. "We expect to find molecules (in common) as a result of a lifestyle around the beach — whether it's bacteria from the ocean or chemicals from sunscreen, these are some of the things we expect to find, but there's no evidence so far."
Rick Wilson, a senior scientist at San Diego Surfrider Foundation, said the study sparked his interest. "We're (curious) to see what Kapono determines, whether there's such thing as 'surfer biome,' or if their biomes are uniquely different in different locations."
He added that he would be "surprised" if there was a unique set of bacteria that all waveriders shared worldwide. "You would think that there would be differences, because there are different things and levels of pollution in the various oceans — population densities and such."
Wilson said he participated in the three-year Surfer Health Study conducted by Southern California Coastal Water Research Project and published in September, 2016 that followed surfer illness rates, as associated with wet and dry weather. "The general purpose of that study was to see whether surfers got sick at similar rates as swimmers in the ocean," he explained, "The conclusion was surfers did get sick at similar levels as the general population who went in the ocean."
The Surfer Health Study concentrated on gastrointestinal illnesses, but also "surfers usually talk about sinus infections, ear infections, rashes and infected cuts," Wilson said.
Kapono said he grew up surfing in Hawaii, and from this passion the idea for his thesis research was born. "My mentor Pieter Dorrestein provided everyone in our lab (the opportunity) to apply the technology we had available to something we were passionate about, and he knows I'm passionate about surfing. He gave me the opportunity to ask, 'How can we apply this (technology) to surfers?' So we sat down and talked for a few hours about how we could apply the resources and research, and then we came up with the Surfer Biome project."
Kapono said all the samples he collected in San Diego (including one he donated) came from La Jollans — more specifically, surfers from Scripps Institution of Oceanography.
American Gut project
The Surfer Biome project is intended to contribute to a larger effort by Knight's lab to understand the microbial diversity of the human gut. Any citizen can send a sample of his or her saliva, palm skin or stool to UCSD to be analyzed, providing they make a donation ($99 or more) to the study's fundraising campaign.
The American Gut project — which has been running for four years and has raised $1,383,751 from 9,019 contributors — allows citizens to mail in their samples and receive results on their personal participant site.
Kapono said it would be a good idea for surfers who want to know how their microbes change after surfing during a storm to participate in the program. "If they surf after a weather event, they can send their sample in," he invited.
For Wilson, the Surfer's Biome research opens more queries for the future. "The more interesting question is, assuming surfers have a unique biome, what does that mean? Is that a good thing or a bad thing? Are surfers more resistant to disease? Or is it bad in that they've been exposed to certain microbes, causing changes that are not so good?"
In Kapono's view, his research has potential to change political direction in the defense of the environment. "The benefits of doing a project like this is we can influence a policy shift to protect the environment and in doing so, protect ourselves," he concluded.
WANT TO KNOW MORE?
• Check out Surfer Biome and Cliff Kapono at cliffkapono.com
• To participate in the American Gut project, visit americangut.org
---
Get the La Jolla Light weekly in your inbox
News, features and sports about La Jolla, every Thursday for free
You may occasionally receive promotional content from the La Jolla Light.