4.45-acre La Jolla Shores site to be subdivided into eight lots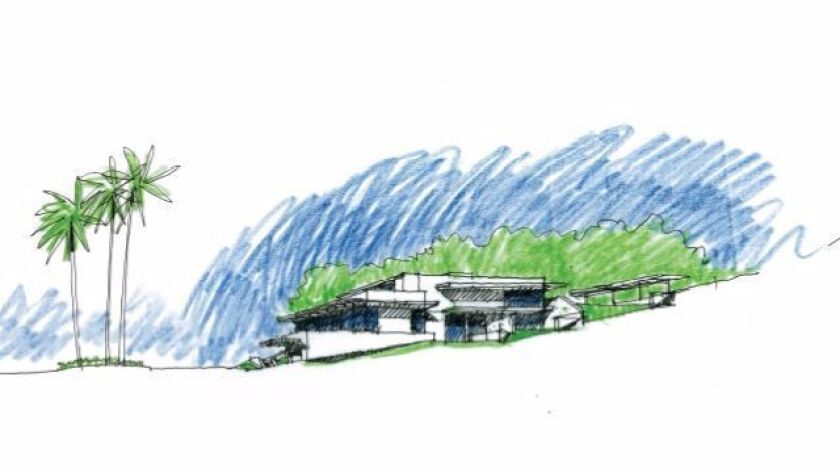 A project to demolish an existing home and subdivide its 4.45-acre site in the heart of The Shores brought unprecedented attendance to the March 28 meeting of La Jolla Shores Permit Review Committee (PRC).
"There's a lot of attention on this property," project architect Paul Benton began. "A lot of us have enjoyed looking at it as an open site, but now it's time to talk about how to subdivide it." He made it clear that the presentation was an information-only one, seeking public input and subject to changes.
The 8280 Calle del Cielo site is east of La Jolla Shores Drive and south of Calle del Oro, at the end of a cul-de-sac. Benton's plan is to subdivide the land into eight, approximately half-acre lots, seven of which would have access from Calle del Cielo and the eighth from Calle Frescota, a private street off La Jolla Shores Drive.
The developer proposes to grade the parcel and build a road extending Calle del Cielo first, and then construct the individual, custom houses once buyers are identified. This plan was unsettling to some of the more than 30 community members in attendance.
"What we're going for is a Coastal Development Permit for these houses," Benton explained. "They'll be 7,500 square feet, with grading and landscaping. And as we meet the individual buyers we will tell them, 'You can make small changes in the appearance (or configuration) and start construction in four months, or you can come back to the coastal development process and maybe, a year later, start construction.' I can't imagine who would prefer that."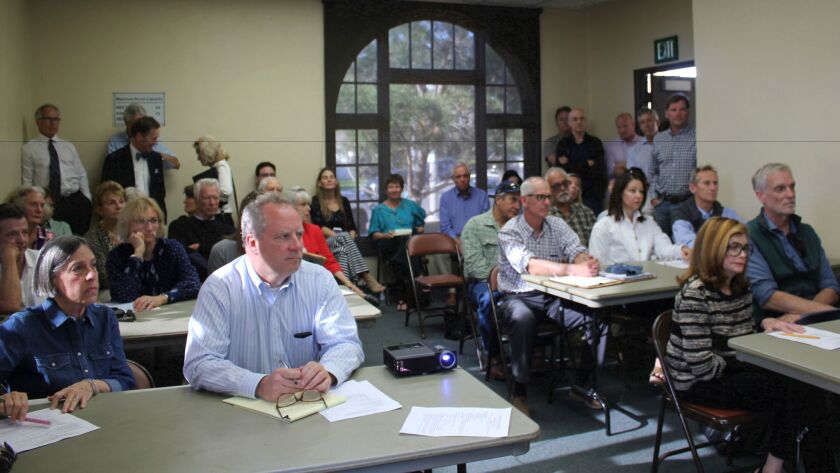 Drainage issues
Area neighbors brought their concerns about drainage to the committee. Architect Tony Crisafi, in charge of the project's civil engineering, explained the details of the plan to reduce runoff.
"Right now (the runoff) runs straight off, but what we're trying to do is capture it and run it through these bio-retention basins that slow the velocity down, and then it will overflow into this larger pipe and be emitted at the street," he said.
A 14-inch pipe is in the plans to discharge the stormwater onto Calle Frescota, 30 feet before it reaches La Jolla Shores. Resident Leanne McDougale expressed her distress to hear the location of the pipe. "I think that's right where my house is!" she said.
Benton replied, "I know it feels like a 14-inch pipe is a firehose coming right at you, but the reason (we do that) is we don't want to create the puddle that's occurring on the middle of (Calle Frescota). We're going to get the runoff to La Jolla Shores Drive." He added that the location where the pipe discharges would be calculated to prevent flooding and give runoff time to disperse over the hardscape before it reaches La Jolla Shores Drive.
Special paving and other efforts to increase the permeable areas on the property, to further reduce runoff, are included in the project.
A gated community?
Coming into the meeting, the plans called for an extension of the public access street, Calle del Cielo, but community input made Benton reconsider this option.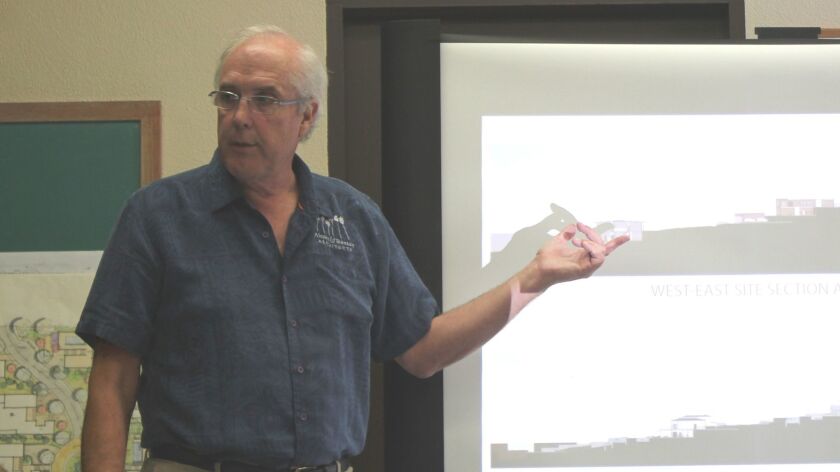 Lynn Shenk, who resides on Vallecitos Court in one of the properties adjacent to the development, asked, "Is there going to be beach parking on that road?"
By the end of the meeting Benton clarified that no parking would be allowed on the road extension because it's considered a "fire lane." He asked residents if they would feel better if the development was fenced off from Calle del Cielo, and when they answered, "Yes," he said, "Thank you, this is why we're having this meeting."
Landscaping
Only one home now stands on the property, and the site is filled with vegetation. According to project landscape architect Jim Neri, "it's like a nice little slice of old California," with eucalyptus trees. "What we're planning on doing is maintaining a lot of those plants around the perimeter as a buffer between the neighbors. And to keep that feel, we're using mostly Australian non-invasive plants, mixed with some of our native plants, and maybe throwing in a few South African plants just for fun to create the very drought-tolerant but appropriate landscape," he explained.
Property setbacks
During his presentation, Benton said the setbacks in La Jolla Shores "can be as little as 4 to 5 feet, but we're providing 10 feet (with the adjacent properties). Internally, we have reduced setbacks, because we're talking about our own properties."
By the end of public comment, former PRC chair Phil Merten expressed disagreement with this notion. "I want you to bear in mind that when (the La Jolla Shores Planned District Ordinance) talks about the building setbacks being in conformity with those in the vicinity, for decades that's been interpreted as when you go on a site, you look at the property next door. If it's set back 4 feet from the property line, you're welcome to set back 4 feet. But if the property is set back 10 feet, or 20 feet, then you're obligated to be in general conformity with that property and set back the same distance."
Thanking the public for their attendance and comments, Benton finished his presentation without setting a date to return to the committee for the formal review process.
In other PRC news:
8247 Paseo del Ocaso: A second information-only presentation was heard by PRC members for a project to build a single-family residence on Paseo del Ocaso. The architect, who said he had previously met with area neighbors, hinted at the possibility of going at it through the "50 percent remodel" exception granted by the City. Real estate agent Peggy Davis opposed the idea insisting there is termite and mold damage to the property that would require more than 50 percent to repair, and the plans to build a basement could "compromise the investment."
Committee members also objected to the proposed design, claiming it made the building look "commercial" rather than "residential."
---
Get the La Jolla Light weekly in your inbox
News, features and sports about La Jolla, every Thursday for free
You may occasionally receive promotional content from the La Jolla Light.