News Analysis: Store closures prompt discussion of La Jolla's retail future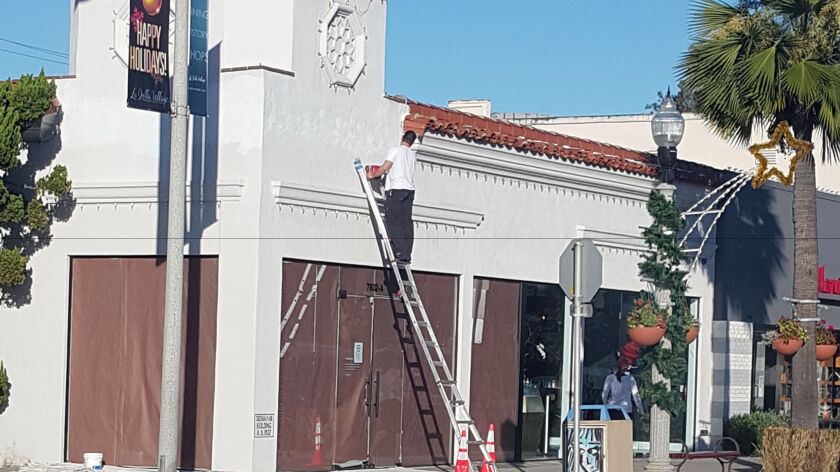 Boarded-up storefronts in the La Jolla shopping district may present a gloomy picture of business in the Village, but those in-the-know suggest the situation is changing, despite some large and longtime vacancies.
In a conversation with La Jolla Light, commercial realtor Mike Slattery said there are high-end specialty retailers interested in spots along Girard Avenue, but trends are toward smaller spaces and creative leasing arrangements. He insists that the uniqueness of La Jolla Village and its reputation for being posh make it an address specialty businesses will always seek.
"Technology is changing the way retailers operate," Slattery explained. "We're at a point where (during the holidays for example), online marketing met or exceeded in-store shopping for some companies. We've reached an impasse where retailers are cautious about expanding. They don't want to be in a B or B-minus area.
"Many tenants can't fit in The Village because their business is not appropriate for the spaces we have. For boutiques, 2,000 square feet or less is a priority and they like high ceilings and lots of frontage. (Several retail spaces for lease in La Jolla exceed 4,000 square feet). And they are signing on with six-month and one-year leases because they can't afford to be in a non-productive space long-term."
To evolve, several buildings (including the former Burns Drugs property) are being "re-purposed" and divided for use by multiple tenants. "They will divide the building in half, have a few retailers downstairs and apartments upstairs," Slattery said.
Luxury linen and bedding retailer Phil Coller of Everett Stunz, said he moved his store to a smaller space in the Village in November when the lease was up because the landlord would not negotiate the rent. "The move (to 7547 Girard Ave.) has actually been great for us," he said. "We have better visibility and we've attracted more people."
Nancy Warwick, owner of the successful book and stationery store in the heart of the Village, at 7812 Girard Ave., added that the recent passage of a Maintenance Assessment District to fund and oversee cleanup and capital projects, will further enhance Village desirability. "We are going to see the Village improve greatly under the MAD — both in the filling of vacancies and in terms of its attractiveness. But it's going to take some patience," she said.
In light of the changes on the horizon (including the expansion of the Museum of Contemporary Art at 700 Prospect St. and the opening of La Jolla Music Society's The Conrad Prebys Performing Arts Center on Fay Avenue in 2018), La Jolla Village Merchants Association president James Neibling said this year his board is working on "a branding package, so we can market La Jolla and drive business."
Referencing the recent closures of Reebok, The Gap and Chico's (along Girard Avenue) and longtime vacancies like the former Burns Drugs building, Neibling said, "It's hard to say that the business climate is good right now, especially with some of our recent closures … times are a little challenging. But a lot of it really boils down to finding ways to drive traffic and mitigate the not-so-helpful things in town like the Cove Stench (and lack of parking), but it's really about branding The Village, creating an awareness, and getting the word out to boost it. We need business to be thriving and that's where we want it to go."
Competition from the Mall
In the case of the decision to close the Chico's clothing store in the Village in late 2016 when its lease was up for renewal, Slattery said management likely compared its profit margins to those at its Chico's store in the nearby Westfield UTC Mall.
"The Mall has become an entertainment venue with food, movies, a variety of stores and activities, so it generates a lot of business," he said. Chico's did not respond to the Light's query on why it closed The Village location.
Slattery said that with its recent multimillion dollar expansion project, additional free parking, special events and plans to bring in a dozen more upscale eateries, the Westfield UTC Mall at Genesse Avenue and La Jolla Village Drive presents a formidable business challenge.
Shop local with hometown heroes
Although there are many challenges to running a business in La Jolla, Slattery said they are a good thing to have "because these limitations create opportunities for specialty retailers, and I think that's the direction La Jolla is going. In the long run, we are going to end up with higher-end tenants that are better suited for the community."
He categorized four successful industries in La Jolla: fitness, food, beauty (boutiques and art galleries) and health (skincare products and services and hair salons). "There will always be a demand for these types of businesses, especially with younger families moving to La Jolla who are health-oriented," he advised.
As if to prove his point, Yoga Smoga in La Plaza La Jolla announced it would close every one of its apparel stores (published reports say the company filed for bankruptcy) except for the La Jolla location.
"Our La Jolla store is deeply rooted in a strong community and receives support from our local wellness partners. It is integral for businesses to have this support in order to succeed and grow," said manager Courtney George.
"Many start-ups and family businesses, such as Yoga Smoga, are filling empty retail spaces. Shoppers recognize the significance their choices make by supporting local retailers. Often, they will get better service and goods choosing these options over mass retailers."
Warwick said that's the secret to her longtime success — the support of residents and providing something unique. (Warwick's has been open since 1939.)
"As a business, you need to offer something that you can only get here. That's so important," she said. "Every so often, I hear someone say there isn't enough loyalty from residents, but that's not my experience. Maybe those business are missing the mark of what people need, or focusing on what's trendy now or only buying merchandise for tourists."
---
Get the La Jolla Light weekly in your inbox
News, features and sports about La Jolla, every Thursday for free
You may occasionally receive promotional content from the La Jolla Light.