State of District 1: Barbara Bry says significant neighborhood improvements made in 2017 for La Jolla and San Diego. Buzzwords for 2018 include 'imaginative, innovative and inclusive'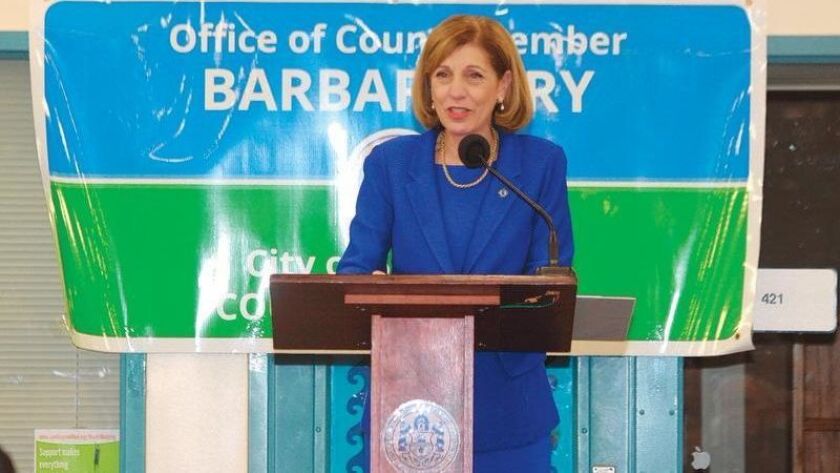 In the moments leading up to City Council President Pro Tem Barbara Bry's first State of the District address Jan. 25, University City High School teachers and employees were rapidly bringing out stacks of chairs to accommodate the standing-room-only crowd, as the almost 150 that were set out were not enough.
Bry gave her concise, 30-minute address to outline her thoughts on 2017 and priorities for 2018, and included a community-by-community recognition, an impression of her grandson, and new buzzwords to join her "safe, clean and prosperous" campaign slogan. She said her priorities for the coming year include: improving public safety, continuing progress to regulate short-term rentals, combating climate change, advocating for women's rights, addressing homelessness, getting a fire station for UC San Diego built, and increasing jobs and housing.
Steven Gallagher, Scripps Institution of Oceanography assistant vice chancellor of marine science, introduced the District 1 Council member and La Jolla resident. "In her first year in office (Bry) has shown a true dedication to community and a commitment to the environment," he opened, and then spoke about SIO and Birch Aquarium and the research being done. "Council President Pro Tem understands the importance of educating young people to pursue scientific studies. … We are thankful for the continued support of education and our research that Council member Bry and the City Council have shown."
Bry serves as chair of the Committee on Budget and Government Efficiency, and vice chair of Public Safety and Livable Neighborhoods. She began her address saying: "I want to share with you a simple and honest reflection from former New York Gov. Mario Cuomo, who observed, 'politicians campaign in poetry and govern in prose.' Tonight, I'll try to infuse my remarks with a little of each. First, the poetry.
"I'd like to paint a picture of the beauty, brilliance and potential of District 1, but that requires an artist. I'd like to solve the puzzle of moving nine shape-shifting City Council districts into a single harmonious creation, but that requires an engineer. And I'd like to envision a future, but that requires a dreamer. Looking out into this audience tonight, I see artists, engineers and dreamers, that and much more: teachers, scientists, students, activists, lawyers, small business owners, military veterans and medical professionals. Each of you has helped create the vibrant canvas that is District 1."
For the prose, she stated: "Due to your collective efforts, we made significant neighborhood improvements last year."
Bry called out each of the communities within her District, noting her favorite thing about each and the accomplishments of which she is most proud.
"In La Jolla, my home of over 30 years, I love to walk at The Cove and get my shoes fixed at Cinderella shoe repair. We improved maintenance in The Village with daily servicing of trash receptacles, and power-washing and painting; completed dozens of public right-of-way repairs; installed raised sidewalk panels in front of White Sands retirement community; and persuaded MTS to install missing bus benches on La Jolla Boulevard."
Bry promised to continue the community-level dialogue and outreach for the rest of her Council tenure.
Regarding citywide issues, she discussed her opposition to the Mayor's plan for a special election to decide a convention center expansion plan and the proposed SoccerCity initiative for the Mission Valley land on which Qualcomm Stadium sits, and her preference for the proposed SDSU West Initiative.
2018 priorities
"Going forward into this New Year, we will continue our effort to keep San Diego safe, clean and prosperous. And I'm adding three new watch-words to guide our 2018 endeavors: imaginative, innovative and inclusive," Bry said. "These watch-words are not clichés, they are imperatives. In the midst of future unknowns, such as last year's fires, floods, Hepatitis A outbreak and other tragedies, being imaginative, innovative and inclusive will help us craft lasting solutions. There are major initiatives for this New Year that I will pursue with my usual relentlessness."
The first of her prioritized initiatives, she said, is public safety. "As vice-chair of Public Safety and Livable Neighborhoods, I want to focus this year's agenda on recruiting new officers and keeping our current SDPD officers right here in San Diego."
She also said she was committed to "maintaining the progress we've made on short-term rentals. We were one vote short of passing reasonable regulations, but what's important is, we were able to block unfettered proliferation of these mini-hotels."
To combat climate change locally, she said she would move forward with a Community Choice Energy program, which she said would "allow the City to establish a separate non-profit organization that could invest in local sources of renewable energy and provide rate payers with clean energy options at lower cost. SDG&E would be a partner in this, and would be paid to maintain the grid and bill customers." She also promised a Council resolution to oppose the new federal plan to permit oil drilling off the San Diego coast.
In light of the #TimesUp and #MeToo movements, Bry said she will use her position as a Council member to work with local professionals to discuss sexual harassment in the public and private sector.
She said she supports San Diego Mayor Kevin Faulconer in prioritizing homelessness solutions, and would participate in the Jan. 26 homelessness count, and would work with the Mayor to build new housing units, especially along transit corridors.
She concluded her list of priorities by stressing the importance of jobs, particularly in the STEM fields (Science, Technology, Engineering and Math). "With a $55 billion impact, the innovation economy makes up one-fourth of San Diego's overall Gross Domestic Product … and the UTC area is the No. 1 employment center in the region," she said, adding she would meet with employers to encourage them to create jobs and internship opportunities.
Ready to introduce her staff and make closing remarks, Bry teased: "If my three-year-old grandson Colton were here tonight, he would say, 'G-Ma, are you almost done? You've been talking a long time!'"
She ended her State of the District presentation with: "Imagine it, just imagine it, a whole new year filled with innovative, imaginative and inclusive projects. I can imagine that, will you imagine that with me? Together we can do it. We must do all we can, when we can, where we can and for everyone we can."
Local response
Following the address, La Jollan Dolores Donovan said: "It was a comprehensive speech that pulled together a lot of disparate issues that are very important to San Diego. I'm a detail-oriented person so I would have liked to hear more details, but you can't do that in a brief speech. I think Barbara has had a good first year."
La Jolla Community Planning Association trustee John Shannon added: "I thought she did an excellent job. It's one thing to do her day-to-day activities, it's another to come before people and speak. I hadn't realized it's been a year, I feel like she has been on the job longer than that because she and her people have been so visible in the community.
"What I really liked is how she spoke about industry, entrepreneurship and UC San Diego … many people don't understand how the success of the District follows the success of the University — and of the businesses."
— Council President Pro Tem Barbara Bry represents San Diego City Council District 1, which includes the communities of Carmel Valley, Del Mar Heights, Del Mar Mesa, La Jolla, Pacific Highlands Ranch, Torrey Hills, Torrey Pines and University City. She can be reached at (619) 236-6611 and barbarabry@sandiego.gov
---
Get the La Jolla Light weekly in your inbox
News, features and sports about La Jolla, every Thursday.
You may occasionally receive promotional content from the La Jolla Light.