Do you know how fast (or slow) to go? A guide to La Jolla's speed limits from Bird Rock to The Shores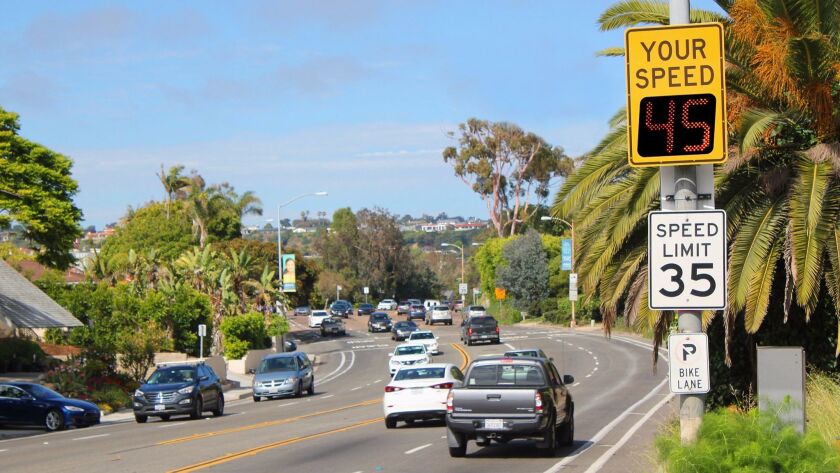 The white rectangular speed limit signs with black numbers inform drivers of the maximum speed allowed on a given road — or segment of a road. Warning signs, featuring a green-yellow background, advise of conditions related to pedestrians, bicyclists, schools, playgrounds, school buses and school passenger loading zones, must also be obeyed. However, road signs are not always in sight when drivers wonder, "How fast can I drive on this street?"
La Jolla Light brings you this compilation of the town's speed limits, along with other safe driving tips — how many do you know? It's interesting to note that according to current speed limits, no one should ever be driving faster than 45 mph through The Village.
La Jolla's 14 most traversed roads
• Pearl Street: 25 miles per hour (mph)
• La Jolla Boulevard: 25 mph (15 mph through roundabouts)
• La Jolla Shores Drive:
30 mph
• Prospect Street: 25 mph
• La Jolla Parkway: 45 mph
• Nautilus Street: 25 mph
• Torrey Pines Road: 35 mph (25 mph from Girard to Prospect Place, 45 mph Pottery Park Driveway to La Jolla Village Drive)
• Soledad Mountain Road: 35 mph (25 mph near schools)
• Hidden Valley Road: 25 mph (20 mph to 15 mph for sharp curves)
• La Jolla Scenic Drive North: 30 mph (25 mph near schools, 35 mph near La Jolla Parkway)
• La Jolla Scenic Drive South: 25 mph
• North Torrey Pines Road: 45 mph
• El Paseo Grande: 25 mph
• Girard Avenue: 25 mph (slow near schools)
Basic Speed Law
California public right-of-ways are ruled by the "Basic Speed Law." The California Driver Handbook, published by the Department of Motor Vehicles, states:
"This law means that you may never drive faster than is safe for current conditions. For example, if you are driving 45 mph in a 55 mph speed zone during a dense fog, you may be cited for driving 'too fast for conditions.' "
There are four main conditions that should affect the speed drivers use in California:
1) Other vehicle's speed;
2) Road surface conditions (smooth, rough, graveled, wet, dry, wide, narrow);
3) Proximity of bicyclists or pedestrians;
4) Weather conditions (rain, fog, snow, wind, dust).
Most California highways have a set speed limit of 65 mph. Drivers may exceed it up to 70 mph where posted.
For a two-lane undivided highway the speed limit is 55 mph unless otherwise posted.
Other speed limit signs are posted for the type of roads and traffic in each area, all speed limits are based on ideal driving conditions. Constructions zones usually have reduced speed zones.
California's fine for speeding starts at $35. But San Diego County drivers can expect to pay at least $235, thanks to court fees, a state surcharge and increasingly hefty penalty assessments — extra dollars tacked on to fund local and state programs.
---
Get the La Jolla Light weekly in your inbox
News, features and sports about La Jolla, every Thursday for free
You may occasionally receive promotional content from the La Jolla Light.