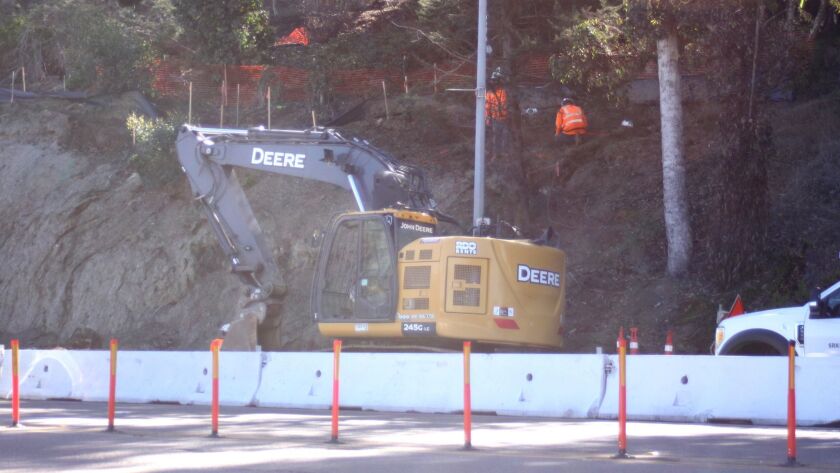 After some back-and-forth requests as to when the City of San Diego should proceed with the Torrey Pines Slope Restoration project, City engineers decided to employ both daytime and nighttime work. Crews were back on site in late November, and work will proceed until March, 2019.
The loudest work, the installation of what is known as soil nails (a construction measure to treat unstable natural soil slopes or that allows the safe over-steepening of new or existing soil slopes), will be done during the day with lane closures and detours tentatively scheduled.
In the last few days of November and first few days of December, there was day work and night work to create and cure a new cross gutter at Hillside Drive.
City spokesperson Alec Phillipp said in the coming days, crews will prepare the soil nail wall and test the nails during the day. This work is scheduled to be completed Dec. 7. No lane closures are expected for this leg of work.
Soon after, Dec. 10-31, crews will construct the soil nail wall during the day. One lane will be closed during the later days when the top tier is constructed. However, Phillipp said with the existing k-rail at the site protecting crews and equipment, future lane closures would be kept to a minimum to mitigate traffic impacts.
Further scheduling details were not available.
The decision comes after months of community debate as to when the work should take place. The slope restoration is a continuation of the Torrey Pines Road Corridor Project Phase II, which started last year. During the previous phases of work, residents and businesses lamented the excessive traffic along Torrey Pines Road and La Jolla Parkway. Work had to pause during the summer construction moratorium (Memorial Day in May to Labor Day in September).
Ahead of the work resuming, City Council member Barbara Bry issued a memo on Aug. 30 to the department of Public Works asking to have work done at night.
"Over the past several weeks, my office has heard from residents, visitors and businesses who have expressed their concerns regarding the traffic on Torrey Pines Road during the normal working hours of construction for the Torrey Pines Slope Restoration Project," she wrote. "As construction to complete this project is set to commence, I ask that all measures be taken to minimize the disruption of traffic during the day by shifting construction hours to night time. Furthermore, should night work be undertaken, I request that all accommodations be made to ensure that disruption (especially noise) to the surrounding area be minimized."
In September, the La Jolla Community Planning Association (LJCPA) voted unanimously to support the work being done at night to prevent the traffic backups from happening again. However, LJCPA trustee Dan Courtney pleaded for day work, citing the negative impact to those that live nearby, whose sleep would be disrupted.
At the November LJCPA meeting, residents on both sides of the night work issue addressed trustees. La Jolla resident Cindy Hazuka spoke for those who would be impacted by the night work, citing health impacts on those who would go without sleep, safety impacts due to increases in car accidents and social impacts from people being irritable.
Conversely, former La Jolla Village Merchants Association president Alisha Hawrylyszyn Frank spoke in favor of night work: "This is an unfortunate situation that will impact some homes, but we have 53,000 cars that come through La Jolla. (Work being done during the day would) impact these drivers as well as 1,300 businesses. There is no easy solution to this, but in the grand scheme of things, our only option is to impact as few people as possible."
All said, LJCPA voted to reaffirm its position in favor of night work and sent the recommendation to the City. A few weeks later, the City determined day and night work would be the best solution. <end_bug_diamond>
---