Signatures submitted to overturn short-term rental ordinance in San Diego region
Despite the passage of an ordinance regulating short-term vacation rentals (STVR) that was cleared by the San Diego City Council in July, the battle over the controversial home-sharing practice might not be over. In the days following the ordinance's passage on July 16 — and approved second reading Aug. 1 — those opposed to the regulation took to the streets with petitions in hand to nullify the ordinance. This effort could result in the ordinance being scrapped or putting the fate of short-term rentals into the hands of San Diego voters.
Those organizing the effort had 30 days from second reading to collect 35,000 legitimate signatures from San Diego voters. They submitted 62,000 signatures to the City Registrar's office for verification on Aug. 30.
But the methods by which these signatures were collected raised eyebrows. A press conference was held Aug. 28 in Point Loma with representatives from short-term regulation advocates Save San Diego Neighborhoods and City Council members Barbara Bry and Lorie Zapf, at which they accused the signature-gatherers of using "false information" to mislead signers.
The ordinance in question was drafted by San Diego Mayor Kevin Faulconer, and amended by District 1 City Council member Bry. The amendment she said she was "proud to make" restricted short-term rental to one's primary residence only. It passed 6-3 and is slated to go into effect July 1, 2019.
Bry explained: "You can rent out a room in your house every night of the year as long as you are on site. The ordinance allows you to rent out your whole house when you go on vacation, up to six months a year. In addition, the ordinance has (mechanisms for) enforcements, fines and the requirement that home-sharing services share their data with us. This has legalized the home-sharing economy in San Diego."
Any alternative, she argued, would create "open season for investors to snap up properties in residential neighborhoods and turn them into mini-hotels."
Questionable methods
Accusations of "fraudulent" signature-gathering have been reported locally and to the Secretary of State in a request to have these signatures "thrown out."
At the press conference, Save San Diego Neighborhoods president Ronan Gray said: "Now that this ordinance has passed, Airbnb has a problem. Instead of accepting the outcome of our democratic process, Airbnb has launched this fraudulent campaign to rescind the ordinance. Airbnb has hired these out-of-town petitioners who've been tricking people into signing the petition. We have received hundreds of e-mails and phone calls about this."
Zapf added that she personally has witnessed it: "I've approached signature-gatherers and asked them questions; one was here from Florida and just staying for the month to make money gathering signatures. He gave me completely false information. If your side has merit, you should not have to lie to get signatures."
Some reported hearing that gatherers said the petition was to support affordable housing, others said they heard it was to overturn the City Council ban on short-term rentals.
Zapf added the California Election Code imposes criminal penalties for abuses related to the circulation of petitions and prohibits circulators from misrepresenting the purpose or content of the petition to potential signers.
The local San Diego Community Working Group on STVR, an umbrella organization that includes the San Diego Coalition of Town Councils (Clairemont, La Jolla, Mission Beach and Ocean Beach), Neighborhoods for Residents, University City Community Association and Pacific Beach Planning Group, sent a letter to the California Secretary of State asking for an investigation into the matter.
"According to Elections Code §§ 18600-18602, a circulator is breaking the law and can be fined or put in jail if he misrepresents the contents and purpose of the petition. It is imperative that these underhanded petition signature gathering tactics be shut down and all illegally obtained signatures be thrown out," the letter states. "We humbly ask your office and its election fraud investigation to conduct an immediate investigation into this matter and take swift action to correct this injustice."
Claims are 'completely absurd'
Speaking for the coalition between Airbnb, HomeAway and Share San Diego spearheading the effort to overturn the ordinance, La Jolla resident Jonah Mechanic said he sees the regulations as a "de facto ban" on short-term rentals.
"The opposition is painting all the signature-gatherers as being from out-of-state and paid. There are paid signature-gatherers out there, which is quite common, but there are numerous volunteers out there," he said.
As for the claims that signature-gatherers are using fraudulent information to get enough John Hancocks, "it's completely absurd," he said. "We have not seen any evidence of this happening, and in a day and age where everyone has a camera on their phone, the fact that we haven't seen any evidence leads me to believe this is just a claim."
Further, Mechanic said all the signature- gatherers — paid or volunteer — are trained in what to say and how to gather signatures, and carry a booklet with the ordinance in for anyone who asks to see it. "If the signers want to sign without doing research, we can't stop them from doing that," he said.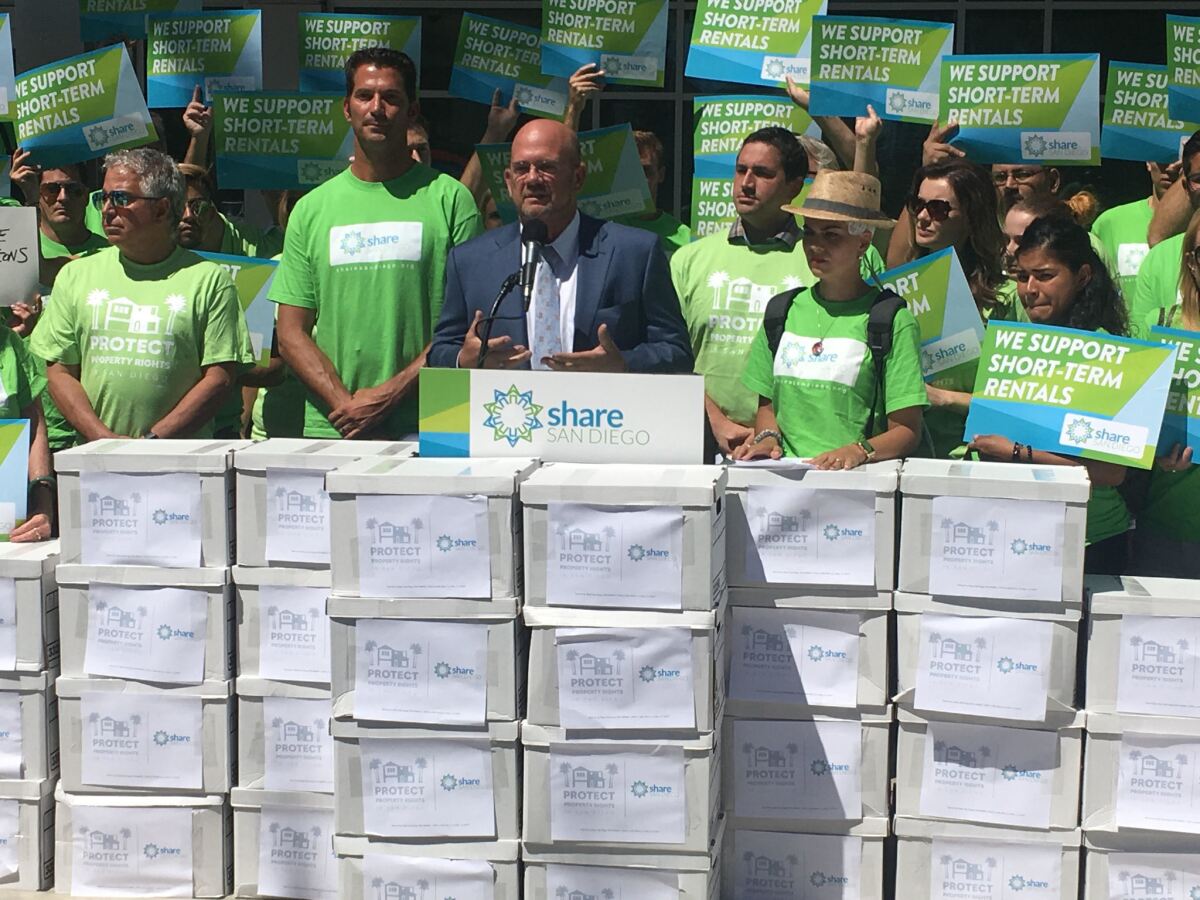 What's next?
Once the signatures are submitted and verified, the City Clerk will send a notice of sufficiency (or insufficiency) to the proponents of the effort. For a sufficient petition, the City Clerk must present it, with certification, to the City Council at the next regular meeting at which the matter can be heard.
The City Council must reconsider the issue within 10 business days.
Options include rescinding the ordinance entirely, or adopting a resolution of intention to submit the matter to the voters, and directing the City Attorney to prepare an ordinance calling an election to place the matter on the ballot. It is not known how long it will take to verify the signatures.
Get the La Jolla Light weekly in your inbox
News, features and sports about La Jolla, every Thursday for free
You may occasionally receive promotional content from the La Jolla Light.