PDO board approves 8-lot subdivision in La Jolla Shores; Plans next heard by Permit Review Committee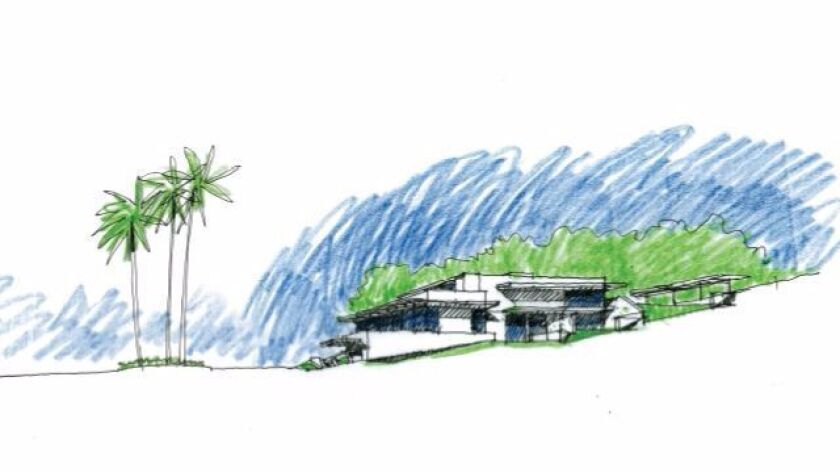 The La Jolla Shores Planned District Ordinance advisory board (LJSPDO) approved an eight-lot subdivision for a 4.45-acre site at 8280 Calle del Cielo during the May 15 meeting at La Jolla Rec Center. The project, presented by architect Paul Benton, has been making its rounds around the town's advisory boards for information-only presentations, and the LJSPDO was the first one to give the project a thumbs-up.
The 8280 Calle del Cielo site is east of La Jolla Shores Drive and south of Calle del Oro, at the end of a cul-de-sac. Benton's plan is to subdivide the land into eight, approximately half-acre lots, seven of which would have access from Calle del Cielo and the eighth from Calle Frescota, a private street off La Jolla Shores Drive.
The plan proposes to grade the parcel and build a road extending Calle del Cielo first, and then construct the individual, 7,500-square-foot custom houses once buyers are identified. For constructing the two-story houses, architects are taking advantage of the steep slope within the lot, making the structures look like one-story homes from the east.
Developer Louis Beacham spoke of the effort the team behind the subdivision is making to gain the neighborhood's support. "We've met with neighbors in their homes, taken a group on-site, discussed drainage, setbacks, views ... we've taken input and made adjustments in the project. We're interested in making everybody feel like we've done a good job and are happy to support us," he said.
One of the neighbors who took offense at the small setbacks initially proposed for the project, former Congress member Lynn Shenk whose Vallecitos Court residence sits south of the project, was said to have reached an agreement with developers. "At least in my world. Then, it comes down to lawyers," noted Benton, who indicated the developer had decided to increase the south setbacks to 15 feet, rather than the initial 10 feet.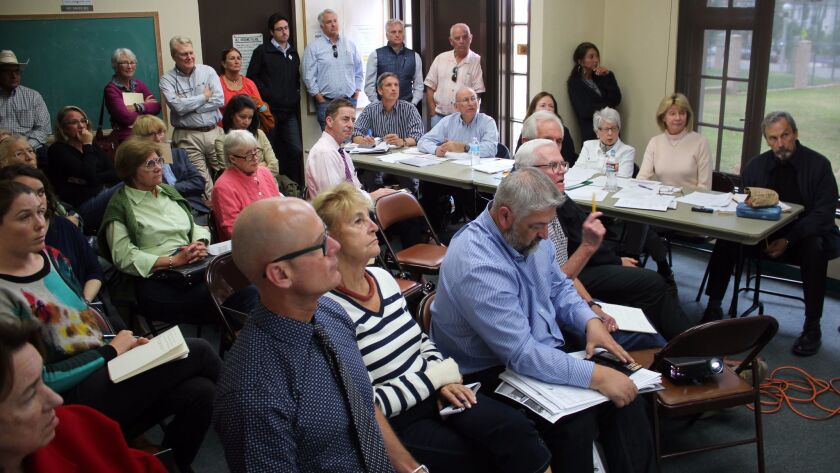 Drainage issues
Currently, the Calle del Cielo site drains rainwater to the west on Calle Frescota, where neighbors have previously reported flooding. The subdivision project proposes to catch the stormwater in basins and slow it down before it's released through a 14-inch pipe onto Calle Frescota so it dissipates before reaching La Jolla Shores Drive.
Calle Frescota resident Richard Van Wert said (referring to the sloped terrain before Calle Frescota reaches La Jolla Shores Drive), "We worry that the reservoir is in the right-of-way and directs back toward our house." Project Civil Engineer Tony Crisafi said the plans include paving the area VanWert is worried about to prevent any flooding. "We want to slow it down even more, if we run it through rock before going to the street, that slows (water) down," he added. Beacham reassured Van Wert they will look into it further.
Deliberation
Resident Phil Merten raised additional issues, such as lack of grading and environmental studies, or the presentation of Covenants, Conditions and Restrictions (CC&Rs) for the future homeowners association. "What guarantee do you have that these (proposed homes) are going to be built like they are?" he said, referencing the Montoro community's disparities between the plans and what was actually constructed.
"Montoro is over 50 homes and it was in the 1970s," replied property owner James Riha. Benton added, "Every point you heard (from Merten) is outside the purview of this committee."
The response prompted a reminder from LJSPDO chair Dan Goese, "What Paul said is true, there are a lot of objections that can come up, the City does a lot of work that none of these (advisory) boards do ... but here's a note to our board that CC&Rs, how long someone's lived in La Jolla, if they own property (or not) … we don't want to hear about it, because we can't rule on it one way or another."
The development team reassured board members that the City and the State will perform several reviews to make sure the proposed project is what eventually goes in — including a Substantial Conformance Review that the individual homes will have to go through before breaking ground.
"God only knows why this property is available to you at this time, it's been there for a long time," said LJSPDO board member Andrea Moser. "I believe you are sincere in trying to do a good project. It's big, there's no affordable housing, it is what it is, but I believe there's integrity in what's been proposed ... something, at some point, is going to be done with this property." On those grounds, she made a motion to approve the project.
Trustee Herbert Lazerow asked Moser, "Would you be willing to amend your motion to make that subject to the understanding that the City will clear the drainage problem and that plans for the individual houses will come back to this board?"
After chair Goese clarified the amendment wasn't possible and LJSPDO had to trust the City to do its job, the motion passed 4-1-0.
After the vote, LJSPDO member Suzanne Wiseman said, "This is a much bigger project than I can ever recall. If we voted on the overall concept, it looks like it conforms to the PDO. I'm just concerned there are so many open (issues)."
— The next review of the proposed subdivision is before the La Jolla Shores Permit Review Committee, 4 p.m. Tuesday, June 27 at La Jolla Rec Center, 615 Prospect St. Find meeting agendas at bit.ly/LaJollaAgendas
---
Get the La Jolla Light weekly in your inbox
News, features and sports about La Jolla, every Thursday for free
You may occasionally receive promotional content from the La Jolla Light.