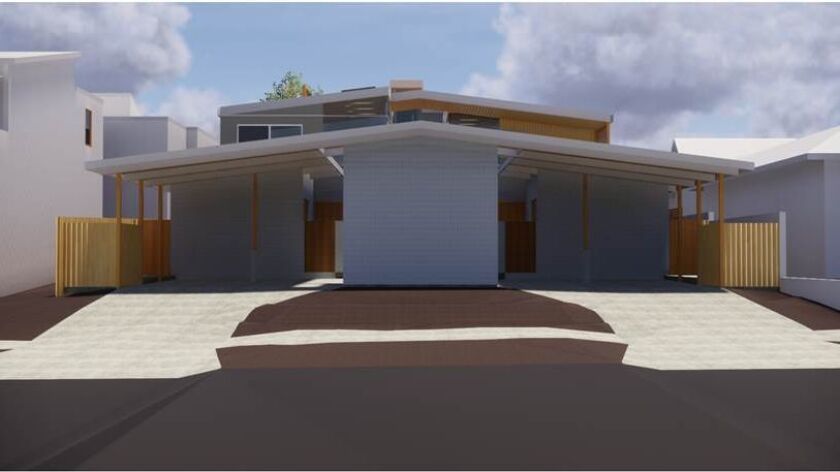 A presentation to the La Jolla Shores Permit Review Committee board (PRC) that was seemingly heading for a return visit, took a surprising, last-minute turn when a project to add to a one-story duplex was approved 4-1-1, Oct. 15 at La Jolla Rec Center.
The La Jolla Shores property is at 8015 and 8017 El Paseo Grande, and applicants Ione Stiegler and Heather Crane successfully sought a Site Development Permit for alterations and additions to the 2,352-square-foot, potentially historic multi-family duplex; remodel the interior; and add a 1,181 square-foot second story with roof deck.
"We're actually sort-of excited about this project because this (duplex) is a unique marriage between Lloyd Ruocco, who was a famous mid-century modernist architect in San Diego, and Homer Delawie, another famous mid-century modernist architect, during their short-term partnership in 1960," Stiegler said. Because of these accolades, the San Diego Historical Resources Board considers the property "potentially historic" and architect Crane has to adhere to the Secretary of the Interior standards for historic preservation.
"We needed to set it back, differentiate, and complement the original," Stiegler said, and gave Crane kudos for doing "masterful job" at achieving these goals.
Stiegler said the homeowner bought and lived in the property in the 1980s, before moving to the East Coast. "He maintained ownership of the duplex and rented it long-term, but he and his wife are looking to retire and move back to this house," she said.
As such, the architects seek to create an "owner side" to the duplex that includes a second story and a third floor balcony that overlaps both units. The single-story "renter side" would be largely unchanged.
The second story and balcony would add 1,478 square feet to the existing 2,352 square-foot duplex. The second story is set back 57 feet from the front to minimize the view from the street.
Two neighbors wrote letters of support, and while the residents of the house directly behind the property were contacted, they never responded.
The only issue raised at the meeting was the enclosed staircase that would lead to the new second story and balcony.
When asked about whether the staircase could be brought outside rather than being contained in a tower, Stiegler explained "waterproofing stairs is terrible and is only going to last three to six years and then you are going to have to do it again. It is much better to have a roof over a set of stairs rather than water proofing them," adding, "we're being constrained with what we can do (based on its potential historicity)."
Concerned about the tower-like appearance of the stairwell, PRC trustee Angie Preisendorfer noted, "I think you folks have done a really good job, except for the push of the stairwell."
Trustee Janie Emerson added, if she lived behind the stair tower, "I'd be livid."
Although the applicant was asked to reconsider the stairwell configuration and was ready to come back — as some trustees said they needed more information before they could proceed with a vote — an about-face motion called for the project to be approved on its first review, which passed 4-1-1.
"It's remarkable the rock and hard place you've been placed in between," trustee Matt Edwards said as part of his motion. "You've done a great job."
Grady Residence
Less successful, the Grady Residence project was asked to come back for a vote after its first review.
The applicant's representative, James Alcorn, seeks a Coastal Development Permit and Site Development Permit to demolish an existing house and construct a new, two-story 4,640 square-foot residence over a 2,170 square-foot basement with garage and studio at 7910 Saint Louis Terrace.
The property sits on a corner at the top of the street and is largely blocked by trees, which will remain. Despite its size, Alcorn said from Torrey Pines Road, "you can't even see this property" and that the height maxes out at 28 or 29 feet.
Although Alcorn presented drawn renderings and a 3-D model of what the house would be, he did not provide feedback from the neighbors, a street scape to show how the project would fit with the houses that surround it, a data sheet with figures about surrounding houses, material board or interior sections.
As such, he was asked to return to a future meeting with this information.
— La Jolla Shores Permit Review Committee next meets 4 p.m. Monday, Nov. 19 at La Jolla Rec Center, 615 Prospect St. lajollacpa.org
---