Metal fish taken from La Jolla Shores donor wall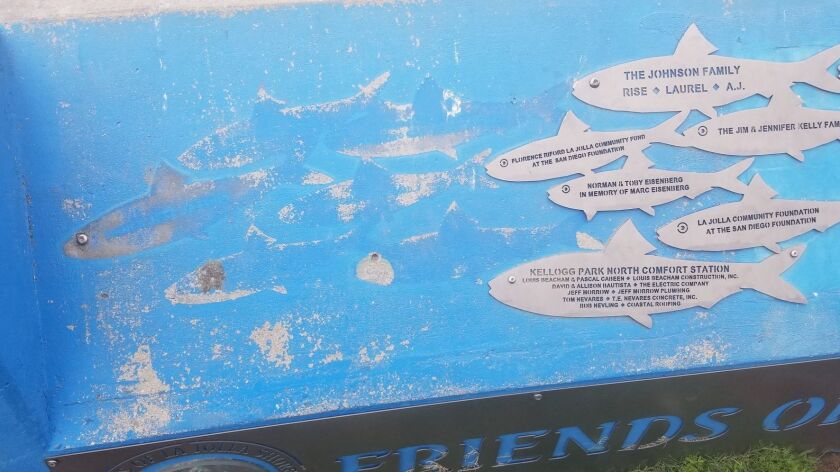 Friends of La Jolla Shores is seeking information about a small section of the Kellogg Park playground "donor wall" that was vandalized when a panel of six titanium fish plaques recognizing major donors was forcibly removed.
The donor wall was a project executed by La Jolla Eagle Scout Kristoff Pawinski in 2013. It included painting an existing wall (on the east side of the playground facing the park) blue, and installing the metal fish cutouts bearing the names of donors who contributed to the playground improvements.
Because the fish plates are connected, when one was removed, several others came with it. The missing fish recognized donations from Las Patronas, the Dr. Seuss Foundation and four families — representing $80,000 in donations.
"Staff has determined that vandalism was the cause of the missing fish," said City spokesperson Tim Graham. "The City is working with Friends of La Jolla Shores and the community to determine appropriate next steps."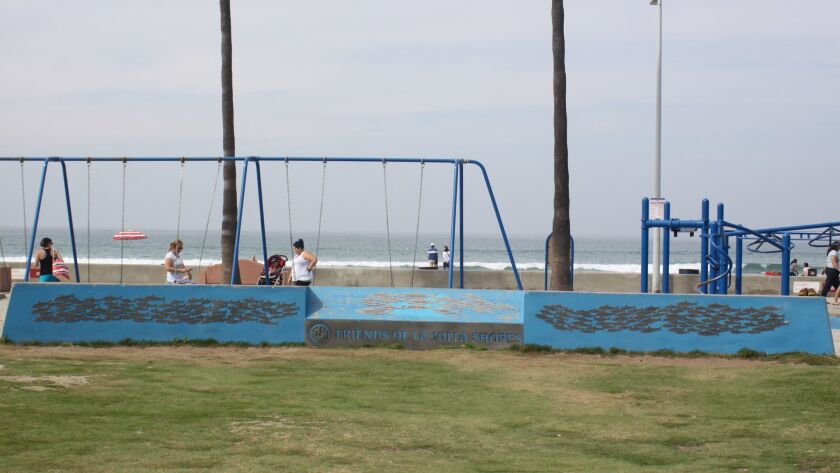 The panel is believed to have been taken by the new wife of one of the donors recognized on one of the fish, who was upset that the commemorative fish also bore his former wife's name, representing a $25,000 donation.
Friends of La Jolla Shores was notified of the theft on Oct. 11, after the San Diego Park & Recreation Department said it received phone calls and e-mails in late August requesting the fish be removed or altered to reflect the current family members.
"We were told (Park & Rec employees) received several phone calls from the new wife of one of the donors and she asked them to remove it, but we needed to discuss it as a board before we took any action," said Terry Kraszewski, Friends of La Jolla Shores member. "Before we could meet and talk about it, someone took matters into their own hands and removed it."
Kraszewski acknowledged that they do not have proof of who took it, nor do they have any witnesses, but the timing is suspicious.
"The sad thing is, there are fish from other donors that came off with it," she said. "It hurt other people who wanted their loved ones memorialized. We see this as an act of vandalism and that never feels good. Shame on whoever defaced this beautiful community feature."
She added that The Friends of La Jolla Shores board does not have money to replace the fish taken, and to prevent a public hazard, City staff has sanded down the area that became rough due to the plaque removals.
The wall was designed in part by Eagle Scout Pawinski, who worked with Scripps Machine Shop to cut out the fish plates from titanium sheets and engrave them with park patrons' names using a water-jet.
Pawinski screwed the fish into the wall himself, so they could not be removed easily.
Pawinski's father indicated that if the rest of the panel — minus the fish "causing heartburn" — were to be returned, they could be reinstalled.
Friends of La Jolla Shores president Mary Coakley Munk told La Jolla Light: "Over the past 14 years, our group raised over $2 million to make Kellogg Park a better place for our community and its millions of visitors.
"It was devastating to discover that six of the sardines, thanking major donors for their significant contributions toward replacement of the playground, had been vandalized and removed from the Donor Wall. It is our sincere hope that the individual responsible for the vandalism will return the section they removed and make restitution for the damages."
— Friends of La Jolla Shores can be contacted through its president Mary Coakley Munk at coakleym@san.rr.com or friendsoflajollashores.com
---