La Jolla Shores group demands action on stormwater project delays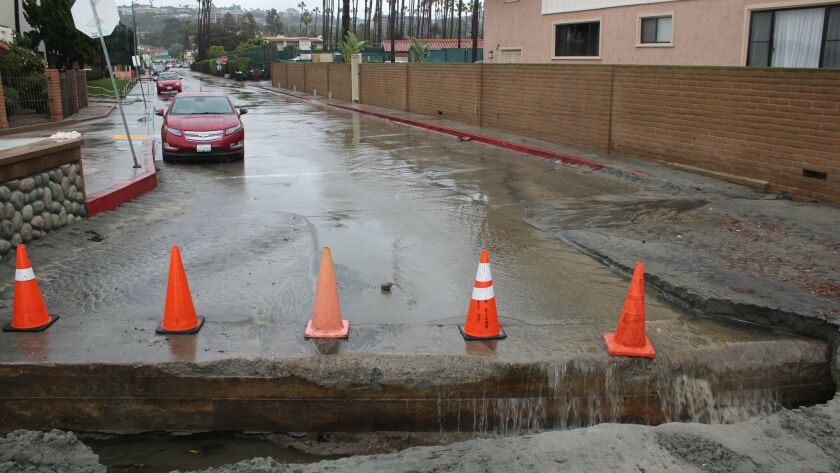 A group of La Jolla Shores residents and business owners gave a coordinated presentation at the San Diego City Council meeting Monday, Jan. 9, protesting the ongoing construction project in their neighborhood to underground utilities and replace the stormwater infrastructure.
During the non-agenda public comment period, the group "begged" City Council members for an end to their long-suffering situation.
Barbarella restaurant owner Barbara Beltaire called the project that has left Shores streets torn up and parking eliminated, "endless and devastating."
"We're begging you now," she said. "We're asking you for your help for our community and also for our ocean. We really need your help."
During their appearance, the group said the project, which started in 2013, was supposed to end in 2015. "It has been redone three times now, and the truth of the matter is that this project was a failure from Day One, and this is awfully scary for us now, because there is no end (in sight), no completion date. … It's been having horrible negative impacts on both the residents and the businesses — some have closed, some have had to lay people off because of all the construction," Beltaire continued.
The initial goal of the Avenida de la Playa stormwater replacement project was to improve the quality of the water that is dumped into the La Jolla Shores' Marine Protected Area. However, after the construction's first completion date in 2015, a storm in January 2016 blew apart a culvert box next to the outfall structure. Current construction in the area deals with installing a new pipe to substitute for the one that broke, and leaving out a filter box used to separate trash and bacteria before stormwater runs into the ocean.
Residents claimed that since the rain episode that destroyed their street, low flow discharges and storm runoff drains freely into the ocean down Avenida de la Playa. La Jolla Shores Business Association president Angie Preisendorfer said visitors, locals and marine life alike are affected by the release that "fouls" the ocean.
"The continuing failure of this project is allowing pollution to flow free into our local ocean waters — the ocean that lures tourists from near and far bringing much needed revenue to San Diego," she explained.
La Jolla Shores is one of the busiest beaches in San Diego. Preisendorfer pointed out that the stormwater construction project on Avenida de la Playa requires the highest level of overview to make sure that this time it is done right. "This (project) has not being approved nor funded, and there's no guarantee that this is going to solve the original project. Who is in charge? San Diego residents and visitors need to be confident that they can swim in a clean ocean, find parking, not fall and trip from poorly-maintained streets and sidewalks."
Resident Ted Levis focused his intervention on the state of disrepair of the pedestrian and road infrastructure in La Jolla Shores. "Our neighborhood streets are failing because of a complete lack of maintenance in a very touristy area, and secondly, they have been decimated further by the construction that has showed up in our neighborhood over the last 3-4 years to try to fix the Avenida de La Playa stormwater project," he stated.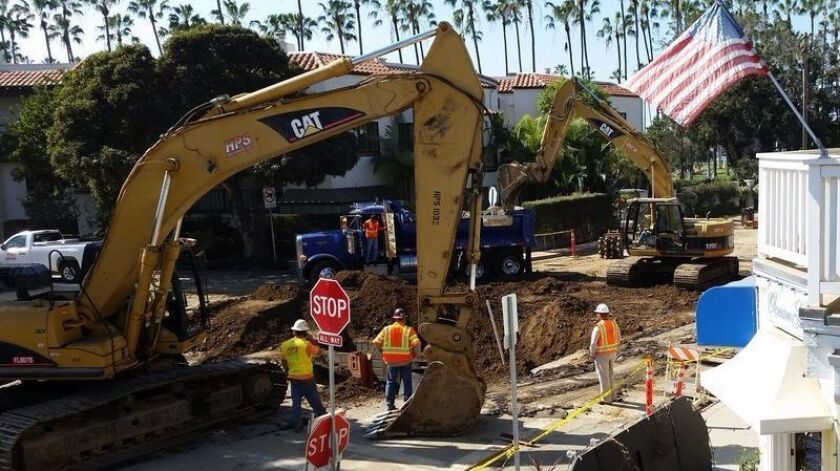 Lastly, Jim Morris, who has resided and worked in La Jolla Shores for 29 years, offered the San Diego City Council a half-dozen suggestions for better construction project management. He recommended that to plan effectively: the City hire only contractors with a proven record and success in comparable projects, hold contractors to the highest standards, communicate effectively with the community, repair the damages thus far, and regain the public's confidence.
"We thank Council member Barbara Bry, who has assigned a staff member to monitor these La Jolla Shores projects," Morris said. The designated person, Bry's team confirmed, is Daniel Orloff.
The Shores neighbors' presentation, as part of the non-agenda public comment of the meeting, could not result in any deliberation or action by the City Council, according to the Brown Act. Nonetheless, Council member Bry thanked the residents of her district for their remarks and volunteered to work with them, promising a meeting with Mayor Faulconer or the City's infrastructure committee.
After the fact, Bry told the La Jolla Light, "It is important for the small businesses and residents of La Jolla Shores, as well as all communities throughout the City, that public works projects be done quickly and efficiently. I look forward to working with the Mayor's office to ensure the work on Avenida de Playa is done on time and on budget."
---
Get the La Jolla Light weekly in your inbox
News, features and sports about La Jolla, every Thursday for free
You may occasionally receive promotional content from the La Jolla Light.