Shores seats 11 new, returning board members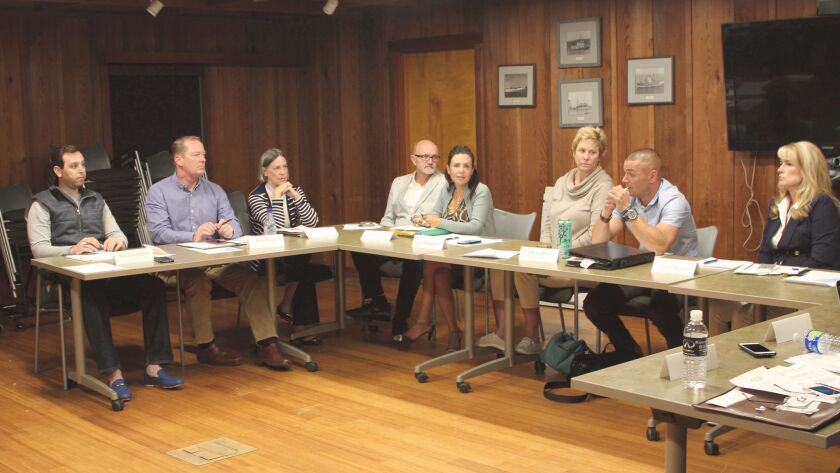 La Jolla Shores Association (LJSA) held its annual election May 10 at Martin Johnson House, where 11 candidates were up for 11 seats — eight two-year terms and three one-year terms.
Jenny Feinberg, Steve Chapple and Pam Boynton secured the one-year terms, and the board members elected for two years are Brian Earley, Angie Preisendorfer, Janie Emerson, John Sheridan, Coco Tihanyi, Dave Gordon, Sharon Luscomb and Nick LeBeouf.
Ballots with the 11 names went out in previous weeks, and Shores residents or business owners age 18 or older were eligible to participate in the election. Votes could be send by mail, e-mail or in person, 6-7 p.m. at 8840 Biological Grade. After counting "three times," election committee member Dede Donovan announced the results.
The new and returning trustees were seated and the new board elected its officials for the next year. Nick LeBeouf will be chair for a second term, Janie Emerson replaces Mary Coakley Munk as vice-chair, Shahar Compton continues as secretary, Angie Preisendorfer as corresponding secretary and Susan Tschirn replaces Jenny Feinberg as treasurer.
Newly elected vice-chair Emerson, who has lived in The Shores since 1961 and is a retired business owner, said, "I enjoy helping the community become a better place for everybody." For new board member Chapple, "This is where Democracy begins."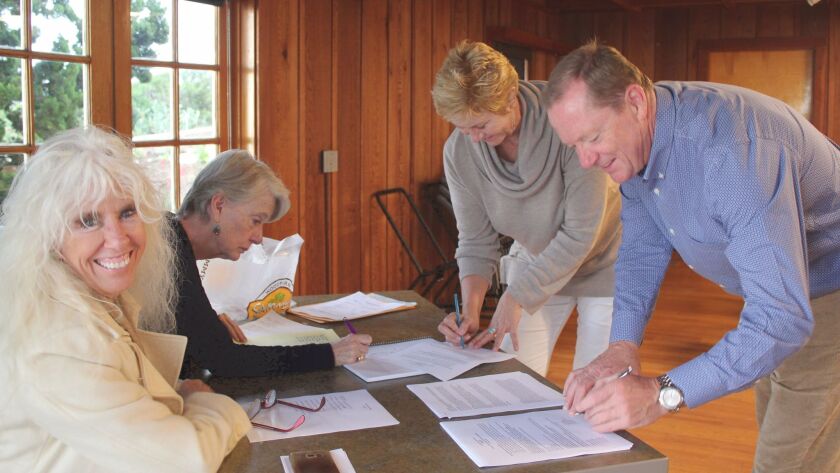 In other LJSA news:
Fall Fest Street Closure: LJSA voted to approve a request to close Avenida de la Playa, 1-4 p.m. Sunday, Oct. 15 for the Fall Fest. This Halloween-themed, child-oriented event features trick-or-treating with local businesses where children in costumes get a taste of November fun early in the month.
Tickets are usually $5-$10, and though the fest has been celebrated since 2007, this is the first time a street closure was requested.
'Dead' Street Lights Update: Board member Preisendorfer sent a letter May 9 to San Diego Mayor Kevin Faulconer and District 1 City Council member Barbara Bry reporting that there are 14 non-working street lights in The Shores, even after circuit outages were "repaired" in March.
"La Jolla Shores is a very busy pedestrian part of San Diego (with) residents, hotel guests, businesses and, of course, the more than 3 million beach-goers who come to The Shores and Kellogg Park (every year).
"We need to be able to safely walk our sidewalks and streets," the letter reads.
Airplane Noise: The board voted to send a letter to elected representatives seeking support on the issue of air traffic noise over La Jolla. "If we don't speak up now, we're going to end up like Point Loma or Ocean Beach, having aircraft constantly overhead. There's so much noise that the quality of life is compromised," said board member Sheridan.
— LJSA next meets 6:30 p.m. Wednesday, June 14 at 8840 Biological Grade. ljsa.org
---
Get the La Jolla Light weekly in your inbox
News, features and sports about La Jolla, every Thursday for free
You may occasionally receive promotional content from the La Jolla Light.