The morning of Friday, April 28, WindanSea resident Zeke Woolley was walking his dog when he saw a dark pool of water in the rocks in front of the Vista de la Playa beach access. "It was a dark pool with foam and some debris floating in it. It was sewage," he said. At the time, the low tide hadn't reached the rocks and the liquid was concentrated.
One week before, on Thursday, April 20 the City detected a 1,350-gallon sewage leak at the adjacent Fern Glen pump station, and closed the beach for three days while the material dissipated in the water.
Woolley said he informed the City of the suspicious-looking water. The City confirmed staff had gone out to investigate his claim. Wastewater Collection Division deputy director Agnes Generoso said, "It is not spilling and there has been no spill since the incident on April 20."
The La Jolla Light visited the spot April 28 (see photo) and found a brown layer and foam material covering parts of the surf by the Vista de la Playa beach access, but high tide had reached the rocks where Woolley reported seeing the "sewage."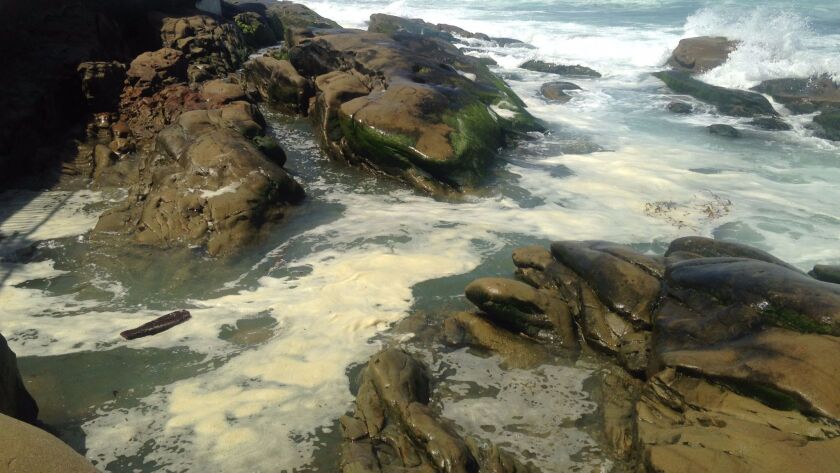 A few feet away, security guard Cody Hardesty sat in a plastic chair on the sand, as he does three days per week. He said the color of the ocean was no stranger to him. "The water has been looking like that, give or take, three weeks before they even put on the signs to close the beach (because of the sewage leak)."
The City said the color of the water was caused by microorganisms, such as phytoplankton and ciliates. In an e-mail, City staff said an investigation was carried out as early as April 22 about the water color, and City marine biologist Wendy Enright had water samples taken during the sewage spill tested for microorganisms.
"All three samples from station at the mixing zone showed evidence of phytoplankton but the most recent sample from (April 22) had the highest density and diversity. Without refrigeration, mortality rates are pretty high for these guys," the e-mail reads.
The Light contacted Surfrider Foundation senior scientist Rick Wilson, who said the microorganism explanation is "possible. I've seen foamy brown material in the ocean caused by a breakdown of plankton or seaweed decomposing, there's no way to know without testing that water."
San Diego County Environmental Health Land & Water Quality division program coordinator Keith Kezer said the last time water was tested at WindanSea, April 26, there were undetectable levels of bacteria in the sample.
He said the difference between a sewage leak and foam caused by microorganisms, is the smell.
Woolley, who reported the incident, added, "I know the difference, plankton doesn't smell. And it stunk. It reeked." By the time this reporter made it to the Vista de la Playa beach access, there was no smell.
Wilson explained that, sometimes, high numbers of plankton can be related to sewage. "When we get red tides which are plankton blooms, that is thought in many cases can be fueled by a sewage leak, the nitrogen compound that can be in the sewage can of acts as fertilizer to the ocean," he said. "But that's speculation because there are a lot of causes that may cause plankton to bloom."
---