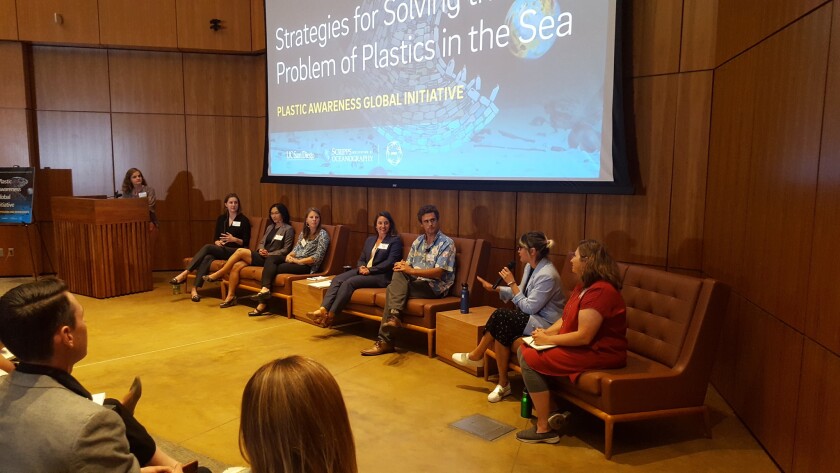 Much like how the problem of plastic pollution in the ocean took decades to grow, the experts who spoke at the Scripps Institution of Oceanography (SIO) Plastic Pollution Symposium Oct. 2, agreed it will take decades and a multi-pronged, collaborative approach to solve.
The second in a two-part series, "Strategies for solving the problem of plastics in the sea," was held at the Scripps Seaside Forum auditorium, and brought together experts from various organizations seeking to solve one small piece of the complex puzzle that is the trillions of pounds of plastic in the ocean. (The first lecture, held the day before, tackled "The science of plastics in the sea — perspectives on the sum of the parts.")
"You've seen the pictures — sharks that have eaten flip-flops, birds that have eaten bottle tops, particles of cigarette filters in anemones — causing starvation and strangulation throughout the food chain. Simply put, the planet is choking on plastic," Igor Korneitchouk of the Wilsdorf Mettler Future Foundation, told the crowd.
He cited a 2017 National Geographic study that indicated 91 percent of all plastic has not been recycled.
"And all the plastic that has ever been produced — since the first man-made synthetic polymer in the 1940s and the first appearance of particles in the ocean in the 1970s — is still around," he pointed out.
It's been reported that about 8 million metric tons of plastic are thrown into the ocean each year.
Delving into how to solve this problem, seven experts introduced their organizations' roles in reducing ocean-bound plastics, and then the public was invited to ask questions.
The panelists included assistant art professor Pinar Yoldas; National Oceanic & Atmospheric Administration Marine Debris regional coordinator Sherry Lippiatt; World Wildlife Fund senior program officer Alix Grabowski; Surfrider Foundation's Plastic Pollution initiative leader Trent Hodges; Pew Charitable Trust Preventing Ocean Plastics initiative senior officer Winnie Lau; Californians Against Waste policy advisor Kelly McBee; and City of San Diego supervising recycling specialist Chelsea Klaseus.
Questions from the audience looked at how to reverse the problem and whether a solution was even possible.
"I hope so," opened Hodges. "We're starting to have discussions of what a zero-waste society looks like and how it is different politically, but there's going to need to be a huge shift in how we use goods."
McBee added that a solution would also necessitate a cultural shift in perspective: "Are you going to value convenience more than (anything)? That value narrative needs to be had alongside the policy conversations we have. It has to be cooler for Coca-Cola to re-use more of their bottles than Pepsi, for a company to use more reusable material.
"We think of plastics as cheap and clean and safe, and in some cases they are, like in hospital settings. But we need to think about plastics way more upstream — the extraction of natural gas and oil, processing it into plastic, shipping it elsewhere and the greenhouse emissions associated with that, all of the communities around these extraction sites and the plastic production sites.
"When you think about these factors, you might look at your plastic fork differently. You would remember where it started from and it would have a different value. It wouldn't be disposable anymore, it would be something that has this big footprint."
Yoldas added there are pop-culture shifts that could be made, too. "If there's a company with a boss, that boss might have a son or daughter who watches Spider-Man. And if Spider-Man refuses to use plastic bottles, or if Wonder Woman saves a sea animal choking on a piece of plastic, we would be looking at a very different world."
Continuing on the theme of children as the key to a cleaner future, Klaseus said most of her research indicates adults develop cleaner habits at the urging of their children.
"I can't tell you how often we hear from adults who say, 'I'm doing this (recycling) because my kid came home from school and taught this to me,' " she said. "Children can be such a behavioral game-changer and we do not give them enough credit. If students are getting the right messages, this could mean important changes, and we can make those changes now."
Positive messaging, especially with children, Lippiatt said, should be "try to remember your reusable water bottle," not "you shouldn't be using a plastic water bottle."
Organizations leading the way
Here is a look at the various organizations impacting the plastic pollution problem.
National Oceanic & Atmospheric Administration Marine Debris Program: Its mission is to investigate and prevent the adverse effects of marine debris by focusing on prevention, research and removal. "One recent landmark project was to work with food industry to track the cost savings, over time, of switching from plastic to reusable take-away items," Lippiatt said. Learn more at marinedebris.noaa.gov
Californians Against Waste: This group looks to address plastic pollution through legislative and regulatory engagement. Past successes include the 5- and 10-cent return on recycled bottles (which, to date, has led to the recycling of 362 billion beverage containers) and the California plastic bag ban. Last month, California Gov. Jerry Brown signed four bills that address plastic pollution. Learn more at cawrecycles.org
World Wildlife Fund: Its mission is to protect wildlife and preserve natural resources, and it focuses on stopping the flow of plastic rather than the cleanup. "Plastic pollution can threaten our progress in the goals we have, and so we need to take a whole-planet perspective. However, we don't want the solution we put in place to cause another environmental crisis, such as deforestation," Grabowski said. Learn more at worldwildlife.org
Pew Charitable Trust Preventing Ocean Plastics Initiative: This two-year endeavor is using a fact-based approach to provide scientific data and policy analysis to prevent ocean plastics pollution. "From these analyses, we hope to identify those intervention strategies that are the most cost-effective and most efficient for solving our plastic problem," Lau said. Learn more at pewtrusts.org/en/projects/preventing-ocean-plastics
Surfrider Foundation's Plastic Pollution Initiative: This directive is focused on stopping pollution at the source and reducing the amount of single-use plastics that are produced. It is a grassroots effort of 160 chapters and school clubs that looks to educate and engage with businesses. Learn more at surfrider.org/initiatives/plastic-pollution
Artist Pinar Yoldas created the impactful images of the turtle with balloons on its back, instead of a shell; and the bird that, over time, changed its color based on its diet of red Coca-Cola bottle caps, pink Evian bottle caps or blue Dasani bottle caps, a la, how flamingos get their color from the krill and shrimp they eat. Learn more at cargocollective.com/yoldas/WORK
City of San Diego Environmental Services Department: Staff works to create behavior change from the legislative side by collecting data. "Because we are able to get this kind of data, we are able to go the City Council and pass our Zero Waste Plan," Klaseus said. The Zero Waste plan, ultimately, looks to reach zero waste by 2040. Learn more at sandiego.gov/environmental-services
---