Scripps patient shares her breast cancer survival story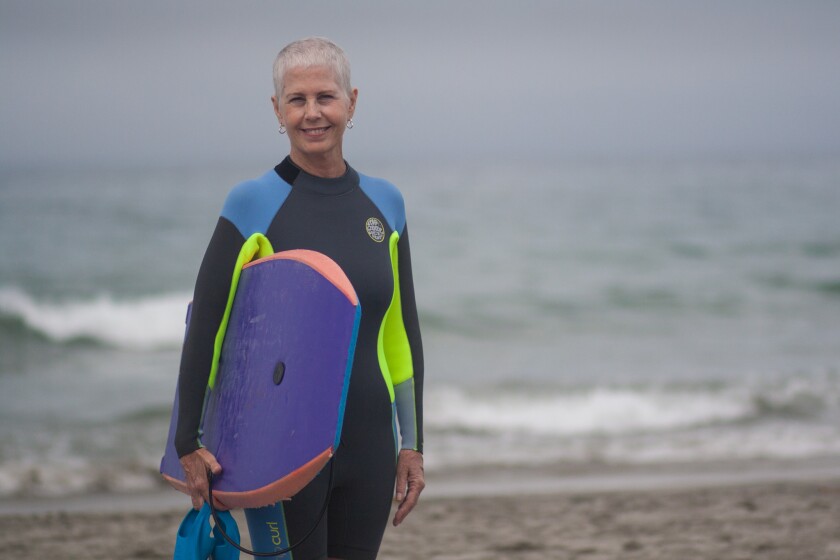 As one of San Diego Police Department's first female patrol officers, Janet Chelberg-Burgess of San Carlos experienced a lot in the field, things most people don't see in their lifetimes. But her biggest challenge to date is something frighteningly common that affects about one in every eight women: breast cancer.
To mark breast cancer awareness month, Chelberg-Burgess completed her multi-phase treatment and is today, cancer free. She shared her story with La Jolla Light from the Scripps Radiation Therapy Center in La Jolla Oct. 6, minutes after completing her final radiation treatment.
Reflecting on the tumultuous experience that began in February of this year, she recalled the dreaded moment her doctor said, "you have breast cancer," and first feelings of shock that followed. "I know or have heard of so many people who have or have had cancer. Some people survive, some don't. Then all of a sudden, it's you. I thought, 'Me? This is happening to me? It's not supposed to be me, this happens to other people.' "
Having had a mammogram the month before, she knew something was out of the ordinary when she needed to go back to the doctor's for a biopsy. "After my doctor broke the news, she told me to go home and someone would call me the next day with scheduling treatment. I thought about how all the women I know that had breast cancer immediately had surgery, so I prepared for that," Chelberg-Burgess said.
But Scripps had other plans.
Rather than scheduling surgery, Scripps prescribed Chelberg-Burgess a chemotherapy treatment and a drug specific to her cancer. The HER-2 gene she carries can cause breast cancer cells to grow at an accelerated rate. The drug would block the HER-2 gene's receptors from receiving growth signals, and shrink the tumor before any surgery to minimize the amount of healthy surrounding tissue that would need to be removed.
"Doctors said this similar treatment was used on someone who had a tumor the size of a small orange, and it shrunk down to the size of a coin before the surgery," she explained. "That sounded good to me."
After every scan possible to determine the cancer had not spread anywhere else, Chelberg-Burgess began chemotherapy treatment. "I had every side effect you could get, so Week One was awful," she said. "Week Two was OK, and by Week Three you feel sort of normal – making lunch dates, calling people, etc. ... In my free time, I went to a wig shop and intended to look around, but I just cried. I was preemptively mourning the loss of my long blonde hair," she said. A month later, her hair started to fall out, and she shaved her head in June.
To keep herself positive and enjoying life, Chelberg-Burgess said she regularly boogie boarded at La Jolla Shores. "I love everything about boogie boarding, it's just you and the wave and the water," she said. "You can forget all of your worries when you're out in the ocean. It really kept me going."
On July 22, her medical team was ready to surgically remove whatever was left of her 3-centimeter tumor. "When my surgeon (Pamela Kurtzhals) went in to remove the tumor, it had just melted away. It was just gone," she said. "This is the best case scenario outcome and what they hope happens to women with my type of cancer, but it would not be the case for all types of cancer."
Following the surgery, her tissues and lymph nodes were checked and she was cancer free. Still, she continued to receive targeted rounds of radiation to minimize the chance of resurgence.
"When I was declared cancer free, my friends asked me why I was still going in for radiation. Dr. Ray Lin told me the chance of recurrence, if you don't, is up to 40 percent, so why wouldn't you? Plus, after chemo, surgery and radiation are nothing," she said.
Of Chelberg-Burgess Dr. Lin said, "She's a delightful patient to care for. She has a positive attitude and wonderful, generous spirit. She was cared for by our Scripps multimodality breast cancer team, including a medical oncologist, surgeon and radiation therapist. … Thankfully, she had an excellent response to therapy. She is now a breast cancer survivor!"
He added that Chelberg-Burgess' healthy diet and her exercise plan contributed to her being receptive to treatment. "She tolerated treatments better than expected because she was fit and healthy to begin with."
Celebrating with her medical team, Chelberg-Burgess received her last radiation treatment Oct. 6 and smiled through sighs of relief.
"I get a mammogram every January. Women should have a mammogram every year — not every three years, not every five years, every year. My tumor was found during my yearly mammogram and I'm sure glad I didn't delay my screening," she said. "I meet women that say they don't go because it hurts, I tell them dying hurts! Chemo hurts! You have to take care of yourself and be an advocate for yourself. You have to go. Your life depends on it. You always think it is going to be someone else, but one day, it could be you."
---
Get the La Jolla Light weekly in your inbox
News, features and sports about La Jolla, every Thursday for free
You may occasionally receive promotional content from the La Jolla Light.