Congress member Scott Peters tells La Jollans he will review plane noise issue
During a town hall meeting hosted by Congress member Scott Peters (D-District 52) at Clairemont High School, April 18, Bird Rock resident Beatriz Pardo, brought up the issue of increased airplane noise in different La Jolla neighborhoods.
"We have a FAA (Federal Aviation Administration) problem, and I have petitions here that were signed by 300 La Jollans (against airport noise)," Pardo said.
Peters thanked Pardo for her comments and said he would send Brian Elliott, one of his representatives, to a walk she was organizing at 6:15 a.m. Wednesday, April 26 to show area reps the levels of aircraft noise La Jollans are experiencing. Pardo told La Jolla Light, "We thought they should 'hear' what we are hearing and why we are complaining."
Also on April 26, the Airport Noise Advisory Committee (ANAC) meets at 4 p.m. in the UPSES Portuguese Hall, 2818 Avenida De Portugal. Elliott, who is also a member of that board, will be in attendance. The board member notes posted on ANAC's website show that La Jolla is now the area where most households are complaining about airplane noise, with complaints logged from 85 residences in La Jolla, La Jolla Mesa, La Jolla Shores and Bird Rock. The Light will have meeting coverage in the May 4 issue.
Health Care Bill
At a second town hall meeting, April 19 at Congregation Beth Israel, 9001 Towne Centre Drive, Peters gave the audience insight on how President Donald Trump's American Health Care Act (AHCA) was stopped in its tracks at the House Energy and Commerce Committee.
"Democrats weren't allowed to see the bill until the Monday before the Wednesday hearing," he said. "In fact, if you wanted to see the bill you had to be a Republican and go into a secure room to view it, as if it was some sort of classified document."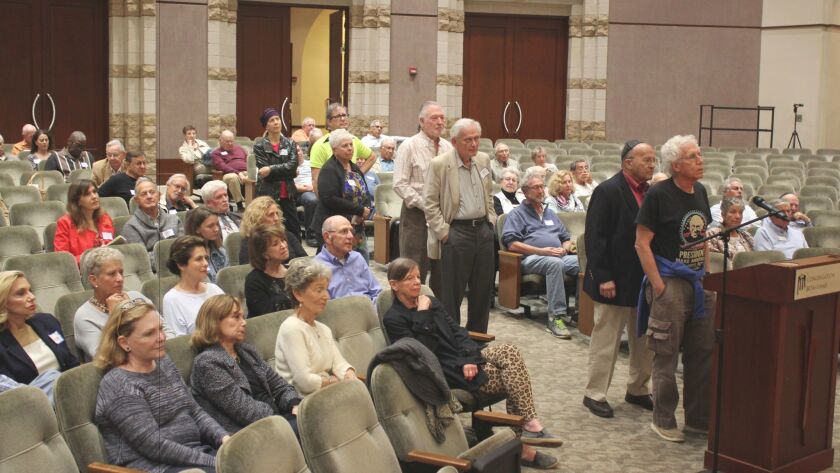 He explained that when the AHCA hearings began, no one had seen the full text of the bill. "There were no hearings in the subcommittee, it went right to the full committee. It was 10 a.m. on a Wednesday (when the committee hearing started) and it finished at 1:30 p.m. the next afternoon," Peters said, referring to the record 27-hour meeting where the bill was killed.
As a distraction technique, Peters said Democrats made a motion to change the name of the bill, which gave them time to speak about it, then didn't waive the reading of the 63-page act as usual. "Joe Kennedy (D-Massachusetts) was listening to the reading when he realized, 'Mental health isn't covered anymore!' And he asked a question about that.
"During the hearing, we started to see on our phones and on Twitter that people were beginning to react to it ... now hospitals are against it, Planned Parenthood, Catholic Charities … I got an e-mail forwarded to me from Blue Cross California, talking about the damage it would do to the insurance partners. So that information started coming in through the course of the hearing. I didn't like missing my sleep or my workout, but it was time we needed to let the bill percolate to the people, and actually as a tactic, is what killed it," Peters said.
Partisanship
Peters expressed his frustrations with what he described as "one of the toughest things about Congress," partisanship. "Politics is not standing in the corner and yelling at people who agree with you, it's coming to the center of the room and trying to listen to the ones that don't agree with you. We don't see enough of that in Congress," he lamented.
He related how he's been trying to initiate conversations with Republican colleagues. "Even if my party is not happy with me, that's what we have to do to pass this heavy partisanship, rank our country first, our district second, and our party third," he said.
Peters also criticized President Trump's frequent visits to his Florida resort, reporting that a fifth of his presidency has been spent at the luxury vacation spot, and he blamed Trump for a "lack of service."
He also criticized the President's plan to build a border wall with Mexico, the cost of which, according to Peters, "could fund homeless programs for 20 years, and San Diego could use some of those."
---
Get the La Jolla Light weekly in your inbox
News, features and sports about La Jolla, every Thursday for free
You may occasionally receive promotional content from the La Jolla Light.