Police offer insight on homeless issues in The Shores: Advise residents to file 'Letter of Authority'
After observing new homeless people in The Shores, representatives from the La Jolla Shores business community were anxious to hear how the police department is handling complaints about vagrants and what business owners could do to assist them.
Officer P.J. Novong of the Homeless Outreach Team (HOT), officer Joe Hilton of the Quality of Life Team, and Sgt. Bryan Brecht discussed the situation Nov. 16 at the Shores Business Association meeting, hosted by Cooper's Market and Café.
Novong started by giving a rundown of what officers do in the course of daily HOT duties. "Our team is comprised of seven full-time officers. We go out, mostly downtown, and try to get people into shelters or drug and alcohol programs. We bring them to St. Vincent de Paul's, but (residency there) is no more than 30 days," he explained.
"We have 50 beds assigned to us, but that doesn't mean 50 are open. Today we have six. You'd be surprised; even though that's a low number, even with the amount of people we contact, we usually don't fill the beds. We can't force people on the street to take shelter."
He added that, in certain areas, sleeping on the street is permitted from 9 p.m. to 5:30 a.m. and noted that police will not take a homeless person to a shelter if he or she is registered as an arson or sex offender.
Calling the HOT line
If there is someone who residents feel should be taken in for evaluation, or who may be a threat to themselves or others, police ask residents to report the situation to HOT by calling (619) 446-1010.
"We're not always there to man the phone lines, but if you leave a voicemail message … we can come out," Novong said. If there's a chronic case where someone is at the same place around the same time, he added, "Call us with the times they're usually there and a description. But if you feel threatened, call 9-1-1."
Despite the perception that there are more homeless people in La Jolla these days, Novong said there has not been an increase in calls for homeless outreach here.
Delving into the network of how different SDPD divisions work with one another, Sgt. Brecht explained the Quality of Life Team addresses complaints filed by Community Relations Officers (CROs), City Council offices and citizens first, and then visits "hot spots" of homeless activity. Northern Division's CRO is Larry Hesselgesser, who can be reached by email at lhesselgesser@pd.sandiego.gov
Brecht explained, "My team has four officers and we try to be proactive with Quality of Life issues, but we have a huge area to cover that includes Mission Beach, Pacific Beach, La Jolla, Clairemont and UTC. But if you send something to Larry Hesselgesser, we'll address it right away."
He noted when complaints come through the SDPD non-emergency phone number, they might not be addressed properly or in a timely fashion.
File a Letter of Agency
In addition to proper reporting, to further assist police in the event a homeless person is on your property, officer Hilton discussed obtaining a Letter of Agency (Trespass Arrest Authorization), aka LOA, that can be filled out to help police make arrests or issue "stay-away" orders.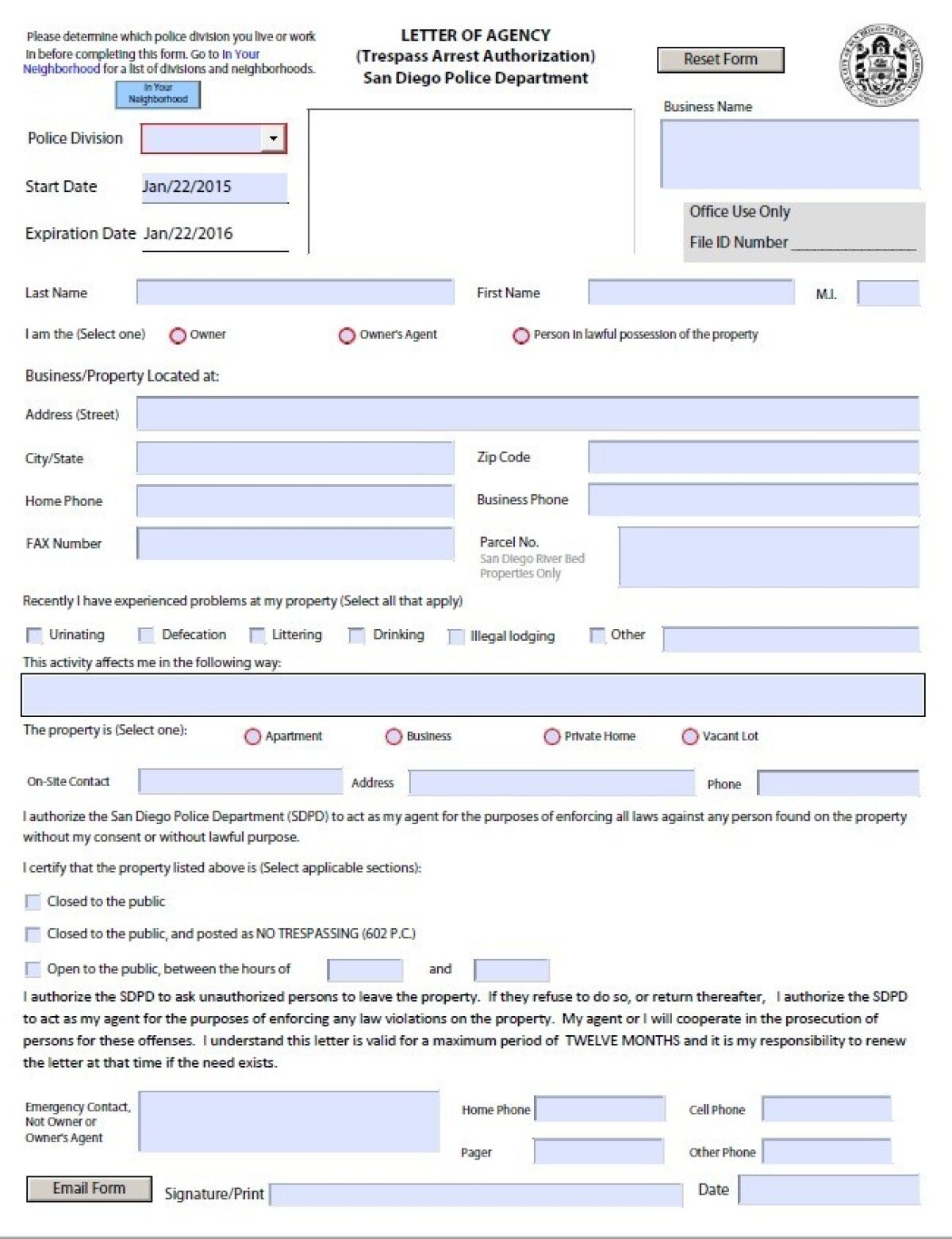 "That letter goes into our system, so if we get a call to your address, it will show up that you've signed one of these, and that allows us to act as your agent for trespassing issues and/or drinking on your property," Hilton said.
"If officers come out and see someone, we'll tell them they have to leave. If they don't, this letter allows us to act as your agent and arrest them for refusing. If they come back, we have the documentation that states they're not supposed to be there. They will have repeat violations."
He added that "a lot of people" living in Pacific Beach have filled out one of these letters, to positive results. "I'd say 90 percent of those on Garnet Avenue have one of these filled out now, and very rarely do we see people in (a business's) doorway," he reported. "The letter is only applicable to private property and helps a lot. It shows that there is a victim. It has more teeth for the arrest and stay-away orders."
LOAs are good for one year, and need to be filled out every year. Shores Business Association president Angie Preisendorfer suggested every business on Avenida de la Playa file a LOA.
These can be submitted online by visiting sandiego.gov and clicking the "Public Safety" tab found in the top rail, and then clicking "forms and permits." The letter is under forms and labeled as "Trespass Authorization/Letter of Agency Form."
---
Get the La Jolla Light weekly in your inbox
News, features and sports about La Jolla, every Thursday for free
You may occasionally receive promotional content from the La Jolla Light.