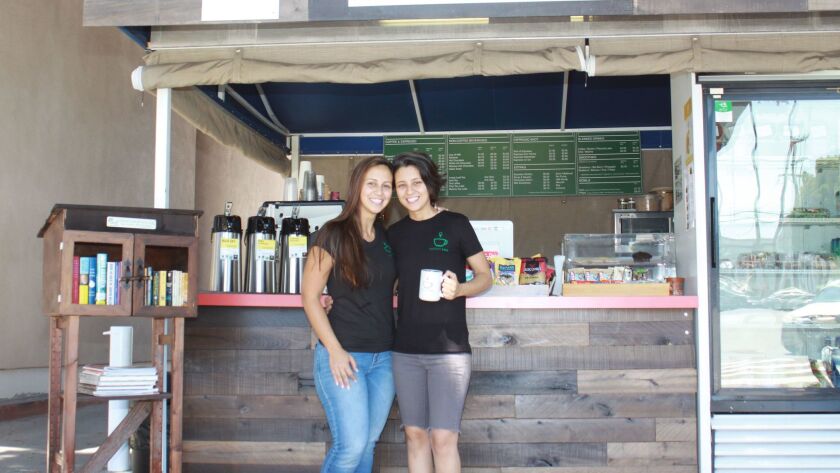 At the start of this year, sisters Aline and Caroline Comenale assumed ownership of the coffee kiosk near the La Jolla Post Office (across Ivanhoe Avenue) formerly known as Latte by the Sea.
Among the changes to the java joint, now called Pinpoint Café, the Comenales added smoothies and Açaí bowls to their menu, as well as pastries from VG Donuts in Cardiff. They have also added a Little Lending Library that encourages patrons to take a book, and if possible, replace it with a different book.
Aline explained, "We've noticed that La Jolla is changing, so we wanted to change things up here without losing the La Jolla charm. We redesigned the front of the cart and added wood accents, and with the leftover wood, we made the lending library. We have this vision of our cart being a place where people come, grab a cup of coffee, pick up a book, read for a little bit and hang out."
The two worked at Brick & Bell Café for seven years, which is where they say they developed a passion for coffee and working with people.
Caroline said, "We as business owners are super personal, we try to know all our customers by name and drink order. We want to make friends with our customers, and we want this to be a community hangout."
The current hours are 7 a.m. to 3 p.m. Monday-Friday and 7 a.m. to 2 p.m. Saturdays. but given the number of people waiting for the cart to open in the mornings, the sisters are considering opening earlier. Find more details at pinpointcafe.com
"I worked in other areas of San Diego, and I feel like the community here is special," Caroline said. "It's easy to get to know people. We have tourists, but our regular customers make the job rewarding."
---