Residents ask for dog park at City's 'Master Plan' workshop in La Jolla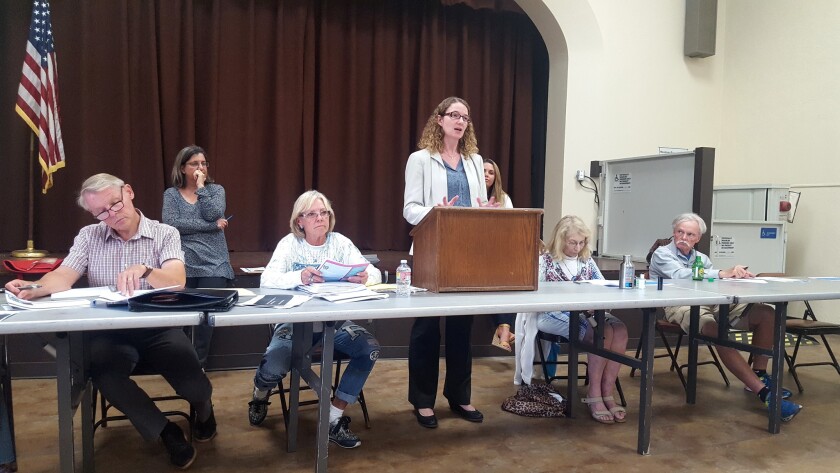 When the City of San Diego maps out how its parks will be managed in the coming years, it is entirely possibly that La Jolla will have a dog park, or at least an area where dogs will be allowed off-leash.
Representatives from the City's Planning Department held a Parks Master Plan workshop Oct. 22 at the La Jolla Rec Center, as part of the La Jolla Parks & Beaches monthly meeting, to solicit input from the community, much of which ultimately centered on the possibility of a dog park.
The Parks Master Plan will look at how parks will be managed for the next 30 years.
The draft goals of what the Plan will provide include: 1) identifying park deficits so residents of all communities have equal access to parks; 2) guiding how the City acquires new land for parks and designs and constructs new parks; and 3) re-evaluating service level standards. The City is in the midst of a three-year data collection and "listening phase," and will ideally implement the plan starting in 2020.
San Diego planners Meredith Dawson and Shannon Scoggins, and AE-Com associate principal Liz Drake facilitated the workshop.
"This will create a road map for the department to improve our park and recreation system," Scoggins said. "At this point, we're still listening and gathering input, so we do not have answers to a lot of your questions."
Dog Parks
Early on, one attendee suggested off-leash areas at existing parks during early morning or nighttime hours. "Dogs are our family, too, and most people aren't out in the early morning, when it is still dark," she said.
Another commented that because there are no other options, dog owners sometimes take their dogs to parks, even when dogs are not allowed there. (A few moments later, an off-leash dog was seen on the grounds of the La Jolla Rec Center, where off-leash dogs are prohibited.)
"We've heard a lot about dog parks," Scoggins confirmed.
Bird Rock resident Sharon Wampler added: "I'm not a dog owner, but there have been a lot of issues with off-leash dogs in Calumet Park that lead to bickering. Several weeks ago, I asked some people with their dogs off-leash to come up with a solution. We had a really good conversation, and posted the topic on nextdoor.com I have about 35 people who have submitted ideas. Dog parks that are more close-by, and off-leash where possible, are desired."
Dawson explained: "Our parks director is researching dog parks in other areas; we absolutely know the need is there. We have to have a way to address our dog population. It's very helpful to hear if the community supports hours within our existing parks that would be designated for dogs. We could set something up (where dogs are allowed in a park early in the morning and) after that time, we could send in maintenance crews to clean up and get things back to normal for public use."
Track Access
Other issues broached included joint-use agreements with area schools for public access, including restoring access to the La Jolla High School track that was closed to the public following a 2016 renovation.
"At the high schools, there is so much activity with their inter-mural sports that there aren't the hours in a day in which they are not in use," Scoggins said. "So we typically do not go forward with new joint-use agreements at high schools. Plus, the safety standards climate has changed."
Nevertheless, several board members pleaded for the City to reconsider and restore access to the track.
"I can assure you, the Park Director has received your concerns about the track. You all have sent your concerns up the chain and they have been read," Dawson said.
Definition of a Park
Considering La Jolla Parks & Beaches members are already involved in a project to inventory and improve the overlooks and pocket parks, some asked about the minimum size a space would need to be to qualify as a park.
"We are going to standardize the definition of what is a park," Scoggins said.
This concept struck a chord with some board members, as La Jolla has the San Diego-La Jolla Underwater Park, which is a dedicated City park consisting of 5,977 acres of tidal and submerged lands between La Jolla Cove and the northern boundary of the City of San Diego, and accounts for most of La Jolla's park acreage.
Scoggins acknowledged she didn't know why so much parkland was underwater, but would take it into consideration to have some sort of separation between underwater and above ground acreage as part of City's definitions.
The City reps were also asked to look at current open spaces and how they could be improved and incorporated into the Parks Master Plan.
La Jolla Parks & Beaches chair Ann Dynes cited Torrey Pines State Reserve as an example of well-designed open spaces with post-and-chain path delineation, bike racks and parking. She said Pottery Canyon would be an example of local spaces that could be improved.
Dynes, working with volunteer Diane Kane and others, met with community groups such as the La Jolla Shores Association and Bird Rock Community Council to come up with a wish list of wants and needs, and, after narrowing the list down, wrote a draft letter that will refined and sent to the City as a formal recommendation.
Going Forward
In addition to collecting feedback, the City will study demographic trends and how to situate park spaces.
"We surveyed 1,800 households and looked at demographic trends across the City and within each of the (communities)," Drake said. "When the plan was last done in 1956, the population was about half a million. We are three times that size now, more diverse and getting older."
Scoggins added there needs to be safe access for residents in all communities of all ages: "We currently have an acre-based standard, but cities across the country have talked about an access-based standard. So not only is there a need for acres per 1,000 residents, but you need to be able to access that park from your home. The choice is a 10-minute walk to a meaningful open space, and it has to be a safe route to a park or people will not walk it."
In Spring 2019, the "envisioning" phase of the plan will include more workshops and a "park system vision map" release.
The last phase is funding and implementation. Scoggins said: "The Parks & Recreation system has some differed capital improvement and maintenance (money) that has accumulated. But there is the need for more dollars. So we are looking at how to increase the funding streams that come to Parks & Recreation. We don't know which direction we're going to head, there may be a special park district or a bond measure on the 2020 ballot."
At the end of the workshop, a woman from the audience tripped and was injured, and the La Jolla Parks & Beaches meeting was suspended to evaluate her condition. Once an incident report was filed and the woman left the Rec Center, the board was unable to finish the meeting and continued all remaining items to the next meeting.
— Due to the November and December holidays, the next two meetings will be combined into one, 4 p.m. Monday, Dec. 3 at the Rec Center, 615 Prospect St. A website is in development.
---
Get the La Jolla Light weekly in your inbox
News, features and sports about La Jolla, every Thursday.
You may occasionally receive promotional content from the La Jolla Light.