La Jolla High school track access hopefuls take issue to local groups: La Jolla Parks & Beaches hears pleas for restored public use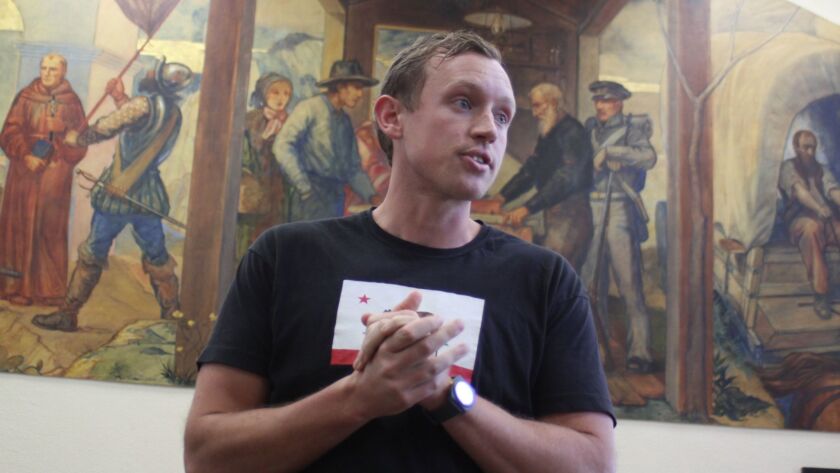 Proponents of restoring public access to the recently renovated La Jolla High School athletic facility are taking their pleas to La Jolla's community advisory groups for support, and started with the March 27 La Jolla Parks & Beaches meeting. The track and field have been closed to the public since the start of the fall 2016 sports season, following more than a year of construction to upgrade the athletic facility.
Individuals who use the track for recreational running, jogging and walking — as well as pick-up athletic groups — have met with La Jolla High Principal Charles Podhorsky to try and reclaim free public access, but have been unsuccessful. The track was open to the public under La Jolla High School's former principals.
As previously reported in the La Jolla Light, Podhorsky said, "We want to make sure we are an integral part of the community, but partnership is a two-way street. The struggle we're having is that we have rules in place and people aren't following them. We have and have had people riding bikes on the track and bringing their dogs (dogs are not allowed on campus). What we've had to do is have our PE teachers go out at 7 a.m. and make sure there is no dog waste," he said.
To ensure the track and field are being used appropriately, Podhorsky said a facilities manager would have to be on hand, but with that comes a cost. So while those who want to use the facility (when not in use by the school) still have to rent it, he said they could do so at a reduced cost to just cover paying the facilities manager.
Unwilling to pay the proposed rentals fees, soccer player Devin Kostrzewski, who used the field for weekend pick-up games, said he is reaching out to raise awareness and support for opening the facility to the community for free.
"As far as running tracks and large green spaces, there isn't really anywhere else to go unless you leave the area," he said. "The first complaint we had levied against us was trash being left behind, so we organized a trash pick up on the field, which was littered with more school papers and lunch items than with what we brought.
"We barely use the field compared to school usage, so it doesn't seem right that we were asked to pay thousands of dollars a year (in rental fees) to use the facility for a few hours on weekends when the school is not using it."
Pay to play
Debora Beaver, SDUSD Real Estate Specialist, said costs associated with the La Jolla High School track and field include: $53.50 to rent the field, $43 per hour for a facilities manager (three hour minimum) and $40 per hour for a custodian. Should the group think it would not need restroom facilities, the latter fee could be waived.
Kostrzewski reported that the level of security at the field varies, with the gate sometimes being padlocked and chained; or the tennis court gate is left open, leading some to think the campus can be accessed that way; and other times the gate is left wide open. When they are able to access the field, "We've been harassed or told to leave by school officials. We've had security guards ask us to leave, the police have been called," he said.
He argued that because the athletic facility's $12-million renovation was funded through Proposition S and Z, bond measures passed by San Diego voters in 2008 and 2012 respectively, the track should be open to the public for free. Some members of LJP&B agree.
Board weighs-in
La Jolla native and LJP&B member Melinda Merryweather suggested the proponents write a letter on behalf of LJP&B to sign and send to the City. "I live two blocks from the high school and we've always used the facilities — the baseball fields, the tennis courts, the track, everything," she said. "The fact that now they are saying no one can use it is, to me, ridiculous."
Member John Shannon added, "I can understand having rules such as no dogs and the school's need to take care of the facility, but people who use the facilities will protect and can take ownership (ensuring it is being used properly) if they can access it."
In terms of LJP&B action, member Tom Brady suggested "marching down to the school board" to plead their case, while member Mary Ellen Morgan said the proponents of track use should "make the rounds at all the community meetings," such as La Jolla Town Council, "and get the drums beating on this."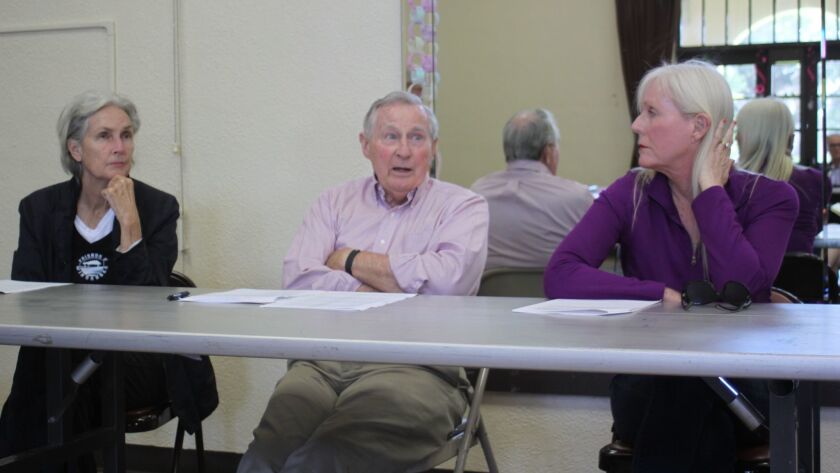 Play All Day project
The closure comes in the midst of a partnership between the City of San Diego and the SDUSD to make more public parks out of public school facilities in areas that are considered "park deprived."
Known as Play All Day, the partnership will take 32 public school campuses and make them into new joint-use parks. La Jolla is not one of the campuses being considered.
However, Kostrzewski suggested it sends a mixed message — touting the need for parks and the benefit of using existing facilities to create them, while La Jolla High School is closing its gates to the public.
Further, some public access proponents report "weak" signage at the athletic fields to explain what's allowed on the track, arguing that installing more prevalent signs would be an inexpensive way to let people know what is acceptable use, and would reduce violations.
There is currently a small sign that reads "No Dogs Allowed" next to a gate, and another that outlines the "Guidelines for Recreational Runners" posted on the fence at the Fay Avenue/Coggan Pool parking lot.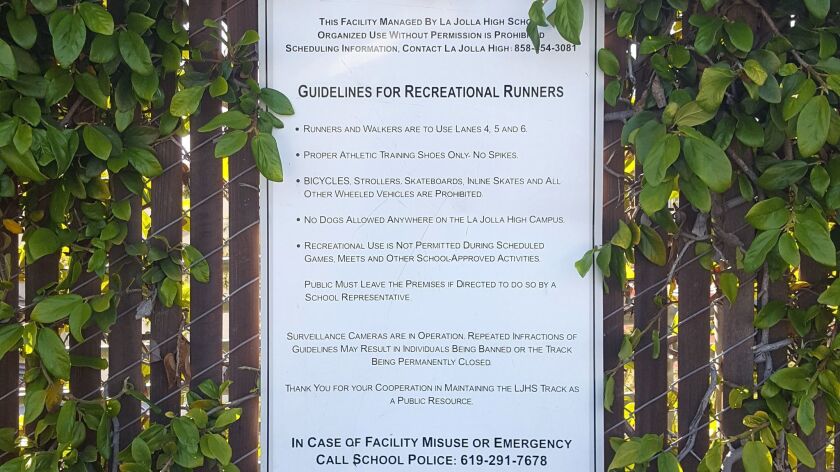 ---
Get the La Jolla Light weekly in your inbox
News, features and sports about La Jolla, every Thursday for free
You may occasionally receive promotional content from the La Jolla Light.