La Jolla Council rep Barbara Bry requests one more lifeguard for Children's Pool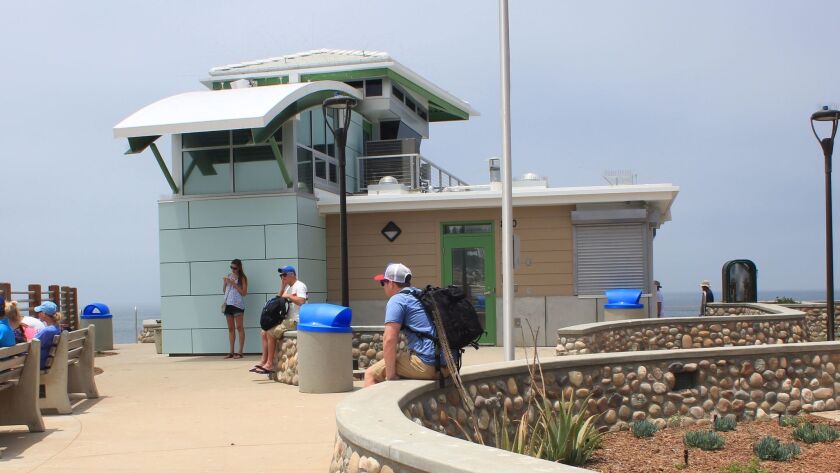 At the May 18 hearing for changes to Mayor Kevin Faulconer's proposed 2018 City Budget, District 1 City Council member Barbara Bry advanced some of her recommendations for the final document. "I request one daily (permanent) lifeguard stationed at The Children's Pool, whose responsibilities extend from Bird Rock to La Jolla Cove," she said, explaining that while a park ranger works in the area to address issues with local fauna (namely harbor seals and sea lions), "it is crucial to address our increased need for water safety personnel at one of the most-visited segments of coastline in the region."
Teamsters 911 union steward Ed Harris, who is also the lifeguard sergeant for the area from Bird Rock to The Cove, applauded Bry's efforts to supplement the service's budget. "The Children's Pool has been deficient of staffing for a long time," he said, "With seals and sea lions, it's nonstop up there ... there is a whole population of tourists who come to pet our seals and sea lions."
Bry also requested an allocation of $100,000 for training lifeguards to serve in the Boating Unit. She referred to the 2015 City Auditor report that identified a need for Boating Unit staff by 2020, when many lifeguards will retire from that service.
Harris further rejoiced at this request, adding that in the May Budget revision, there was no money for "level two (advanced) training."
"Most departments are taking 3.5 percent cuts," he told La Jolla Light, criticizing the cuts in the vessel replacement fee. "We ask that they make our cuts more aligned with those of other departments."
Council member memorandums listing their desired changes to the 2018 City Budget went out Monday, May 22. Later in May, the the Independent Budget Analyst (IBA) will issue a final report with more recommendations. In early June, the Budget & Government Efficiency Committee will consider final modifications, and on June 15, the City Council must adopt or reject the Budget for the next fiscal year, which starts July 1.
Arts & Culture Cuts
The initial 2018 Mayor's budget proposal included a 3 percent cut to most City departments, and a 30 percent cut to the Commission for Arts and Culture. After intense public pressure, the May revision allocated one-time funds to the program, reducing the cut from 30 to 15 percent. Bry said she was glad Faulconer amended his initial determination, but she "will request adding additional one-time funds."
Most La Jolla cultural organizations in the City Budget will see a significant decrease in public funds. La Jolla Historical Society (LJHS) will drop from $85,006 earmarked in the 2017 adopted budget to $53,321 in 2018. Director Heath Fox wrote in an e-mail to the Light, "I am encouraged that the Mayor has reduced his proposed cut to Arts & Culture from 31 percent to 15 percent, but this is still a troublesome amount that I hope will be reduced further as the planning process concludes."
Other organizations affected are the Athenaeum Music & Arts Library ($106,152 in 2017 to $68,412 in 2018), La Jolla Symphony & Chorus Association ($54,335 in 2017 to $40,975 in 2018), Museum of Contemporary Art San Diego (MCASD; $368,399 in 2017 to $288,467 in 2018) and the Torrey Pines Kiwanis Foundation ($41,477 in 2017 to $30,450 in 2018). On the other hand, the La Jolla Music Society is on the books for a raise, growing from $244,286 in 2017 to $353,612 in 2018.
MCASD director Kathryn Kanjo called the cuts "devastating" in a year when the museum is embarking in a major renovation of its La Jolla campus. "City funding is critical to our ability to continue our core curatorial and educational programming. ... San Diego has long been a national leader in its commitment to funding arts and culture, and we hope our City Council and the Mayor will fully restore funding to the Commission for Arts and Culture," she wrote in an e-mail.
City of San Diego senior communications officer Perette Godwin told the Light the final allocation for each non-profit will be confirmed June 30.
Climate Action Plan
During public comment, non-profit Climate Action Campaign policy advocate Sophie Wolfram advocated for $200,000 for the next phase of the development of the Community Choice Clean Energy Program to facilitate the transition to the goals set by the City of San Diego in the Climate Action Plan (CAP).
Bike advocate Andrew Hanshaw spoke of the need for cycling infrastructure funding if the City is to meet its self-imposed goal of 6 percent San Diegans commuting to work on their bicycles by 2020. "We have a lot of work to do," he said.
Another concern of environmental activists is the allocation of funds for shade tree pruning, which they said are missing in the Budget revision. Bry said she supported more funds for the CAP and requested "the IBA complete a five-year roadmap outlining the specific policies needed to implement the Climate Action Plan and all associated costs."
---
Get the La Jolla Light weekly in your inbox
News, features and sports about La Jolla, every Thursday for free
You may occasionally receive promotional content from the La Jolla Light.