Environmental groups, council members urge Obama to protect coast from oil spills at La Jolla event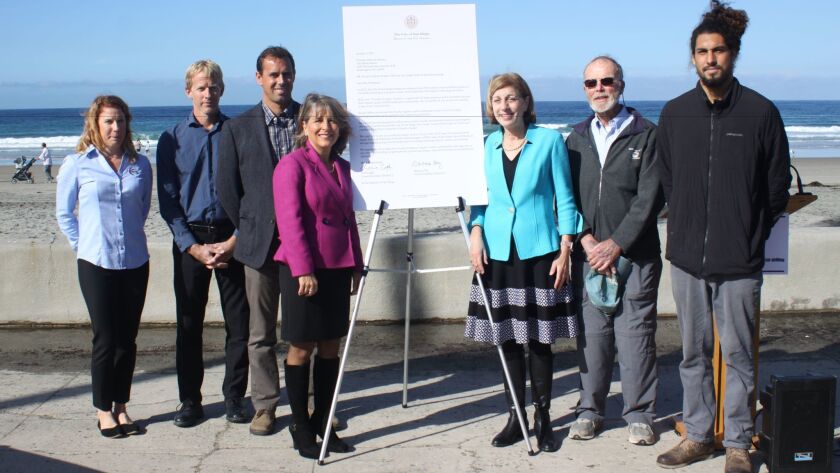 San Diego City Council members Barbara Bry (District 1) and Lorie Zapf (District 2) along with reps from a half-dozen environmental organizations, gathered at La Jolla Shores on Friday, Jan. 6 to send a message to President Barack Obama to protect the San Diego coast from the consequences of oil and gas drilling.
A letter to the sitting president was sent Monday, Jan. 9 with the signatures of more than 1,000 citizens petitioning Obama to include San Diego in the 1953 Outer Continental Shelf Lands Act and permanently withdraw federal waters off the region's coast from offshore oil and gas leasing. The effort is a continuance of Gov. Jerry Brown's request to the President to protect the coasts of California in a similar manner.
Stressing the importance of achieving the protection goals before Inauguration Day (Friday, Jan. 20) when Obama will be replaced by President-elect Donald Trump, Council member Zapf said, "Mr. President, there is still time. Please, do not get on that helicopter Jan. 20 without invoking your authority to protect San Diego's precious and beautiful coastline from any future drilling, for our children and the future generations."
Council member Bry took the podium to highlight the importance of La Jolla Shores and the San Diego coastline environmentally and economically. "Just out there is Matlahuayl State Marine Reserve (La Jolla Shores Underwater Marine Reserve), a protected underwater ecosystem that includes a variety of marine mammal species and kelp forests," she said, pointing to the ocean behind her. "This is just one of 11 Marine Protected Areas on the coast along San Diego County. These underwater state parks are a safe haven for the many unique species of wildlife that inhabit our coastal waters, and are enjoyed by our swimmers, divers, kayakers and surfers. Here, not only is our precious marine environment at stake, but San Diego's economy is also greatly impacted by the health of our coastline."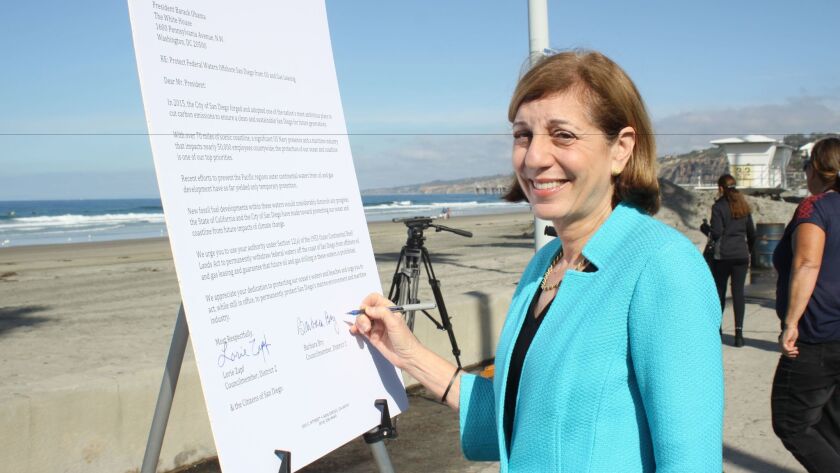 Bry referred to the economic stimulus generated by tourists who chiefly come to San Diego to visit coastline landmarks and beaches, as well as the maritime industry, which yields tax revenues originated offshore. "San Diego's coastline is one of our most important natural assets and we need to preserve its health and beauty for future generations to enjoy," she added.
During the event, which took place at the La Jolla Shores boardwalk adjacent to the playground, representatives from I Love a Clean San Diego, San Diego Coastkeeper, Wildcoast, Surfrider Foundation and San Diego Audubon Society pledged support to the cause.
San Diego Coastkeeper director Matt O'Malley spoke of the dangerous consequences that often stem from oil and gas drilling offshore. "From Santa Barbara to the Gulf Coast, we have all seen the dangers of blind adherence to fossil fuels. Here in our backyard, we are working toward 100 percent renewable energy goals. We urge our leaders to protect the crown jewels we have behind us here in La Jolla, and the 70 miles of coastline we are using here in San Diego ... and permanently prohibit oil and gas drilling in our offshore waters."
On the same note, Wildcoast director Zach Plopper stated, "California is the world's largest integrated network of Marine Protected Areas with over 545,000 acres of the state's most iconic coastal sites — not only for wildlife and ecosystems, but for communities around the world that fly to the California Coast to enjoy the amazing resources we have here. It would be absolutely devastating for the wildlife and our collective efforts to protect it if these efforts were undermined by a disaster like an oil spill or something related to that."
During his remarks, Jim Peugh of the San Diego Audubon Society supported the letter urging people to sign the petition. "With the temperature changes that have happened in the ocean already, and the changes in the ocean's currents, we really don't need to add to the pollution to make our ocean life even worse," he said.
To close the press conference, UC San Diego Ph.D. candidate and professional surfer Cliff Kapono, who hails from Hawaii, explained that oil and gas drilling offshore also affects the natural ecosystems of the Islands.
---
Get the La Jolla Light weekly in your inbox
News, features and sports about La Jolla, every Thursday for free
You may occasionally receive promotional content from the La Jolla Light.