LA JOLLA NEWS NUGGETS: Village Merchants plan music for Saturday's Concours-goers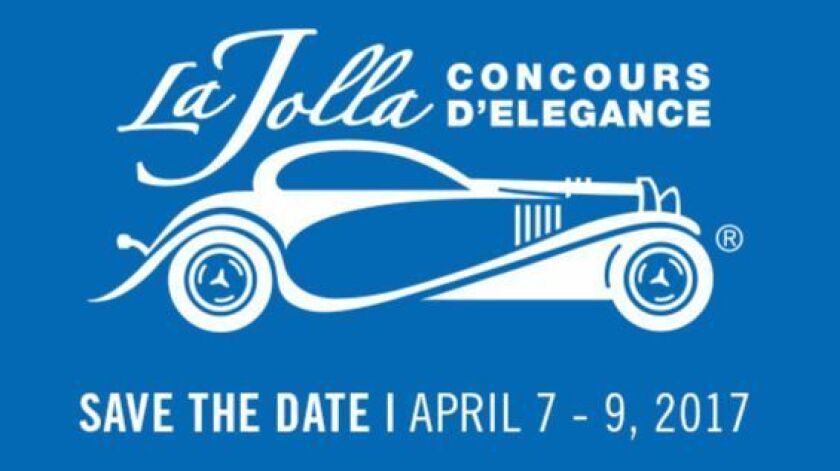 To welcome residents and visitors to The Village for the 13th annual La Jolla Concours D'Elegance, April 7-9, the La Jolla Village Merchants Association will sponsor local musicians performing at key spots around town from 2 to 6 p.m. Saturday, April 8. Local restaurants will also be supporting the event with special prix-fixe menu options, as well as some light "tray passing" in the afternoon.
From Friday to Sunday, more than 100 other signature automobiles will take over the streets of La Jolla. There will be parties and parades to cocktail-time shows and receptions. Through the charity code program, ticket buyers have the opportunity to donate $10 to their favorite local non-profit while receiving a $5 discount on their ticket. To take advantage of this, guests can enter the organization's code when buying tickets online. The codes are: La Jolla Village Merchants Association (LJVMA), La Jolla Parks & Beaches (PARKSANDBEACHES), La Jolla Rotary Club (ROTARY) and San Diego Automotive Museum (SDAUTOMUSEUM).
The main event happens 9 a.m. to 4 p.m. Sunday, April 9 at Ellen Browning Scripps Park, 1100 Coast Blvd. With 1930s-era swing music by Dave Patrone, visitors may view top automobiles on the green grass near La Jolla Cove. General admission $65 ($70 day of the event). VIP tickets include complimentary lunch, beverages and a poster signed by official artist Scott Jacobs ($175, $200 day of the event). To purchase tickets to the variety of events, visit lajollaconcours.com or call (619) 233-5008.
Padres at Petco opening: April 7
The San Diego Padres home opener begins at 3:40 p.m. Friday, April 7 at Petco Park against The San Francisco Giants. Tickets are $27-$241 at sandiego.padres.mlb.com
Birch Aquarium debuts 'Infinity Cube' of bioluminescence
For three months, London-based artist Iyvone Khoo worked alongside Scripps Institution of Oceanography, UC San Diego scientist Michael Latz to better understand the role of bioluminescence — light produced by living organisms — in the marine environment. They filmed more than six hours of footage of single-celled marine organisms called dinoflagellates reacting to various stimulants, such as the human heartbeat, music, water flow and air pressure.
Those videos have become the basis of the Infinity Cube, an exhibit opening April 7 at Birch Aquarium, 2300 Expedition Way in La Jolla. The 8-foot cube, funded by Rick and Patty Elkus, will surround guests in projected and reflected larger-than-life images of bioluminescence accompanied by soundscape. Additional support for the exhibit came from the National Science Foundation.
"Through this project, I hope to raise public awareness of how we as a species relate and communicate with our natural world. There are energy, vibrations and songs in everything, one just has to find them, even at a microscopic level," said Khoo.
The Infinity Cube will be on display 9 a.m. to 5 p.m. daily through Dec. 31 and is included in Birch Aquarium admission, $18.50 for adults, $14 for ages 3-17. More at aquarium.ucsd.edu
Taxes rise on cigarettes and vaping devices
California voters approved Proposition 56, which increased the excise tax rate on cigarettes and expanded the definition of "tobacco products" to include any type of tobacco, nicotine, little cigars and electronic cigarettes sold in combination with nicotine.
On April 1, the cigarette tax rate increased from $0.87 to $2.87 per pack of 20 cigarettes. In addition, the distribution of nicotine delivery devices —including, but not limited to, electronic cigarettes, e-cigars, e-pipes, vape pens, and e-hookahs — sold in combination with substances containing nicotine will be subject to the current tobacco products tax rate of 27.30 percent of the wholesale cost of the product.
Nicotine delivery devices sold independently and not in combination with any liquid or substance containing nicotine are not subject to excise tax. This includes any battery, battery charger, carrying case or any other accessory used in the operation of a nicotine delivery device, including nicotine patches.
Genesee Ave. pedestrian bridge to close April 7-10
Genesee Avenue from La Jolla Village Drive will be closed from 9 p.m. Friday, April 7 to 5 a.m. Monday, April 10. As part of the five-year construction project to extend the trolley service from Old Town to UC San Diego, crews will complete the Genesee Avenue pedestrian bridge demolition. Construction notices are published at bit.ly/TrolleyConstructionNotices
Tickets on sale for 'Vikings at The LOT' fundraiser
Tickets are on sale for The Foundation of La Jolla High School's spring fundraiser, "Vikings at The LOT," 6 p.m. Thursday, May 11 on the grounds of the movie theater at 7611 Fay Ave. Organizers promise "a wonderful night of dinner, cocktails, an auction and movies," at $110 per person. Underwriters of $500 or more will receive two tickets to the event. More at foundationofljhs.com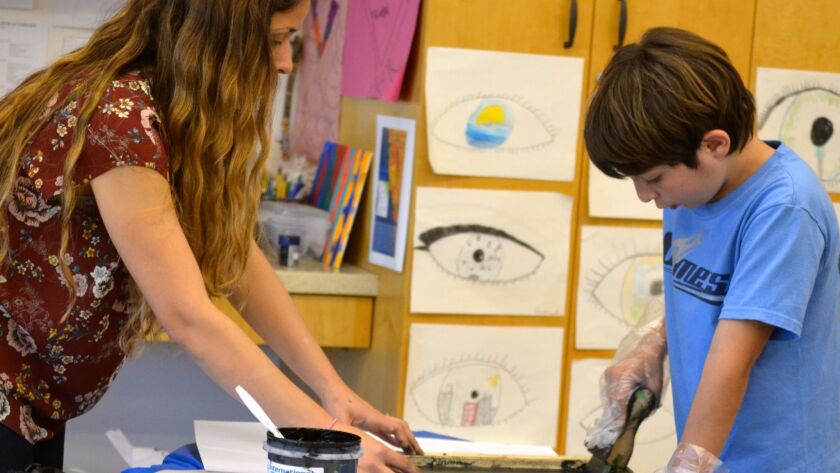 The Children's School will host art exhibit
The community is invited to the 18th annual Great Artists' Grande Finale Art Exhibit, 6-8 p.m. Thursday, April 13 at The Children's School, 2225 Torrey Pines Lane. During a six-week program, students explored the life, work and artistic style of chosen artists through an integrated curriculum of developmentally appropriate activities in language arts, math, social studies, science and art. Much of the content covered emerged from the unique interests of the students.
Said art teacher Carrie Difini, "Students thrive in an environment where art is viewed as an adventure and an exploration of ideas and perspective. Since we focused on the process of art rather than the product, our students had only themselves to please as they painted, glued, splattered and sculpted. And by studying the works of great artists, students gained a deeper appreciation for art and its styles and techniques. We are excited to invite families from outside our school community to share in learning more about art through our exhibit." More details at tcslj.org
Conflict Resolution Center awards April 8
The National Conflict Resolution Center (NCRC) will host its 29th Peacemaker Awards Dinner, 5:30 p.m. Saturday, April 8 at the Hyatt Regency La Jolla at Aventine, 3777 La Jolla Village Drive. Funds from the event, which honors individuals or organizations who've made significant contributions to conflict resolution, will benefit the NCRC's Galison Campus Civility Project. Tickets $350. (619) 238-2400, ext. 222.
Affordable units may help homeless
Father Joe's Villages last week announced the Turning the Key: Unlocking a Brighter San Diego plan, which intends to turn aging motels into affordable apartments. The 2,000 units in the project will be dedicated to people fighting homelessness.
The renovation projects include motel renovations outside downtown San Diego (1,240 units) and in downtown: 5th and Ash Streets (175 units); 14th Street and Commercial (418 units); 17th Street and Commercial (125 units); and Bishop Maher Center at 15th Street and Commercial (42 units).
To find ways to get involved and to donate to help end homelessness in San Diego, visit neighbor.org or call 1-800-HOMELESS.
Avenida de la Playa construction to finish by Memorial Day
Construction crews working on the Avenida de la Playa stormwater infrastructure construction site are reportedly on schedule to finish by the Memorial Day deadline. City of San Diego information officer Alec Philipp told La Jolla Light crews are currently working from east to west completing the walls and deck of the new reinforced infrastructure. "That will continue through mid-April when we pour the street, curb and gutter over the top, which we anticipate will last through late April," he said.
After that, crews will move to reconnecting and testing the water main in early May. The City expects that part of the work to be done by mid-May. "Lastly, we will perform the final street, landscape and hardscape repair before the Memorial Day deadline," Philipp said. "Please note that our construction timeline can be delayed by inclement weather."
SoccerCity developers get signatures for Qualcomm project
The La Jolla-based developers behind the proposed SoccerCity to be built on the Qualcomm Stadium site announced on March 29 they had gathered the necessary signatures to take the project to the San Diego City Council for approval or submission to the voters.
FS Investors' plan calls for a $1 billion redevelopment of Qualcomm stadium with a versatile 25-acre sports and entertainment district that could host year-round sports events, 4,800 residential units, 55 acres in parks and parking space. All of it would be connected by landscaped streets, plazas and bike paths. The group is aiming to bring a major league soccer team to San Diego by 2020. Learn more at soccercitysd.com
Top surfers slated for 2017 World Games
The 2017 World Surfing Games, organized by La Jolla-based International Surfing Association (ISA), will take place May 20-28 in Biarritz (France). In a press release, ISA confirmed the participation of top professional surfers Miguel Pupo (Brazil), Wiggolly Dantas (Brazil), Jeremy Flores (France) and Johanne Defay (France) at the contest.
ISA President Fernando Aguerre said in a press release, "The participation by these great athletes is testimony to the excitement that is building in the Surfing world for the opportunity to compete for glory on the highest sporting stage — the Olympic Games in 2020."
---
Get the La Jolla Light weekly in your inbox
News, features and sports about La Jolla, every Thursday for free
You may occasionally receive promotional content from the La Jolla Light.