NEWS NUGGETS APRIL: Pearl Street in La Jolla gets a bus shelter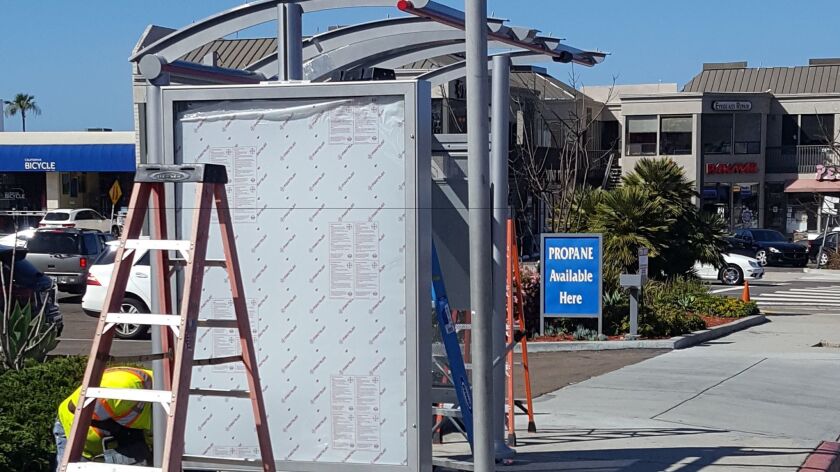 ---
UPDATES:
As part of a citywide upgrade to bus stops, San Diego Metropolitan Transit System (MTS) replaced bus-stop benches in La Jolla in January, and on March 24, converted one bus stop bench on Pearl Street at La Jolla Boulevard into a "bus shelter."
"MTS has made a commitment to improve all of our passenger amenities," said Rob Schupp, MTS spokesperson. "These new benches will not only improve the streetscape, but their higher quality will attract higher advertising revenues, which are used to help maintain our level of service."
Like their predecessors, advertisements will be allowed on most benches. Press material states that shelter installation will take place over the next five years and cost $6.4 million. MTS currently has 450 shelters, so the improvement project will not only replace existing shelters, but include up to 150 additional shelters for passengers. Shelter amenities include: solar and LED lighting systems, dual purpose receptacles for trash and recycling, five-foot custom aluminum benches, larger and easy-to-read display cases for system maps and timetables, and custom roof design preventing rain runoff from the shelter's front and side openings shelter.
'Sunsets on the Boulevard' in Bird Rock, April 7
Downtown Bird Rock will host "Sunsets on the Boulevard," Friday, April 7, where stores and restaurants will remain open after 8 p.m. with special promotions and raffle prizes for some neighborhood mingling.
The Bird Rock Community Council (BRCC) is organizing the event to "see our merchants thrive and our community get out and have fun," said BRCC merchant liaison Ron Fineman in a press release. "We promote community spirit. If successful, we plan to continue this event, like other neighborhoods in San Diego do."
Wheelchair Over-the-Line Tourney April 8
The Old Mission Beach Athletic Club (OMBAC) will present its 39th annual Wheelchair Over-the-Line Tournament, Saturday, April 8 at 851 Harbor Drive. Top level wheelchair athletes from across San Diego and the Southwest will compete in both Junior and Adult divisions during this daylong event. Wheelchair Over-the-Line is a variation of the traditional Over-The-Line featuring three-player teams that play on four courts.
Registration starts at 7:30 a.m. and runs through 9 a.m. Entry for the tournament is free and a complimentary lunch will be served to all athletes. A mini clinic on the rules and format of Over-The-Line (OTL) will be offered at 8:30 a.m. preceding the official start of the games. A chair repair booth will also be provided for the athletes.
Family, friends and OTL enthusiasts are invited to cheer on the teams and enjoy music and displays. Admission is free.For more details, visit ombac.org or send an email to info@ombac.org
School district suggests layoffs in budget crisis
Layoff notices proposed to resolve the San Diego Unified School District (SDUSD) $124 million budget deficit have been issued to employees. According to SDUSD reports, "The total number of positions eliminated by the Board … across all classifications is 977. … These employees are being notified of their impacted status and offered options, which vary according to their hours, seniority and previous positions held. The actual number of employees affected in this group will also decrease as employees choose early retirement or leave for other reasons."
Known as the "Golden Handshake," eligible teachers are offered early retirement in exchange for one year's salary paid over five years. Those who were offered the early retirement have until April 21 to announce whether they will accept it. At that point, the SDUSD will confirm how many employee positions will need to be terminated.
"We anticipate that many employees who receive layoff notices at this point will, in fact, have positions in the District when the new school year begins. The actual number of impacted staff will continue to decrease (and layoff notices will be rescinded) as employees choose early retirement or leave for other reasons. Therefore, the final number of layoffs will continue to change until the process concludes," SDUSD wrote on an informational page on the subject: sandiegounified.org/stableschools
Rumors have also circulated that Visual And Performing Arts (VAPA) programs would be reduced or eliminated. But a letter from VAPA advisory council chair Jeanne Christensen and VAPA director Russ Sperling reads: "Despite the tough fiscal constraints facing the district, we have full confidence — and the personal support of district leaders — that all four arts disciplines will continue to live within our schools. Dance, Music, Theater and the Visual Arts will continue to be taught by highly-qualified teachers at every instructional level — elementary, middle and high school."
It is not yet known how many La Jolla positions or programs would be reduced or eliminated. The decision will not be finalized until later this year.
New operator needed for Torrey Pines Gliderport
The City of San Diego is searching for a new Torrey Pines Gliderport operator. Possible tenants have until April 10 to apply. There is $3,412 annual fee and a 10-year minimum lease involved. There is no on-site power, water or sewer supply.
Applicants must have at least three years of experience running a similar operation in the last five. It's also stipulated that tenants shall not provide food in polystyrene foam packaging. For more information, email roswithas@sandiego.gov or call (619) 236-6721.
La Jolla permit reviewers nix meetings due to lack of projects
The La Jolla Development Permit Review (DPR) committee's March 14 and March 21 meetings were canceled due to lack of projects to review. The committee met Feb. 21 to hear one courtesy presentation, but the Feb. 14 and Jan. 17 meetings were also canceled.
The number of development projects reviewed by DPR has decreased over the years, according to an investigation conducted by the La Jolla Light. In 2015, the committee overlooked a record number of projects with 36 entries. In 2014, it considered 31. In 2016, it conducted 22 project reviews. So far in 2017, no projects have come forward for formal review.
DPR member Diane Kane told the Light she has "no idea" why there aren't any projects coming before the committee. "Building is cyclic, so this could just be a slow period," she said, adding that many builders have lately preferred the "50 percent remodel" option that allows a builder to elude the community review process by keeping 50 percent of the existing building on a property.
Appeal process open for new City street lights
The City of San Diego posted a "Notice of Right to Appeal Environmental Determination" regarding its Intelligent Cities Outdoor Lighting project. Plans call for the citywide replacement with LED light fixtures, of 14,000 High-Pressure Sodium street, roadway, park and decorative pedestrian lights in the public right-of-way.
"Benefits of this retrofit include a 60 percent reduction in power consumption; a reduction in backlight, uplight and glare by 90 percent; and a reduction in related greenhouse gas emissions, thereby reducing harmful effects on nocturnal wildlife," the notice reads.
Recently, 11 light circuits citywide went out, including one in La Jolla Shores and another in The Village.
The City reports it conducted an environmental review that determined the project meets the California Environmental Quality Act (CEQA) regulations for replacement or reconstruction, "which allows for the replacement or reconstruction of existing utility systems and/or facilities involving negligible or no expansion of capacity."
The decision is appeal-able to the City Council. For more information or questions, contact project manager Lorie Cosio Azar at (858) 627-3352 or lcosioazar@sandiego.gov
Short films needed for Atheneaum festival
The Athenaeum Music & Arts Library is accepting submissions for its third annual "Shorts and Briefs in the Library" film festival. The submission deadline is May 15, and the results will be announced June 1. The "Shorts and Briefs in the Library" film screening will take place 7:30 p.m. Tuesday, June 20 at the Library, 1008 Wall St.
To qualify, the filmmaker must live, work or exhibit in San Diego County; and can use any film format to tell a narrative story, documentary or other visual expression. Entries must not exceed five minutes, including credits, and be suitable for all ages.
The jurors are 25-year film critic Beth Accomando and San Diego Latino Film Festival curator Miguel Rodriguez. More information: ljathenaeum.org/shorts-and-briefs
First Zika birth defect in San Diego reinforces travel advisory
Pregnant women, women who could become pregnant and couples considering pregnancy are advised to avoid traveling to areas with known Zika transmission after a baby with the severe birth defect microcephaly was born in San Diego County.
The County's Health & Human Services Agency reports the mother was infected with the Zika virus while traveling in a foreign country where the virus is common.
"Pregnant women who must travel to one of these areas should strictly follow steps to prevent mosquito bites and speak with a health care provider upon return," said Wilma Wooten, M.D., M.P.H., County public health officer.
This infant is the first reported case born in San Diego with microcephaly associated with Zika virus. Microcephaly is a condition with multiple causes where a baby's head and brain are smaller than normal. Children born with this condition frequently have other developmental and neurological health problems as well. Details about the case are not being released due to privacy concerns.
As of March 24, HHSA has confirmed 87 travel-associated cases of Zika infection among San Diego County residents. This information is updated every Friday on the HHSA Zika website. No local mosquito transmitted cases of Zika have occurred in California, though limited local transmission has occurred in Florida and Texas.
Four out of five people with Zika infection have no symptoms. People with symptoms report having fever, rash, joint pain and conjunctivitis (red eyes). The illness is usually mild with symptoms lasting for several days to a week after being bitten by an infected mosquito. There is currently no vaccine or treatment for Zika other than rest and supportive care such as fluids and fever relief.
The Centers for Disease Control and Prevention (CDC) maintains a list of countries and territories with known Zika transmission at the CDC Zika Travel Information website. People visiting these areas should take steps to avoid mosquito bites:
Use insect repellents containing DEET, picaridin, IR3535, oil of lemon eucalyptus or para-menthane-diol for long-lasting protection while traveling and for one week after returning home. If using sunscreen and insect repellent, apply sunscreen first and then the repellent. Pregnant women and women who are breastfeeding should use an EPA-registered insect repellent according to the product label. Do not use insect repellent on infants less than two months of age.
Wear long-sleeved shirts and pants.
Use air conditioning and keep windows closed if possible. If windows and doors are open, make sure screens are in good condition with no holes or tears. If mosquitoes can come indoors, sleep under a bed net.
Reduce the number of mosquitoes outside by emptying standing water from containers, such as flowerpots and buckets.
Zika virus can be transmitted through sexual activity as well as by mosquito bites. Sexually active adults who travel to areas with Zika transmission should use condoms or other barriers to avoid getting or passing Zika during sex, even after they return home. Couples planning pregnancy should speak with a health care provider about a safe length of time to wait before trying to get pregnant.
HHSA advises anyone who develops symptoms of Zika infection after travel to seek medical care.
To learn more about Zika virus, several CDC websites have useful information: Zika, Zika and Pregnancy, Zika and Sexual Transmission, and Mosquito Bite Prevention.
New California law puts charge in lead-acid battery sales
Beginning April 1, as signed into law by Gov. Jerry Brown, sales of lead-acid batteries will be subject to two $1 fees. Manufacturers will pay a $1 fee for every lead-acid battery sold to a retailer, wholesaler, distributor or other person for retail sale in California. Consumers will pay a $1 fee on each purchase of a replacement lead-acid battery.
The Lead-Acid Battery Recycling Act of 2016 requires retailers to register, collect and remit the fee to the Board of Equalization (BOE); and manufacturers to register and remit the fee to the BOE. A lead-acid battery (the type commonly found in vehicles) is any battery that weighs more than five kilograms (11 pounds), is composed primarily of both lead and sulfuric acid, and has a capacity of six or more volts. Retailers will charge a refundable deposit, subject to sales tax, when a consumer purchases a replacement lead-acid battery and does not simultaneously provide a used lead-acid battery to the dealer.
The fee is expected to generate $26 million annually. Revenues collected will be deposited into the Lead-Acid Battery Cleanup Fund, where they will be used to investigate, evaluate, clean up, remediate, remove, monitor, or otherwise respond to any area in the state that may have been contaminated by the operation of a lead-acid battery recycling facility.
Beginning April 1, 2022, manufacturers will no longer be required to collect and remit the $1 fee. Instead, consumers will pay a $2 fee upon purchase of a replacement lead-acid battery.
---
Get the La Jolla Light weekly in your inbox
News, features and sports about La Jolla, every Thursday for free
You may occasionally receive promotional content from the La Jolla Light.