La Jolla library to offer old book appraisals, Bird Rock Elementary grads give pelican statue to school and other News Nuggets, May 11-18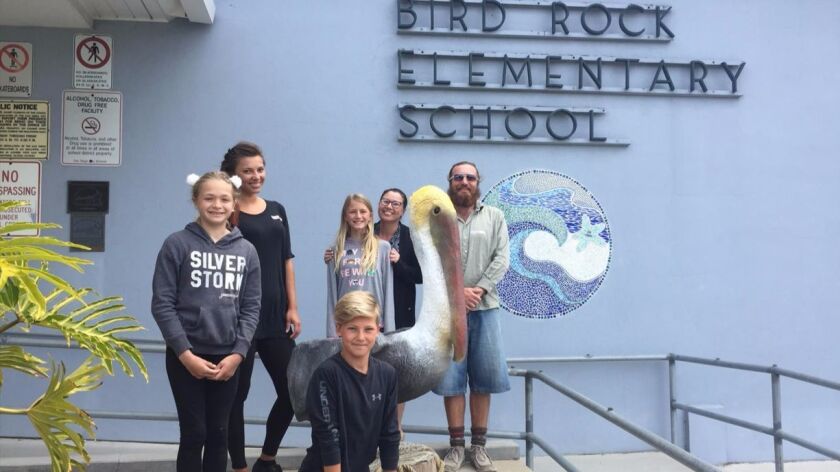 Bird Rock Elementary grads give pelican statue to campus
The Bird Rock Elementary School student council (2015-2016) gifted their alma matter at 5371 La Jolla Hermosa Ave. with a pelican sculpture. It was made by San Diego Sculptors Guild president Sergey Gornushkin, with a special thank you to Evgeniya Bessarabova and John Zolezzi for their installation help. The school's mascot is Rocky the Pelican, chosen by a school-wide vote in 2011.
Library to offer old book appraisals, May 21
If you have old books that might be worth some money, here's your chance to find out when the La Jolla Library hosts an "Antique Book Roadshow," 12:30-4:30 p.m. Sunday, May 21 at 7555 Draper Ave. To reserve a time for the informal appraisal, call the library at (858) 552-1657. Pre-registration required.
Book lovers and collectors can bring up to five volumes to get estimates from staff members of PBA Galleries, a San Francisco-based auction house specializing in old and rare books. This is their second visit to La Jolla Library.
The book also doesn't have to be in perfect condition, even if the cover is loose. Rarity can be more important than condition. lajollalibrary.org
La Jolla fourth-grader wins essay contest
La Jolla Elementary School fourth-grader Torin Young, 10, was a grand prize winner in the City of San Diego's 2017 student "Writing for Literacy" library essay contest. Torin was honored along with other winners at the 20th annual award ceremony on April 27 at the Balboa Park Club.
Young was joined by his school principal, Donna Tripi, and La Jolla Library's Youth Services Librarian, Angie Stava. The winners read aloud their essays about their favorite books and then they received prize money and a laptop computer donated by Computers 2 SD Kids.
Traffic & Transportation May meeting canceled
La Jolla Traffic & Transportation advisory group meeting scheduled for May 17 has been canceled. The next meeting will be 4 p.m. Wednesday, June 21 at La Jolla Rec Center, 615 Prospect St. lajollacpa.org
SIO celebrating Walter Munk's centennial year
Two symposiums (May 15-17 and Aug. 29-30) plus a celebration in October when famed oceanographer Walter Munk will turn 100 years old, are planned by his long-time employer Scripps Institution of Oceanography (SIO).
The May 15-17 symposium will take place at Scripps Seaside Forum, 8610 Kennel Way and will feature scientific talks, discussions and mixers around the topic "Internal Waves, Turbulence and the Overturning Circulation of the Ocean." To learn more or register, visit munk100.ucsd.edu
'Women in Leadership' speaker series returns
Marine Corp. Sgt. Major Jennifer L. Simmons will open the new season of guest lectures for La Jolla Woman's Club "Women in Leadership" series, 5:30 p.m. Wednesday, May 24 at the Club, 7791 Draper Ave.
Themed "Women in the Military," the new batch of lectures are free and open to both men and women. Light appetizers and a cash bar, included. Seating is limited. RSVP by e-mail jbengis@aol.com or call (858) 454-2354. lajollawomansclub.org
Soroptimist 'Bucket List Bash' set for May 13
Soroptimist La Jolla will have its second "Bucket List Bash," 6:30 p.m. Saturday, May 13 at Birch Aquarium, 2300 Expedition Way. Named for the "bucket list" items available for auction (such as trips to exotic places), the event raises money for the Reboot program, which helps women transition from military to civilian life.
In addition to the auction, guests can enjoy dinner, drinks, a presentation by TV personality Leonard Simpson and chats on the life-changing benefits experienced by some program honorees. Learn more at nvtsi.org or soroptimistlj.org
'Sunsets on the Blvd.' to run through October
Following the success of the first Bird Rock "Sunsets on the Boulevard" community event, another stroll is planned 5 p.m. Friday, May 12, along La Jolla Boulevard. Dozens of stores and restaurants will remain open until 8 p.m. (a few later), and most will offer a special promotion and raffle prizes.
Bird Rock Community Council Merchant Liaison Ron Fineman said, "This is an extraordinary neighborhood and we want to see our merchants thrive and our community get out and have fun together."
The event will continue the second Fridays of each month through October. info@birdrockcc.org
'Welcome to La Jolla High' night, May 17
La Jolla High School invites eighth-grade students to its "Welcome to La Jolla High School" night, 6 p.m. Wednesday, May 17 on campus at 750 Nautilus St. Future Vikings and their families can participate in student-led campus tours; brief presentations by parents, teachers and staff; and booths touting academic clubs, athletics, student government and student life. Refreshments provided. lisabonebrake@me.com
Girls mentorship benefit at Sugar & Scribe
Girls Rising and Sugar & Scribe Bakery invite the public to "Bloom & Inspire" a sweet soiree supporting mentor programs for at-risk girls, 7 p.m. Thursday, May 18 at the bakery, 7660 Fay Ave. Tickets are $50 and include food, wine or beer, and the option to participate in a silent auction. Founded in 2012, Girls Rising matches at-risk girls with a long-term woman mentor and provides several group educational events focused on improving self-esteem and life skills. Girls Rising has 40 girls in its program and 15 waiting for sponsors. girlsrisingsd.org
Have a La Jolla news tip? E-mail details (and a related, high-resolution photo if possible) to editor@lajollalight.com or call (858) 875-5950.
---
Get the La Jolla Light weekly in your inbox
News, features and sports about La Jolla, every Thursday for free
You may occasionally receive promotional content from the La Jolla Light.