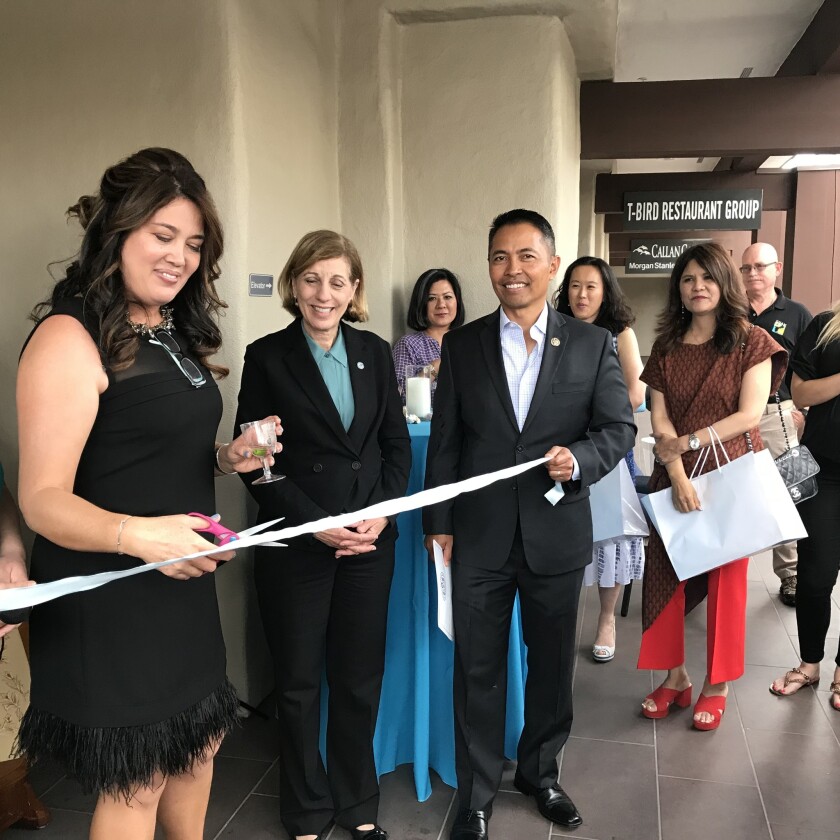 Here's a look at the newest shops in La Jolla, they offer gourmet meats and French macarons, beachy boho fashion, ocean-inspired art, and a little self-pampering.
Bellassima Spa
Overlooking La Jolla Cove, Bellassima Sea Spa opened April 26 at 1250 Prospect St. to provide massages, facials and other pampering treatments. Headed by owner and master aesthetician Teresa Buenaflor, Bellassima spa aims to provide a luxury, customized experience.
"Bellissima is about creating a family within our clientele base," Buenaflor said. "We get to know people and their needs so we can assess what we can help them with. We are a full boutique day spa, so we do facials, massages, body treatments and specialty treatments like lash extensions and micro-blading. All the therapists are masters in their craft and passionate about helping people in their wellness."
Unique to the area, one room is dedicated to Ashiatsu massage (where the masseuse uses their feet instead of their hands) with bars along the ceiling for the masseuse to hold them up.
When it comes to facial treatments, Buenaflor added that "because everybody's skin is different" most treatments are customized and start at about $140. There is also a membership program for discounts on regular services. (858) 454-2355. bellassimaseaspa.com
La Jolla Gourmet Meats
After 15 years in Poway, butcher Jeff Lefstein has opened La Jolla Gourmet Meats at 7660 Fay Ave., Suite C. Boasting grass-fed, hormone-free and antibiotic-free beef; pork products of all kinds; exotic meats such as alligator, veal, crawfish, boar bacon, elk and frogs legs; the butcher shop opened April 20.
As often as possible, Lefstein said everything is done in house.
Examples include sausages with different bases and rotating add-ins such as pork sausage with Havarti and jalapeno, and chicken sausage with herbs; chicken breast coasted in house-made marinades such as garlic ranch and honey Dijon; and what Lefstein calls his "famous" burgundy tri-tip.
"We make the burgundy marinade and throw (the marinated meat) in a tumbler to tenderize it," he said. "It's very good." There are also take-home marinades and spice rubs.
"I was a chef for many years and worked in gourmet restaurants and owned a deli for 13 years. After I sold my deli, I was looking for another business venture, so I bought a butcher shop," he said. "If someone comes in and doesn't know how to cook something or has questions about a certain cut of meat, I'm happy to tell them how to cook it. Or I give recommendations for what would be a good cut for whatever they are doing."
He also boasts his stuffed mushrooms that are piled high with cheese, onions and garlic. "They go great with steak," he said.
For the purists, there are different cuts of unseasoned beef, including boneless cuts and bone-in steaks, different cuts of pork, whole and portioned chicken, bacon and homemade chorizo. (858) 886-7415.
Valerie in Style
Specializing in women's clothes, shoes and accessories, Valerie in Style opened in Bird Rock on March 27. The boutique is owned by Tanya Tkachenko, a one-time Miss Ukraine.
"We have young contemporary fashion, boho spirit and very unique pieces for young fashionistas. We have bathing suits, rompers, dressed, shoes and accessories. Everything for the beach or resort lifestyle," she said.
La Jolla's Valerie in Style joins the Palm Springs location, which has been open for seven years. "We wanted to move here because of the climate and location," Tkachenko said, referring to her husband, sister and mother. "I love La Jolla, whenever my husband and I would drive through San Diego, we would always come through La Jolla. It's so beautiful and inspiring here. In my mind, La Jolla was always a goal. When I had the chance to open something here, I took it!"
Her family helps run the business, from managing the store to modeling the clothes for the boutique's social media.
Tkachenko said she has a passion for fashion and aims to "bring beauty into the world." Having this store is her way to do both. She also designs jewelry pieces, and said she would ultimately like to get into fashion design. In the meantime, she picks signature and select pieces for her store that matches the aesthetic. (858) 263-4411.
Le Macaron French Pastries
Le Macaron French Pastries recently held a grand opening at 1025 Prospect St., Suite 120. Locally owned and operated by Jerome and Melanie Petit, the La Jolla location joins more than 45 franchises nationwide.
"We are thrilled to introduce the community to a new experience that will give them a true authentic taste of France through our fresh ingredients and atmosphere within our café," said Jerome Petit in a statement. "Our macarons, chocolates and pastries all use high-quality ingredients to elevate our guests' tastebuds, and we look forward to welcoming everyone who walks through our doors to try it."
Le Macaron was founded by France natives and mother-daughter team Rosalie Guillem and Audrey Saba, who intended to provide an authentic French experience for Americans nationwide. Guests are greeted with brilliant colors and a modern interior complemented with traditional music playing throughout the café. Offering more than 20 flavors of macarons, as well as seasonal flavors, the menu extends to include pastries, coffee, cakes, éclairs and more. (858) 999-1543. lemacaron-us.com
R/A Gallery
Slated to open May 25, the R/A Gallery will showcase the ocean-inspired photography of Ravean Aaron at 1250 Prospect St.
"A gallery had always been a distant dream of mine, one that I thought was just that, a dream," Aaron said. "I always wanted to put something out there that was different, to share my vision on the beauty that lies in between the seconds in the world, and there was no better place to start than my hometown,"
Identifying as a "product of my environment," he added: "Having been born and raised in La Jolla, my entire childhood was sculpted by the ocean and its coastline; the water was my home, the caves my tree-houses and the waves were my playground."
As he developed as a photographer, Aaron said he sought a way to inflict certain emotions in his work, rather than just transport the viewer to a certain place in the world, and photographed accordingly. raveanaaron.com
Gone but not forgotten
Madison Gallery: After more than 10 years in The Village, Madison Gallery is moving to Solana Beach. The inaugural exhibit, "New Generation," opens May 26 at 320 South Cedros Ave., Suite 200. The new phone number is (858) 523-9155.
The Hake: Less than two years after an extensive remodel to The Hake restaurant at 1250 Prospect St., restaurant ownership closed the eatery.
In late 2016, The Hake shut down to add 2,000 square feet and 60 seats, add a casual bar and lounge, separate dining area and raw bar.
However, co-owner Ricardo Dondisch told The San Diego Union-Tribune: "When we had the old restaurant, it was more causal and people liked that a lot, but when we remodeled, we felt we had this new building and we needed to make it an experience, and our food became more complicated and service became more focused on fine dining. While some people really liked it and it became a destination place, we lost that everyday customer."
Maserati: The La Jolla Maserati dealership announced (by posting signs in its windows at 7477 Girard Ave.) that it had moved. Cars are still in the window display, but the sign says the new dealership is at 4611 Mercury St. in Kearny Mesa.
---