In Over Their Heads: La Jolla's Muirlands residents want answers to spiking water bills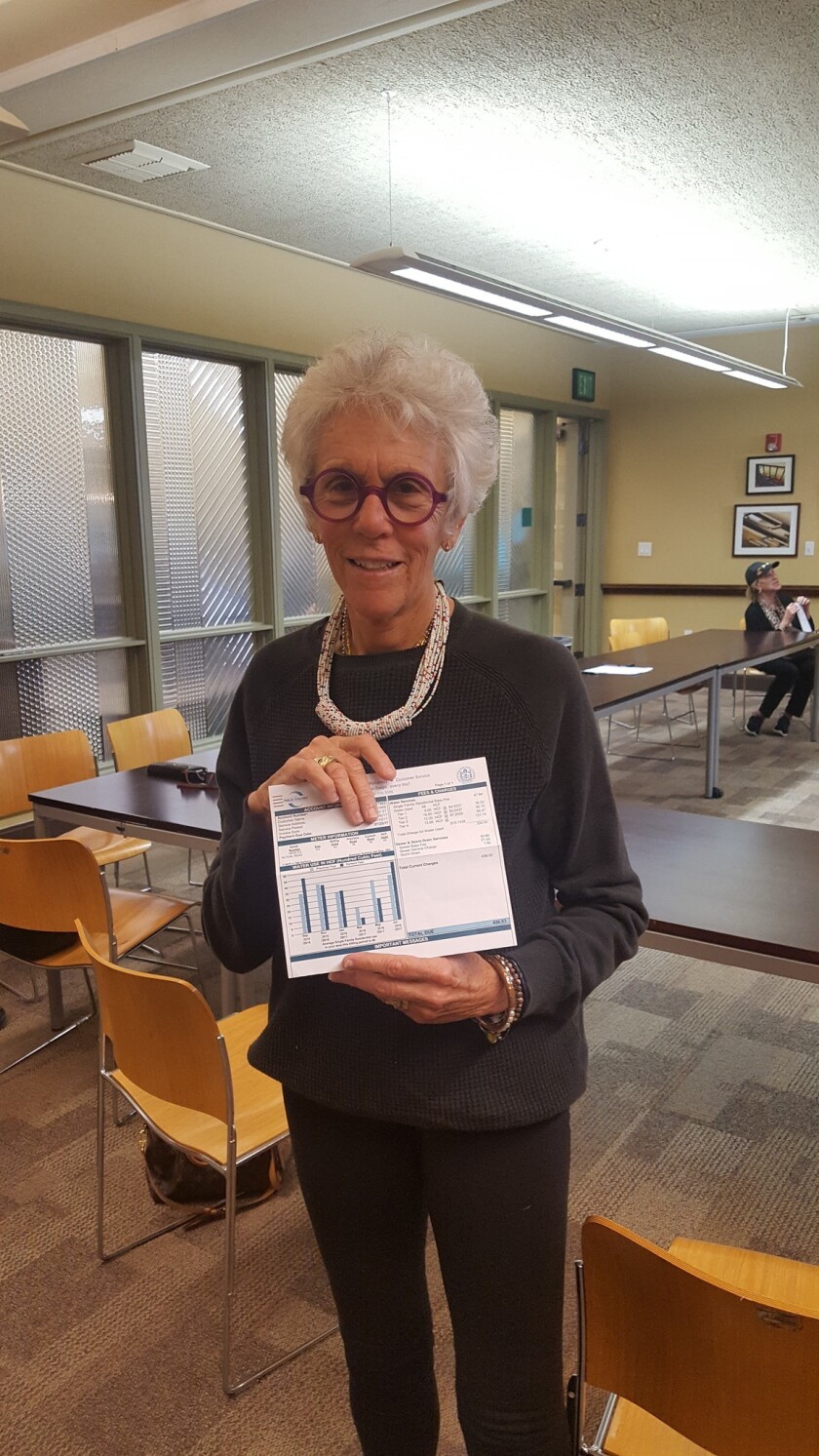 Residents of the Muirlands area have experienced a flood of unexplained water bill increases lately — some topping $4,000. About 20 homeowners gathered together, many with water bills in hand, at the La Jolla Library Jan. 2 to discuss the situation and plot a course of action to resolve the situation.
Joyce Abrams opened the meeting by reporting that her water bills have doubled in recent months. She said early in 2017, her every-other-month bills were in the $200 range: "The May/June bill was $436, the July/August bill was $483, September/October was $494. Of course, water rates go up slightly, I accept that, but they don't go up this much."
The stories just got worse from there.
One woman reported that her water bill is often $300, but her most recent bill was $1,091. "I water (my yard) twice a week for three minutes. I am very stingy with my water," she said.
Another resident said she lives alone, but got a bill for $2,756.
But the worst bi-monthly bill reported totaled $4,500.
"It's so sad when we get bills that we know shouldn't be (this high) … because it's too hard to fight them. You can't not pay a bill or they will shut off your water," Abrams said.
The higher-than-normal bills correlate to higher-than-normal water use, measured in HCF (Hundred Cubic Feet) and the water department is charging the residents accordingly.
Resident Catharine Douglass said in looking at bills from the past year, her readings ranged between 10-14 HCF for a long period and then inexplicably jumped to 29, and she was being charged for the extra water use.
"I can see the 10-14 HCF, but I cannot imagine the 29. It's not logical. It doesn't make sense," she argued. Others agreed, commiserating with the idea that their properties were showing exorbitant water usage. One resident said the water department recorded a daily average of 2,917 gallons at her single-family home.
Another reported being on vacation for three weeks, and "strangely enough," the bill for that period reflected high water usage. Yet another resident said she replaced her lawn with artificial turf to reduce water usage, and rather than decrease, the bill that followed had increased twofold.
Abrams commented: "I'm happy to pay for what I use, but I don't want to pay for more than what I've used. And I have not used what they are saying I have."
When some residents contacted the water department, they said they were told the reason for the increase was likely a running toilet or leak they were unaware of.
La Jolla Light got a similar story.
Water Dept. weighs-in
Jerry McCormick, a senior public information officer with the City, later told the Light the cause of many of the increases is likely a leak, combined with a longer-than-normal billing cycle.
"Some customers may have recently noticed a longer than normal billing period in their bi-monthly billing statement (up to 70 days). The reason for this adjustment was to put our meter reading dates back on a normal schedule. Water meters that are read bi-monthly are assigned to even or odd meter reading routes. Even routes are read in even numbered months and odd routes in odd numbered months. This even/odd month scheduling is important for a variety of operational reasons. Since 2011, our bi-monthly billing periods have on average been shorter than 60 days. Accordingly, read dates for some bi-monthly routes/meters have advanced as much as 10 days in total (prior to their respective odd/even months)," he said via e-mail.
As to whether this would account for several bills doubling if not tripling, McCormick added: "Every house is different, so their bill could be for a variety of reasons, but mainly it is a leak they don't know about, usually in irrigation, or a running toilet or leaking shower. Residents can check for leaks themselves, and if they cannot find one, they can call our customer service line and we will send someone out to check if there is a leak for free."
The customer service line is (619) 515-3500. McCormick also advises reading one's own water meter for consistency and accuracy, and said there are instructions on how to do that on the City's website (see sidebar): sandiego.gov/water
"If they want to dispute the water bill, they can also call our customer service line," he added. "If a customer wants to contest the veracity/calibration of their water meter, they can request a meter controversy test. For most residential customers the cost for the test is $66, for a meter size 1.5 inches or less. Larger sizes have different costs starting at $99. If the meter passes the test, the customer well be charged the respective cost for the test, if the meter fails the test, the customer is not charged for the test."
To give their plight some teeth, the Muirlands residents sought advice and assistance from District 1 City Council member Barbara Bry's office, so in attendance was policy adviser Rayman Khan. He said, right now, the situation seems to be unique to La Jolla and he's not sure about water bill complaints in other districts.
"La Jolla seems to be getting the bulk of this," Khan said, adding he would relay the breadth of the situation to Bry and Mayor Kevin Faulconer "in the event that dozens of people in La Jolla don't all have leaks," but there is only so much he could do. "The Water Department is under the Mayor's purview, so we can only say our constituents are having problems and urge him to look into it."
Raising eyebrows — Khan's admittedly — was the fact that the water rates differed between residents, despite the fact that they all live in the same neighborhood. "That is odd," he acknowledged.
Khan said those who wish to e-mail him about their bills so the City can identify patterns and see that they are not an isolated incident, can reach him at khanr@sandiego.gov
Another meeting is planned, and La Jolla Light will report the date, time and location when it's scheduled.
---
Get the La Jolla Light weekly in your inbox
News, features and sports about La Jolla, every Thursday.
You may occasionally receive promotional content from the La Jolla Light.