Muirlands home addition sparks neighborhood outcry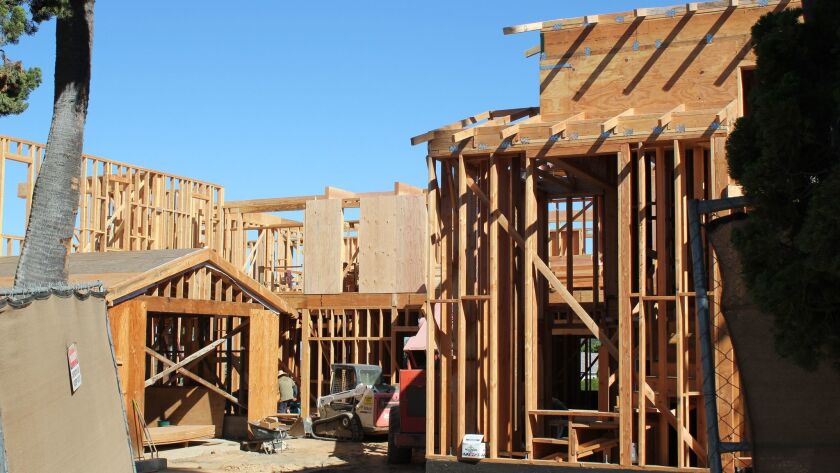 Dr. Allen Johnson has resided in his Muirlands home for 44 years. The property, located on the rim of Bluebird Canyon, overlooks the open space, the ocean and now the construction of what he describes as a "monolith" right across his deck on the other side of the canyon.
In 2015, a property by master architect Thomas Shepherd at 1320 Muirlands Drive was put on the market and sold as a 2,932-square-foot, four-bedroom and four-bathroom "unique piece of La Jolla's history." The property was bought by Bill and Dawn Davidson and is currently under construction with a remodeling permit.
Muirlands neighbors have forwarded to La Jolla Light complaints about the conversion of this property into a "McMansion." Johnson, who lives at 6306 Muirlands Drive, wrote in an e-mail, "We noted the home being disassembled, with no demolition permit. Without posting a formal building permit or notice to the neighborhood for comment, construction began. The Muirlands neighbors were never informed or consulted."
The Johnsons claim that the bulk and scale of the project, however presumably legal, doesn't fit the residential look of the area. "This structure is simply overwhelming and out of context. No family needs a 20,000-square-foot home (by his calculations) for two people. I understand that things are going to change, but people shouldn't take a neighborhood that's perfectly comfortable and change its character," he said.
Other neighbors contacted by La Jolla Light, who wish to remain anonymous, agreed with his concerns. "There are no other houses with 4-foot setbacks that are taking up so much of the lot. This new house, juts far out into the canyon, which ruined the pristine canyon for all the other people, and the house is just plain too big for the size of the lot," said one of them.
Owner Dawn Davidson said that neighbors are judging her property too soon in the framing stages. "I'd say, be patient, my husband and I are reputable people, we build houses that are recognized to be beautiful. I'd say that they can trust us," she said, adding that their vision is to build a house in the Spanish style, which was inspired by the Athenaeum Music & Arts Library. "We don't want to make anyone mad, but we have our right to build our house."
Remodeling permits
A provision in the San Diego Land Use Code allows developers to bypass the costly and time-consuming community review process if they keep 51 percent of the existing structure. The "remodeling" permit still has to comply with the same legal limits.
By way of explanation, City public information officer Paul Brencick wrote in an e-mail, "All construction is considered new and must comply with the current codes. But for a coastal development permit, there is a difference between remodel and new construction, and (for a remodeling permit) you must keep the foundation and one wall for remodels."
The permit obtained for construction at 1320 Muirlands Drive, which can be viewed on the City's opendsd.sandiego.gov/web/approvals website, reads, "Combination building permit for addition and remodel of existing single dwelling unit. Work to include complete remodel of existing main level areas with addition of garage with guest quarters above, new upper level with master bed/bath, exercise and study rooms, and remodel of lower level crawl space for new rec room, bowling alley and bathroom, new elevator and stairwell."
Remodeling permits, Brencick said, don't require public notice.
In May 2015, an ad-hoc "mansionization" committee was formed from a La Jolla Community Planning Association meeting to deter the building of houses too big for their lots or neighborhoods. Chair Sharon Wampler identified the use of the remodeling permit as a problem. "Some developers are making a business out of this and really damaging the unique character of the neighborhoods," Wampler said during their formation meeting.
Historic designation
The 1320 Muirlands Drive home, built by master architect Shepherd in 1937, went through the historical review process, which culminated in the decision of the Historical Resources Board (HRB) to turn down the designation during its October 2014 meeting.
Staff and the independent review agreed that the structure should not be designated "historical." The report, prepared by Marie Burke Lia, reads "The building was designed by Master Architect Thomas L. Shepherd, but because of its alterations it is not significant."
During the meeting, HRB member Priscilla Berge made a motion to designate the property under Criterion D, which recognizes the work of reputable architects, but the motion failed for lack of support. Linda Marrone, who was filling in for Chair John Lemmo, tried to make a motion for the applicant to return with more information about the master architect, but was informed that because a motion based on the same grounds had failed, the second motion could not be made.
Lemmo, who arrived at the meeting for the closing argument, said on the record, "Going forward, for those consultants who have a master architect involved, it would be much appreciated to have some discussion and some elaboration on why it would be inappropriate to designate under Criterion D for proper consideration, because we had a motion and it did not pass."
The lone speaker in favor of historical designation, director of Save Our Heritage Organisation Bruce Coons, recalled the discussion when La Jolla Light contacted him. "It was a great house and it should have been designated. There really wasn't anything wrong with it. The consultant made some excuses about the changes in the structure, but the standards for the designation were improperly applied, it had a high degree of integrity, and it was an important piece of Shepherd's work."
Shepherd, an architect included in the Biographies of Established Masters guideline used by the HRB, designed the La Jolla Beach &Tennis Club, the Marine Room, the Spanish-style Arcade Building in the Village and an addition to the La Valencia Hotel. The City's document states, "Shepherd's architectural influence on La Jolla is substantial, as he designed buildings and homes primarily in the community throughout his lengthy and prolific 50-year career."
Speaking for the applicant was the then-architect of the project, Tony Crisafi, also a board member of the La Jolla Historical Society. "We originally thought that this house had merits as a resource and it would be designated. It was sometime in the summer when we realized that we were coming down the wrong path with this, and we agreed with staff that the house has been significantly altered," Crisafi said during the October 2014 HRB meeting.
Johnson's daughter, Nicole, who grew up in the house overlooking the canyon, said, "The Real Estate agent listed this house as a historical gem, and when it was bought and it was going through its initial phase, we were assured by people that it was going to be a responsible remodel and that's not what happened here." Her father agreed, "It breaks our hearts."
Davidson explained that they are keeping the whole original structure through their remodeling project. "We live in a historical house right now, it's not like we would ever turn a blind eye on anything that's historic, we would do everything we can to protect it. If you have a big family, you want your home to be a place where you can gather," she said.
Board struggles with Nobel Prize winner's home designation »
---
Get the La Jolla Light weekly in your inbox
News, features and sports about La Jolla, every Thursday for free
You may occasionally receive promotional content from the La Jolla Light.