Mt. Soledad, Miramar Cemetery to hold Memorial events this weekend in La Jolla and San Diego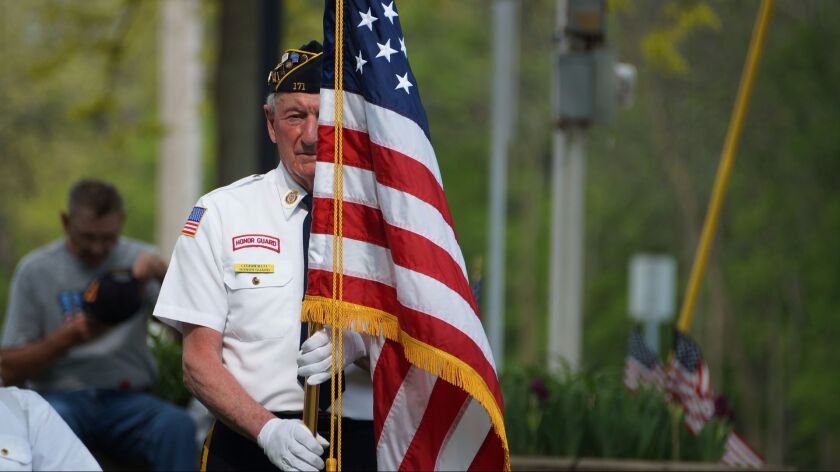 The Mt. Soledad National Veterans Memorial will honor Gold Star Families at its 2017 Memorial Day Ceremony, 2-3 p.m. Monday, May 29 at 6905 La Jolla Scenic Drive South in La Jolla.
The Gold Star first made an appearance during World War I after being placed over a service flag's blue star when a service member was killed in combat. The Gold Star signified the family's pride in the loved one's sacrifice rather than the mourning of their personal loss.
Captain Howard C. Warner III, a native of San Diego and current Commanding Officer of Naval Base Point Loma, will give the keynote address. He is a graduate of the U.S. Naval Academy, has had a distinguished career in submarines, and served with multiple commands in support of global operations.
Last year's event was attended by over 1,000 patrons and visitors this year are encouraged to arrive early.
The Mt. Soledad Memorial Day ceremony will include music by Marine Band San Diego, Marine Corps Recruit Depot Color Guard and a "Fly By" conducted by San Diego Performance Team Aircraft, which will cross over the Memorial, executing the traditional Missing Man Formation.
The Mt. Soledad National Veterans Memorial is considered one of the most unique veteran's memorials in the United States. It is the only one honoring veterans, living and deceased, from the Revolutionary War to the current War on Terror. Plaques include a picture of the veteran with a summary of their military experience.
Marie and Dominick Addario are sponsors of this year's Memorial Day event.
— For more information, visit soledadmemorial.com
Miramar National Cemetery event
About 600 active duty, veterans and their families are expected to attend the Veterans Memorial Service open to the public, 1-2 p.m., Sunday, May 28 at Miramar National Cemetery, 5795 Nobel Drive, just west of the Marine Corps Air Station, off Miramar Road and I-805 in San Diego.
Brig. Gen. Russell A. Muncy, commander, March Air Reserve Base, will be the featured speaker. Muncy recently was selected as vice-commander of the 4th Air Force, a command with Reserve units nationwide.
Music will be provided by Westwind Brass Ensemble, bugler Roy Zanni, and bagpiper John Forrest. Miramar National Cemetery Support Foundation is sponsoring the event. Free parking for the public will be on cemetery streets.
— Find more details at cem.va.gov
---
Get the La Jolla Light weekly in your inbox
News, features and sports about La Jolla, every Thursday for free
You may occasionally receive promotional content from the La Jolla Light.