Brand new Children's Pool lifeguard tower closed amid rats, rust, sewage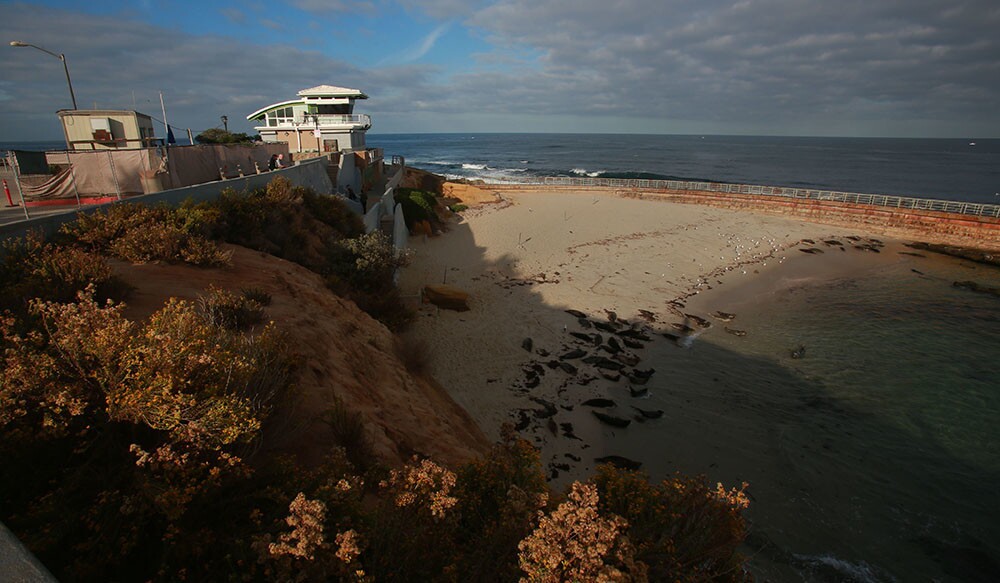 The lifeguard tower at Children's Pool in La Jolla is plagued with problems and financial overruns, and it's still not open.
(Peggy Peattie / San Diego Union-Tribune)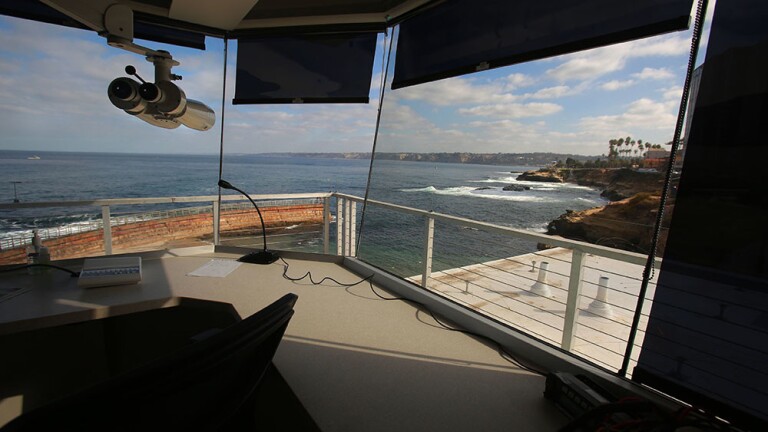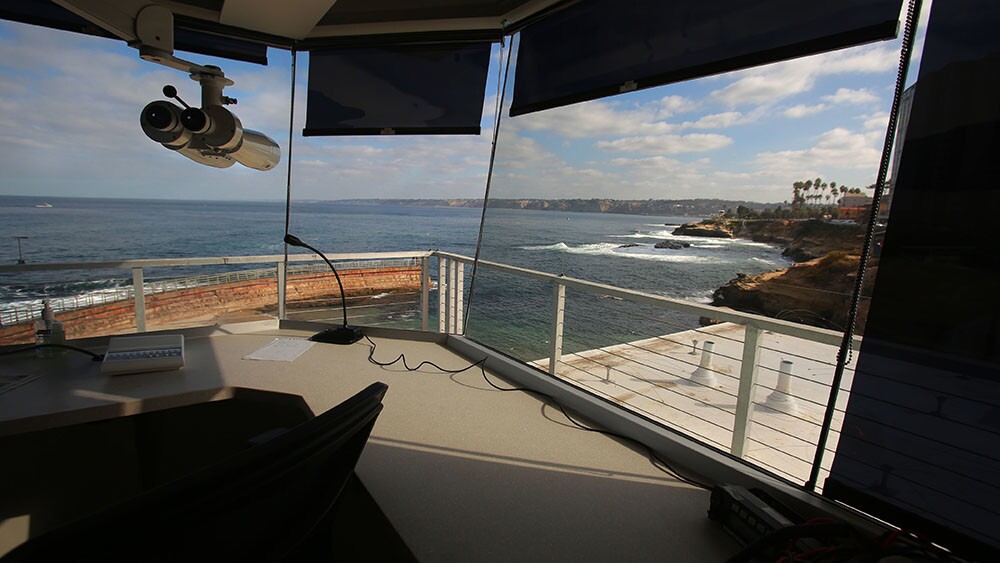 When the lifeguard tower at Children's Pool opens it will have a sweeping view of the La Jolla area coast.
(Peggy Peattie / San Diego Union-Tribune)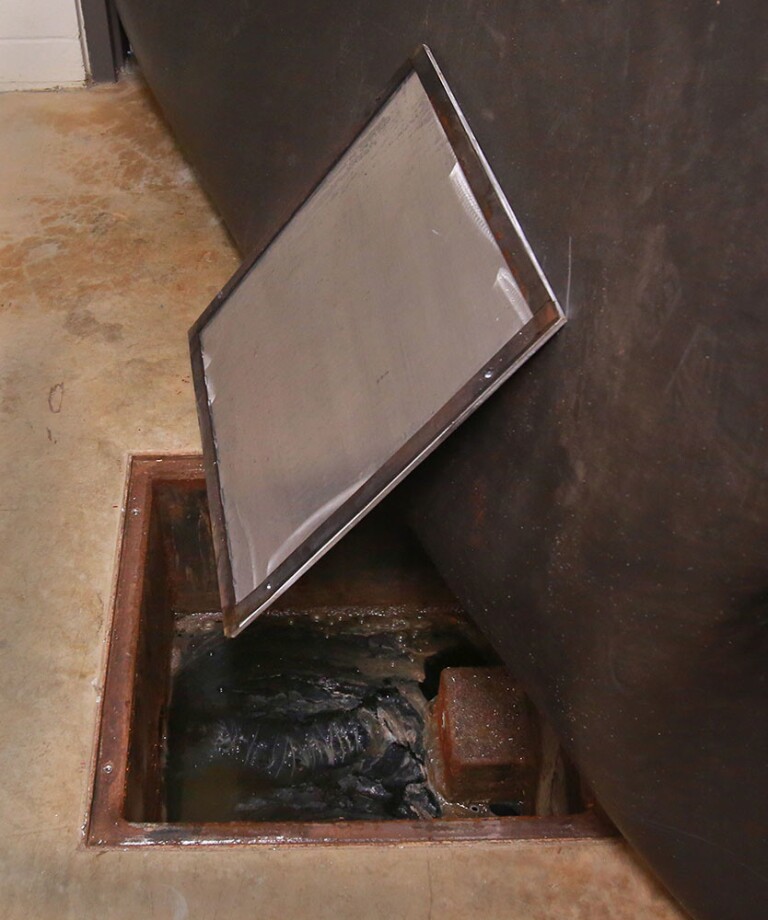 A sewage problem is covered with a metal plate and rubber mat. Sewage backs up into the locker rooms on this floor.
(Peggy Peattie / San Diego Union-Tribune)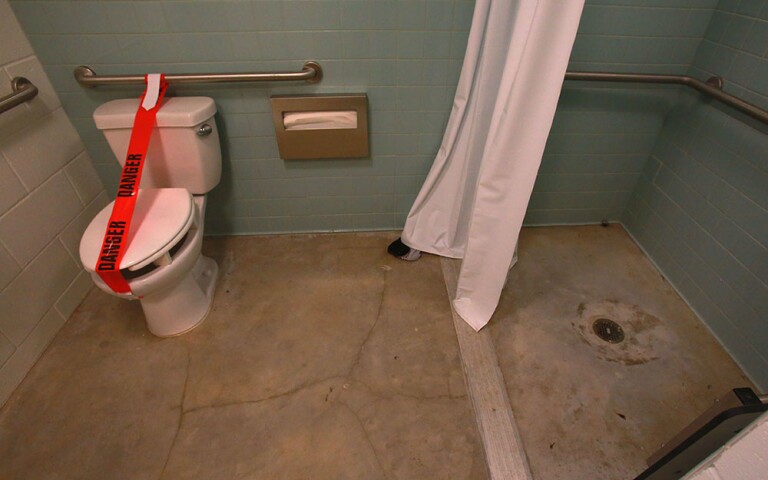 The plumbing is shut down because of a sewage problem and the freshly poured concrete floors are already cracked.
(Peggy Peattie / San Diego Union-Tribune)
La Jolla, CA. USA October 05, 2016 | The Lifeguard tower at Children's Pool in La Jolla opened to the public in June, and promptly closed again two weeks later with a myriad problems, including sewage backing up and flooding both men's and women's locker rooms, door handles coming off and a rat infestation in the walls. Lifeguards moved back into the temporary trailer they'd been utilizing as a headquarters next to the new facility. | Mandatory photo credit: Peggy Peattie / San Diego Union-Tribune
(Peggy Peattie / San Diego Union-Tribune)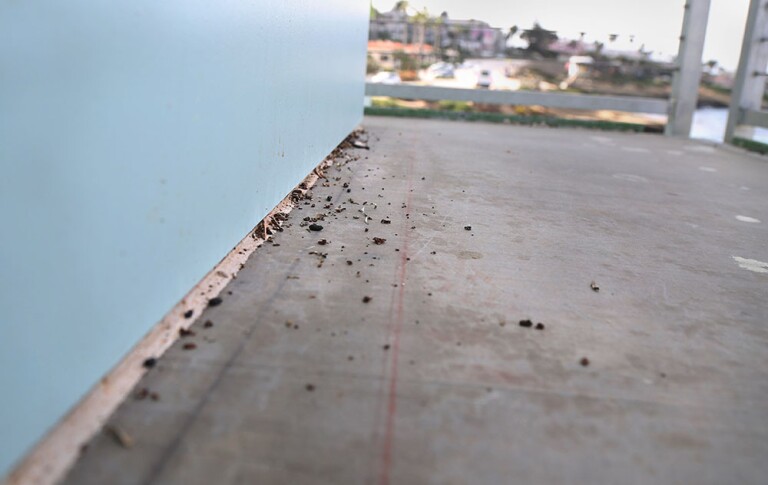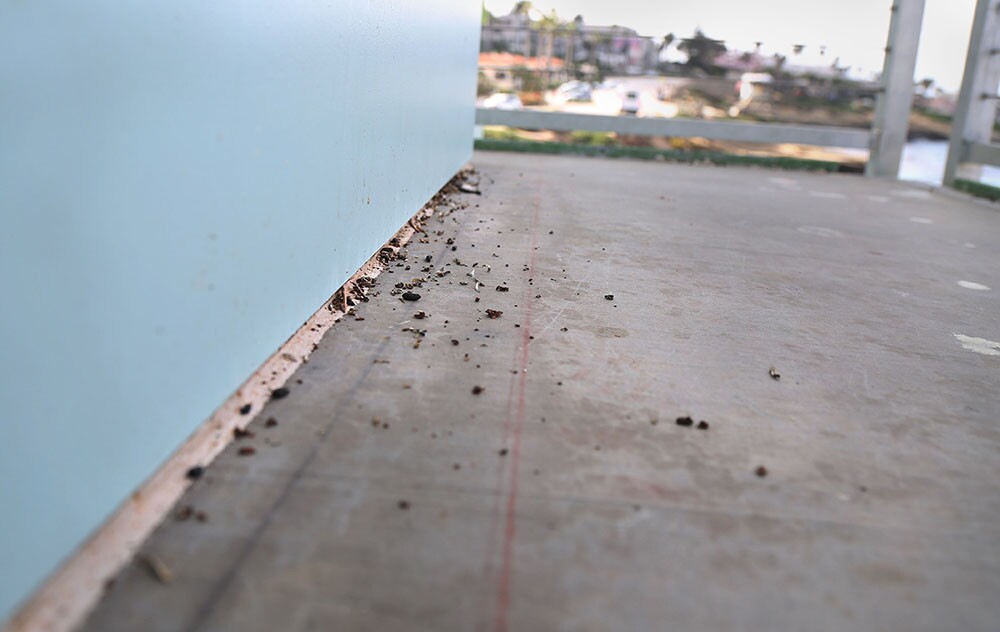 Rats have built nests in the walls already at the new facility and live unchallenged under the temporary trailer.
(Peggy Peattie / San Diego Union-Tribune)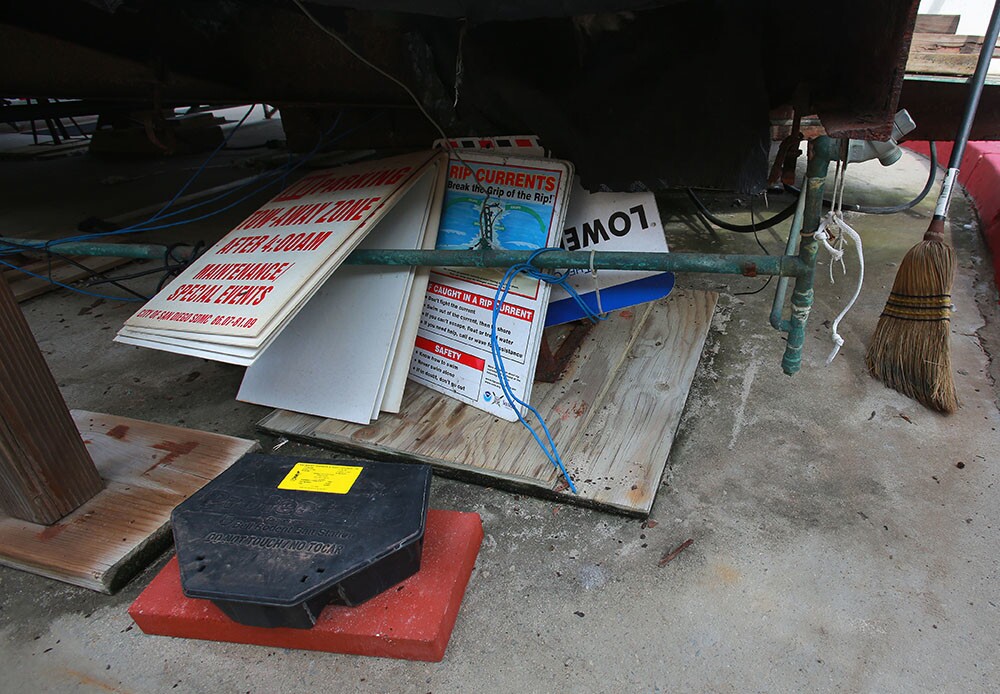 Rats have built nests in the walls already at the new facility and live unchallenged under the temporary trailer.
(Peggy Peattie / San Diego Union-Tribune)
Lifeguards moved back into the temporary trailer next to the new tower which closed a few weeks after it was opened.
(Peggy Peattie / San Diego Union-Tribune)
Rats have built nests in the walls already at the new facility and live unchallenged under the temporary trailer.
(Peggy Peattie / San Diego Union-Tribune)
Some of the metal pipes, screws and door handles on the outside of the building are rusting. Expensive seagull-prevention methods not only don't work, they are falling apart.
(Peggy Peattie / San Diego Union-Tribune)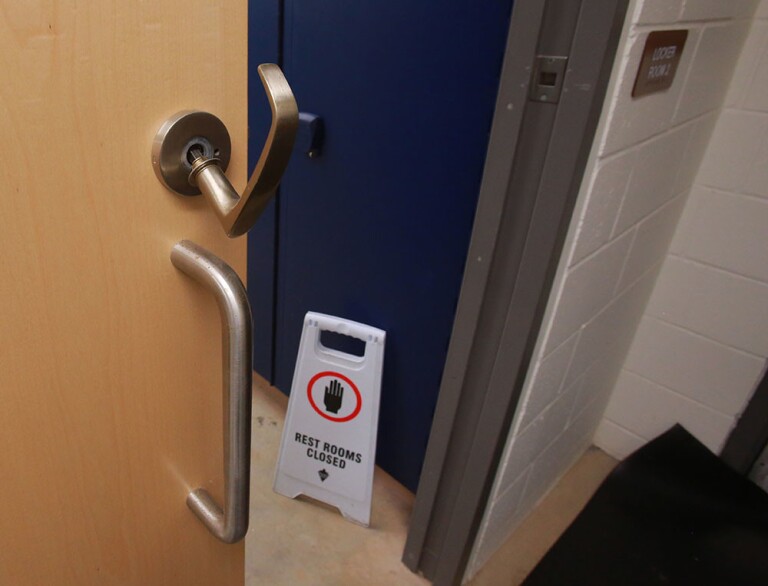 Some door handles fall apart when someone uses them to open the doors.
(Peggy Peattie / San Diego Union-Tribune)
The lifeguard tower at Children's Pool in La Jolla is plagued with problems and financial overruns, and it's still not open.
(Peggy Peattie / San Diego Union-Tribune)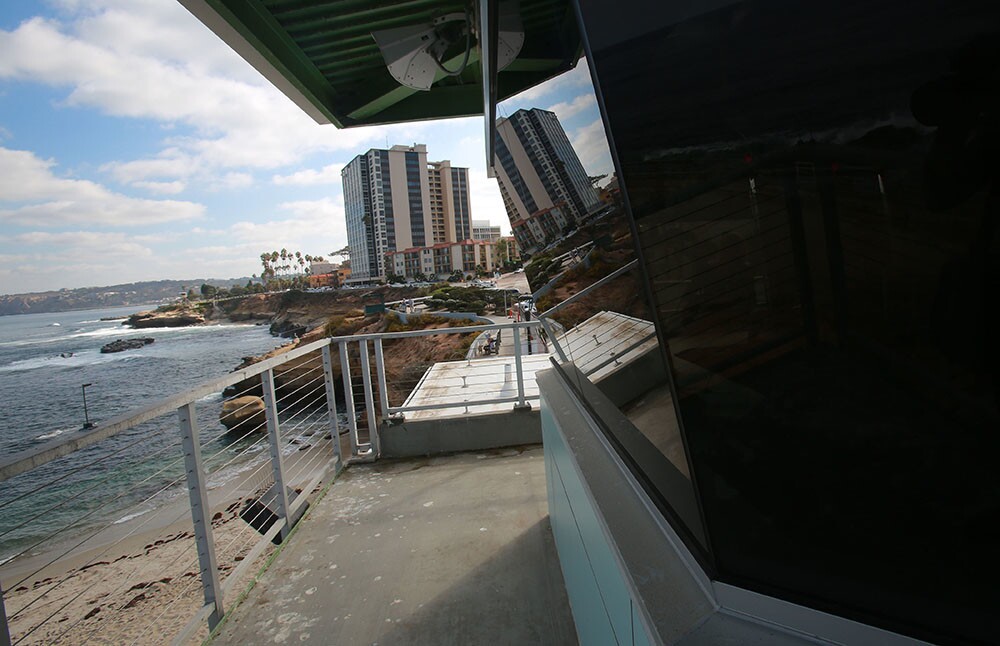 When the lifeguard tower at Children's Pool opens it will have a sweeping view of the La Jolla area coast.
(Peggy Peattie / San Diego Union-Tribune)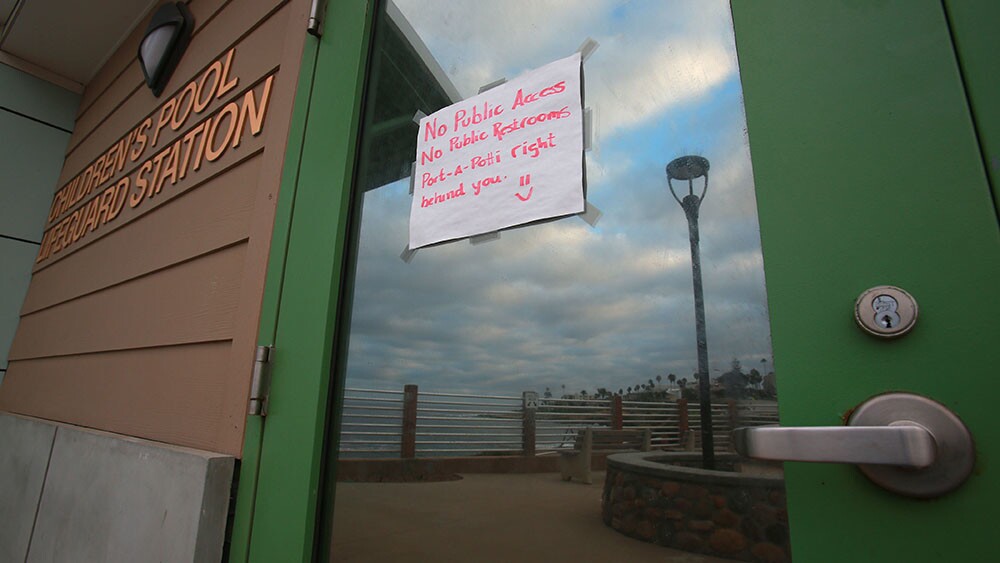 The lifeguard tower at Children's Pool in La Jolla is plagued with problems and financial overruns, and it's still not open.
(Peggy Peattie / San Diego Union-Tribune)
San Diego on June 27 opened the new $4.7 million lifeguard tower at La Jolla Children's Pool beach — a milestone that was to be short-lived, as the facility closed three weeks later amid sewage backups and other construction flaws.
On July 18, a bank of public restrooms that were part of the project overflowed, leaking into the lifeguard showers and locker rooms and eroding sand banks below. The city paid $1,400 to clean up the mess — only to have the toilets back up again (and pay another $1,200).
The public toilets remain closed today, pending further fixes. Lifeguards have retreated to a nearby temporary trailer, where they have running water.
The project, originally pegged at $3 million, has been plagued with delays, permit problems and design hiccups from the beginning, according to a U-T Watchdog review of public records. Drinking fountains, door handles and railings are already starting to rust. Rat and bird feces surround the building's exterior because of missed opportunities to keep pests away.
"It's just poor construction – design flaws that were overlooked and now we're paying for it," said Chester Mordasini, president of Teamsters Local 911, the union that represents more than 160 lifeguards. "It's my opinion that the inspections did not hold the contractors accountable."
Lee Swanson, a spokesman for the San Diego Fire-Rescue Department, said a number of unexpected delays and site conditions added to the project's cost and lengthened its completion time. All construction was inspected and deemed complete before the city took possession of the tower in June, he said.
The tower was "built to standards," Swanson said. "There are operational issues that we are working to rectify, but they are not the result of poor construction."
Not according to plan
Construction of the Children's Pool tower, which monitors nine city blocks, including one of the most dangerous rip currents in the city, is nearly four years in the making. It's one of three recently built along La Jolla's shore.
The city entered a contract with Stronghold Engineering Inc. of Riverside in December 2012. The agreement included demolishing the old tower (condemned by city officials in 2008), engineering and design services and the construction of a new 1,900-square-foot facility, equipped with public restrooms for beachgoers.
Construction began in July 2013 and was expected to last eight months. Lifeguards operated out of the pod-like temporary trailer, installed when the old tower was condemned.
Construction didn't go as planned.
There was unexpected demolition of the old tower's drainpipes and foundation, which contractors had planned to use for the new facility. Three seal breeding seasons caused delays. Even seagull nests blocked progress.
"Nesting seagulls are protected under the federal Migratory Bird Treaty Act," said Scott Robinson, a city senior public information officer. "Seagull nesting at the site stopped construction activities by a total of four months."
Before long, the project was pushed well past its completion date.
Borre Winckel, CEO of the San Diego Building Industry Association, said building regulations in California make delays and extra expenses unavoidable at times, but he was surprised that a lifeguard tower would cause as much trouble as it did.
"In a state with the longest coastline in the country, we should have a templated kit on how to build a lifeguard tower by now," Winckel said. "Deviation from the original design could have created a domino effect."
Unplanned expenses
As of July, at least 30 unplanned expenses listed on contractor purchase orders have increased the lifeguard tower project bill by more than $430,000. Added expenses included $60,800 for portable toilets and cleanup and $20,000 in extra building permits because of delays.
Records show nearly $87,000 of sewage system upgrades were added to the project to ensure the facility's plumbing could handle public and lifeguard use — although the upgrades apparently were not enough to meet the challenge.
Windows for the observation deck were installed at an angle that created a mirror effect, so lifeguards looking out at the shoreline to the north had to peer through a distracting reflection of the shoreline to the south. Stronghold tacked on an extra $2,650 to redesign the deck and re-install the windows.
Eventually, the city officially accepted the building from Stronghold in June of this year, records show, although Stronghold continues to work on the facility today.
For at least some of the post-acceptance work, taxpayers are footing the bill.
"This is a service call and [we] will be charging for our time," said an email to city officials from Denny McGahey, a project manager at Stronghold, after the first sewage backup.
Swanson, of Fire-Rescue, said the facility's sewer pumps were designed to be capable of withstanding materials up to two inches in diameter, easily handling most materials and products flushed down the toilet. However, items such as diapers, articles of clothing and feminine hygiene products were flushed, which clogged the facility's sewer pumps, he said.
The pump system as initially designed had its limitations. In January 2014, designs were upgraded at a cost of $35,100 to include a new sewer pump and four-foot-by-eight foot sewer basin to prevent backups.
According to the manufacturer, the pump does not come with a macerator, which would have ground down larger items thrown into toilets for better flow.
Robinson, the city spokesman, said city officials met after the backups with the pump manufacturer and decided to install a new pump system with a bladed vortex that can better handle frequent use and the irregular items beachgoers flush.
"A new remote notification alarm system will also be installed to notify city personnel of high wastewater levels and of any pump failures," he said.
The proposed work will be completed in a few weeks, pending availability of material, he said. The additional work will not be covered under warranty, Robinson said, and costs have not been finalized.
Brian Silva, a plumber in San Diego who has serviced dozens of sewage systems all over the city, said the basin as installed is small for such a significant public facility, especially one that would be used on a frequent basis.
Silva said he installed a larger basin in a restaurant's basement, connected to one toilet that would only be used by employees.
Public restrooms in particular are subject to a wide range of abuse, he said, and installing a grinder would have prevented larger items from backing up the system.
"Hundreds of people are going to be using it. There will be a line outside the door at all times," he said. "Since the city has built this kind of facility before, they probably should have known better."
Robinson said grinders are not a standard for city restrooms.
Unavoidable impacts
According to Robinson, there was nothing officials could have done to prevent the delays, extra costs or current issues with the tower. The city carefully plans to avoid risks and proactively prepares for all scenarios to minimize the high cost of construction and service delays, he said.
"However, even with all the planning and numerous measures taken to deliver the project on time and on budget, unique unavoidable impacts occurred," Robinson said.
Currently, the city holds an open bidding process and chooses the company that can perform the work at the lowest price.
According to court records, Stronghold has been involved in more than a dozen lawsuits alleging breach of contract, intentional interference with contractual relations, fraud, negligence and wrongful death.
A Stronghold project manager in San Diego referred questions about the lifeguard tower to the city, and the corporate office did not respond to a request for comment on its track record elsewhere.
The majority of the lawsuits accuse Stronghold of delaying projects with design changes, increasing its cost with expensive purchase orders and withholding payment to subcontractors on projects with government agencies including the Navy and Internal Revenue Service.
In 2011, All Day Electric Company Inc. filed a lawsuit against Stronghold accusing the contractor of withholding more than $4 million in compensation for work performed at Camp Pendleton.
The Solana County firm's lawsuit said Stronghold was responsible for numerous delays in construction and a significant increase in the project's total bill.
The project and All Day Electric's "work was delayed, made more difficult and expensive, and at times impossible," because of Stronghold, said the complaint filed in federal court in San Diego.
The parties reached a private settlement in 2013.
San Diego City Council President Sherri Lightner said issues with Stronghold and other lifeguard tower contractors were the main motivation behind the Purchasing and Contracting Charter Amendment, appearing on next month's ballot as Measure H.
Lightner said the amendment would allow city officials to consider both cost and quality of work to provide a better value for taxpayers.
"There needs to be more flexibility in how we award these contracts," Lightner said. "We can then make sure we're hiring someone who's qualified to do the job."
Swanson, the Fire-Rescue spokesman, said all capital improvement projects are inspected by the Public Works Department's Construction Management and Field Services Division to ensure quality work.
A "punch-list" of deficient items is created, and the city accepts the project only when all punch-list items are corrected.
According to the sole list released by the city, there were more than 65 such items identified during a walkthrough of the tower on March 17, three months before it was accepted.
The list says, among other things, that Stronghold diverged from original building plans on several occasions, either constructing items incorrectly or not installing them at all. For example, a shower seat was installed backwards, drains were left uncovered, screws and thresholds were rusting and the paint job was incomplete.
Officials also noted plumbing and drainage issues, such as sink backups, stagnant water and shower runoff pooling against the side of the building.
During site visits in August and again this past week, U-T Watchdog saw rusting fixtures, water pooling against the side of the building and drains covered with temporary plates.
Health issues
After the tower's acceptance by the city, lifeguards noticed an odor emanating from a sewage trap in the basement. A six-square-foot opening into the trap was covered with an open grate, allowing sewer gasses to fill the building, especially on warm days.
Email records show guards told city officials in mid-July.
In August, lifeguard Sgt. Marcus Schreiber sent an email to city engineers.
"It has been recently brought to my attention that a significant odor is still present in the Children's Pool facility," he wrote. "Guards are reporting this to be unbearable at times."
Swanson said the city removed the open grate and installed a solid plate over the hole to help contain the odor at the end of September. The city also plans to steam clean the area and apply an acrylic seal to the floor to further minimize the smell on a permanent basis. Officials began preparing a purchase order for the work this past week, he said.
Another message from Schreiber in August indicated that there was "a significant [rat] infestation in the hollows between the siding and the facility," he said. "Three large rats were seen in the new facility."
Emails show lifeguards had also complained of a rat and ant infestation at the temporary trailer in October 2015. During this time, the city was paying Cartwright Termite and Pest Control, Inc., $35,000 to control gophers, ground squirrels, mice and rats at ten city parks and beaches, including the Children's Pool.
Swanson said exterminators began visiting the Children's Pool site in September of this year to remedy the infestation. The Watchdog found a dead rodent near the trailer Thursday.
Bird problems
In 2011, bird feces began to pile up around the condemned building and surrounding areas, while lifeguards occupied the temporary trailer nearby. Staff requested that the city bird proof the area to ensure the health and safety of lifeguards frequently exposed to the fecal matter.
In response, Michelle Abella-Shon, a project officer for the city, said they could not "continue to spend thousands of dollars on a building that's going to be demolished. However, our No. 1 priority is the health and safety of our fellow staff."
Erik Jones, a city lifeguard for more than two decades, said he was one of three employees that contracted meningitis while working at the Children's Pool that year.
Jones said lifeguards were surrounded by a buildup of seal, seagull, pigeon, rat and squirrel feces on both the condemned and temporary facility.
"There was about six inches of feces," Jones said. "It was pretty filthy."
Meningitis is a swelling or inflammation of the membranes that cover the brain and spinal cord. Humans can contract a certain type of fungal meningitis by inhaling dust or dirt contaminated with bird feces.
"I can't prove that my meningitis was from there but I got it in April and two weeks later another coworker got it, and then another co-worker got it," Jones said.
Jones said the city would not cover the medical expenses or reimburse the sick time because it was not a work-related injury. City officials declined to discuss the meningitis cases, citing health privacy laws.
Emails show the city sent cleanup crews to the condemned tower to address the fecal buildup.
Despite the city's history with bird proofing and rat infestations, a large amount of bird and rat feces started to accumulate around the new tower, and on rails and landings.
Officials listed bird-proofing as an "unexpected expense" for the new building, adding another $25,300 to the total bill in December 2015.
"It's like they don't learn their lesson," Mordasini said. "If you don't bird-proof it, it will be covered in bird droppings in no time at all and it builds up quickly."
---
Get the La Jolla Light weekly in your inbox
News, features and sports about La Jolla, every Thursday for free
You may occasionally receive promotional content from the La Jolla Light.