Mayor's $3.6 billion budget focus: Infrastructure, safety, services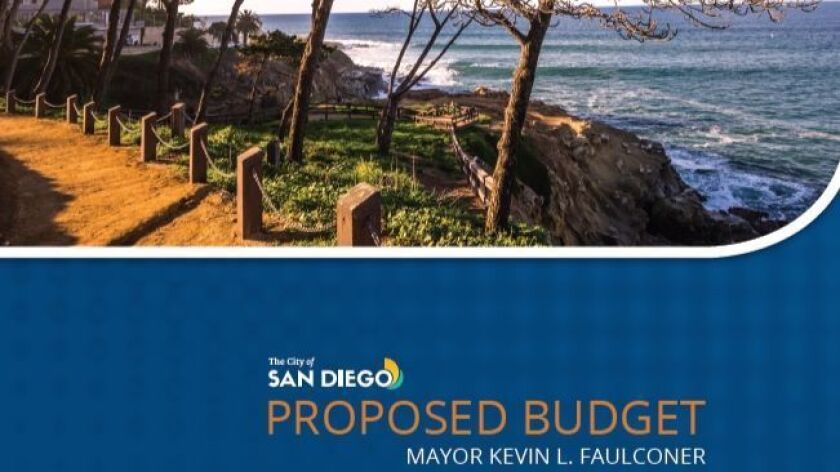 San Diego Mayor Kevin Faulconer released his proposed citywide budget for Fiscal Year 2018 (July 1, 2017 to June 30, 2018) on April 13 and despite some "belt-tightening" and an overall reduction of 3.5 percent, the Mayor said the budget allows for continued focus on "street repair, public safety and delivering neighborhood services."
He wrote in a public announcement: "This $3.6 billion balanced budget plan prioritizes core community services and emphasizes funding for neighborhood improvements, street repair and public safety while making the largest infrastructure investment this decade. This budget … includes funding for nearly 350 miles of road repair, staffing to keep hours at our libraries and recreation centers at the highest level in a decade, resources to make housing more affordable and reduce homelessness, four new academies for police recruits, and more."
However, there is also a reduction in in "non-personnel expenditures of $4.7 million for Arts and Culture funding."
The infrastructure investment stems from the passage of Proposition H in 2016, which according to the Mayor's statement, requires the City to dedicate specific revenue sources to fund new streets, sidewalks, bridges and buildings, and requires the maintenance and repair of such infrastructure.
"Other important infrastructure investments funded in the proposed budget include park improvements, streetlights, sidewalk repair and replacement, infrastructure to support energy and conservation elements of the Climate Action Plan, and repair of storm water infrastructure and City-owned buildings," the Mayor writes.
This continues Mayor Faulconer's promise from previous years to repair 1,000 miles of City streets within the five years that started in 2016. According to the Fiscal Year 2017 adopted budget, he reports the City repaired 321 miles of streets in Fiscal Year 2016 and there was funding to repair up to 380 miles of streets included in Fiscal Year 2017.
District 1 City Council member Barbara Bry, chair of the Committee on Budget & Government Efficiency (aka Budget Review Committee), said in a statement, "Based on my briefing with the Mayor, I am confident that we will finalize a strong Fiscal Year 2018 budget that prioritizes core community services. As chair of the Budget Review Committee, I want to ensure that the public is actively engaged in the budget review process. It is critical to involve the community in these important decisions during this challenging fiscal year."
She was not able to comment further, and Bry's communications director Hilary Nemchick said she would not likely comment until she "has had time to read the proposed budget carefully and has read the Independent Budget Analyst's review of the budget (which should be released on April 28)."
Public can weigh-in
After the City's budget analyst has issued a review of the budget, Bry will hold a "budget town hall," meeting to collect feedback from constituents. The meeting is 10 a.m. Saturday, May 6 at the La Jolla Village Square Community Room, 8657 Villa La Jolla Drive. RSVP is requested to: barbarabry@sandiego.gov
Bry previously said her budget priority was public safety — including filling police officer vacancies and funding upgrades to law enforcement technology — along with infrastructure repairs, but the public's input would be actively sought.
La Jolla projects of note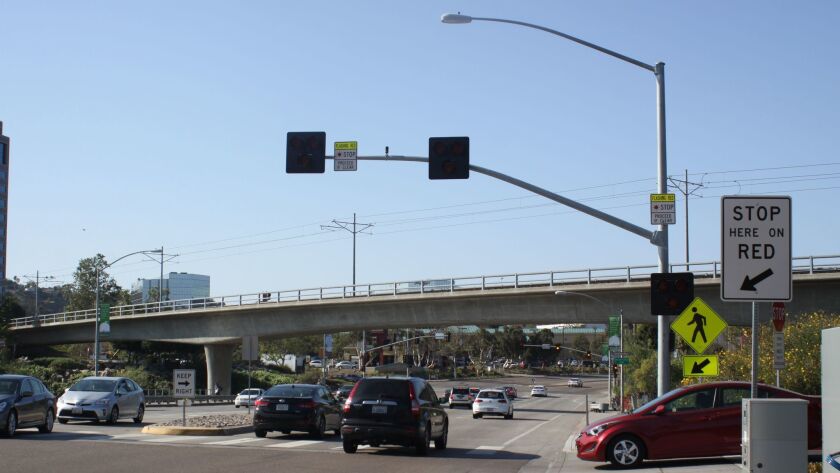 Several La Jolla street and sidewalk repair projects, along with underground infrastructure, such as sewer and water lines replacement, are listed in the 1,560-page proposed budget. Other projects are listed as "goals" for 2018.
Capital Improvement goals in the Fire-Rescue sector for 2018 include: Initiate design … (and) begin construction of Fire Station 9 (La Jolla) for dorm and kitchen reconstruction with ADA upgrades; and complete the "warranty phase" of the Children's Pool Lifeguard Tower and the La Jolla Cove Lifeguard Tower.
Capital Improvement Project goals for Park & Recreation in 2018 include: Coast Blvd Walkway Improvements (aka Children's Pool Walk Beautification project); La Jolla Parkway/Mount Soledad Erosion Control; citywide coastal erosion and access; and La Jolla Recreation Center Electrical Upgrades.
Going into more detail, the City reports construction on the Children's Pool Walk project will begin in Fiscal Year 2018 and "provides for the design and construction of widened walkways, enhanced paving, slope protection, sea walls, curb and street paving, and various improvements including, but not limited to, bollards, railings and landscape along Coast Boulevard in the vicinity of Children's Pool from the lifeguard tower to Jenner Street." The budget report states: "In Fiscal Year 2017, the City Council authorized the appropriation of $180,000 of La Jolla Urban Community funds to complete construction of the improvements."
Regarding the Scripps Park "comfort station" restroom facility, the report states $700,000 in Regional Park Funds were allocated to this project in Fiscal Year 2017. The design will be completed in Fiscal Year 2018, with construction anticipated to be completed in Fiscal Year 2022. The project would demolish the existing restroom facility at Scripps Park, next to La Jolla Cove, and replace it with a more modern facility designed to better suit the needs of Park/Cove users.
There is also funding for the La Jolla View Reservoir Project to replace an above-ground water reservoir in La Jolla Natural Park with construction to begin in Fiscal Year 2019 and be completed in Fiscal Year 2020; and the "warranty phase" of the Avenida de la Playa infrastructure repair project, which was slated to be complete in 2016 but was delayed and required additional funding in 2017.
Additionally, construction of the Phase 2 of the Torrey Pines Road Corridor project is expected to begin and end in the 2018 fiscal year. The Corridor Project will create continuity of the sidewalk and buffered bike lanes on both sides of Torrey Pines Road between Prospect Place and La Jolla Shores Drive, install a pedestrian activated crosswalk between Princess and Amalfi streets and replace the existing raised medians with flat, decorative ones.
Want to Read the Budget?
Find the full 1,560-page proposed $3.6 billion City of San Diego budget for Fiscal Year 2018 online at: sandiego.gov/fm/proposed
---
Get the La Jolla Light weekly in your inbox
News, features and sports about La Jolla, every Thursday for free
You may occasionally receive promotional content from the La Jolla Light.