La Jolla Kiwanians, veterans honored with Mount Soledad plaque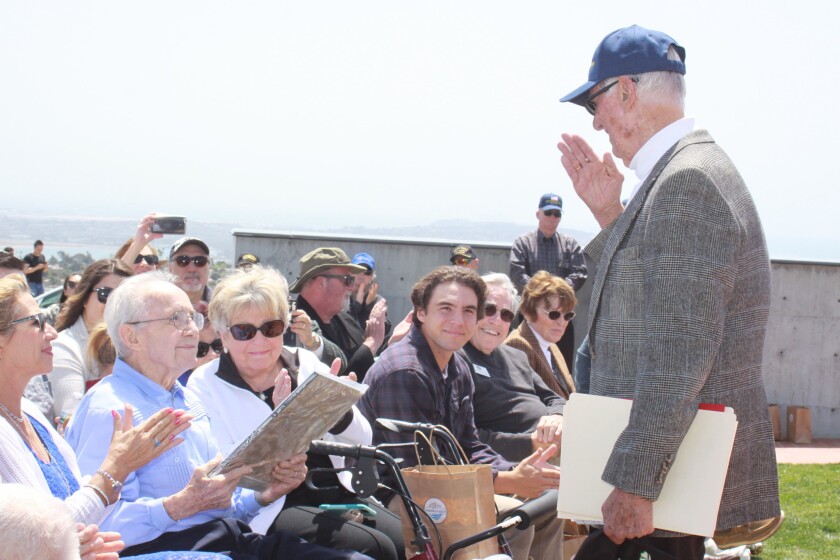 Duty, courage, honor, loyalty and sacrifice are some of the words Mount Soledad Veterans Memorial Association volunteer and Kiwanis Club of La Jolla member Trenton Bonner used to describe those who engage in military service. And Cal and Nell Swanson (both deceased) and Don Schutte are no exception.
Kiwanians Cal Swanson and Schutte now join the ranks of those with a plaque on the Mount Soledad National Veterans Memorial. A Kiwanis meeting and plaque unveiling took place April 13 at the Memorial, located at 6905 La Jolla Scenic Drive South, at which a plaque was placed for Schutte and one for the Swansons as a couple.
The Mount Soledad National Veterans Memorial honors those who served, living and deceased. All United States veterans, including officers and enlisted personnel who've honorably served in the U.S. Army, Navy, Marine Corps, Coast Guard, Air Force and World War II Merchant Marines, are eligible for inclusion on the Veterans Walls. The plaques come in three sizes for a donation of $950 to $1,800.
The Kiwanis Club of La Jolla, largely organized by Bonner, raised the money to fund the two plaques.
Schutte's war record includes the rank of Corporal in the U.S. Army having served during World War II. He was taken as a prisoner of war during the Belgian Battle of the Bulge in December 1944 and released in April 1945.
"Upon returning home, Don took advantage of the GI bill and attended dental school at the College of Physicians and Surgeons San Francisco," Bonner read at the ceremony. "He opened and ran a successful dental practice until his retirement. Don and his wife Louise, were married over 50 years (before her passing). They raised two children, David and Lynn, three grandsons, two great-granddaughters, and two more great-grandchildren due in August."
Following the reading of his biography, Schutte was presented with a copy of his plaque. As an added honor, a flag was flown over Mt. Soledad earlier that day in his honor, and he was given the flag.
"I thought it was nice that Kiwanis was having a little ceremony. I thought it was nice to have a few people there to help me up the steps," Schutte said to chuckles from the approximately 75 in attendance. "There are always people behind the scenes that made things happen, I want to thank those who made this happen." Schutte was joined by his children, grandchildren and great-grandchildren for the honor.
Charles Albert Lindbergh (Cal) Swanson was a Captain in the U.S. Navy during WWII, the Korean War and the Vietnam War. He was a naval aviator and earned the Distinguished Flying Cross with Gold Star. In addition to serving his country, he assisted in evacuating his shipmates from a fire aboard the USS Oriskany. Nell, who reached the rank of Lieutenant JG in the U.S. Navy and served in the Korean War, earned the National Defense Service medal. She was stationed at U.S. Naval Air Station, Patuxent River, Maryland.
"The two met at Patuxent River Naval Base in 1954. At the time Nell outranked Cal (but only for a few months). While in the Navy, Nell was featured on recruiting posters encouraging women to enlist," Bonner read. "During their 61-year marriage, they had two sons and one daughter. After Cal's retirement, they moved to San Diego and Cal started his second career with H&R Block preparing taxes. They both enjoyed sports and had season tickets to the San Diego Chargers games for close to 40 years. They were both active in the La Jolla Presbyterian Church. Nell sang in the choir for many years and Cal served as a deacon."
Cal and Nell died within a few months of each other in 2015.
Touted as the second largest Veterans Memorial west of the Mississippi River, the memorial has almost 5,000 plaques for La Jollans and beyond, representing the Revolutionary War up to the modern-day war on terror. Others already on the memorial include Winston Churchill, George Patton, Cliff Robertson, Louis Zamperini (about whom the book and movie "Unbroken" is based) and thousands more.
The Mount Soledad Memorial Association will host a Memorial Day ceremony 2 p.m. Sunday, May 28 to honor all veterans. This year, there with be a special plaque presentation honoring Ulysses S. Grant. The keynote speaker will be Brigadier General Jeffery Broadwater. For more information, visit soledadmemorial.com
---
Get the La Jolla Light weekly in your inbox
News, features and sports about La Jolla, every Thursday.
You may occasionally receive promotional content from the La Jolla Light.