Our Readers Write: Community Letters to La Jolla Light, April 20-27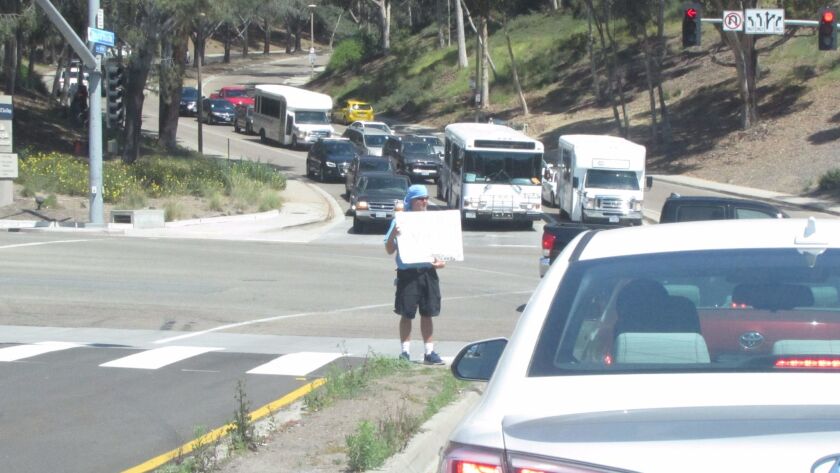 Why can't City finish jobs well and on time?
Chris Day's open letter to District 1 City Council member Barbara Bry in the April 13 issue regarding the unfortunate mess on Hillside Drive is spot on! This is absolutely unacceptable that the City of San Diego cannot seem to hire reputable companies to repair our water and sewer lines, and do so in a timely manner. These jobs around La Jolla have gone on far too long with months of disruption and several lawsuits.
In addition, the City needs to put a stop to the speculative developers swooping in, tearing down houses, only to build McMansions with very questionable architecture. They are taking far too long to complete (some 5-10 years!) and are disruptive to all La Jollans. We need help to stop the slow and steady deterioration of this town!
Anne Gilchrist
City needs to get its construction act together
The neighbors along the Soledad Avenue/Lookout Drive loop would like to thank Chris Day for his commentary in last week's issue, which provided an articulate description of the construction mess along Hillside Drive. We, too, have been plagued by the same issues, not only from the private projects on Hillside described in the article, but also from the City's on-going Sewer Replacement project on Soledad Road, Hillside Drive and Castellana Drive in the same area.
In addition to the points made in Mr. Day's article, I'd like to add the issue of public safety due to the miserable lack of traffic control by any of these projects. While public projects are expected to use public streets for construction, private projects should be occurring on private property. Due to the steep hillsides and humungous homes under construction, these projects are being staged in the street. Poorly parked workmen's vehicles, piles of excavated dirt, heavy construction equipment (cranes, front-end loaders, compaction equipment, delivery trucks) and materials storage, routinely block traffic, obscure sightlines on curvy and narrow streets, and offer no traffic control to assist hapless drivers trying to exit or return to the neighborhood.
This situation is compounded during rush hour when many commuters use Soledad Road and Hillside Drive to avoid congestion on Torrey Pines Road. Poorly placed and uninformative detour signage traps these vehicles into a dead-end maze with limited ability to turn around and retrace their path back to the main road. The recent detours from Soledad onto Castellana, Kearsarge and Crespo were unbelievably hazardous and added to further deterioration of these fragile roads. The four-way stop at Hillside Drive and Soledad Road is a candidate for demolition derby. The nearby storage of construction materials that block sight lines, the erratic movement of heavy equipment and the high volume of traffic — again with no traffic control — have led to many near-collisions.
When I approached Barbara Bry's office for assistance in remedying our inability to get into or out of our neighborhood, I was told by Code Compliance that they didn't respond to "active" construction projects, while Development Services does not handle construction-related parking and traffic issues. I was referred to the Police Department. While these projects are permitted by the City, it appears that no one is in charge of monitoring them. It also appears that no one is coordinating all this construction to alleviate its cumulative impact on public safety, traffic circulation, parking supply and infrastructure damage.
I have the following remedies:
1) Inventory available on-street parking spaces. Issue parking permits to residents. Provide a project-related lottery system for the remainder of spaces for their personnel. Anyone without a permit needs to park elsewhere (in pre-identified off-site locations to alleviate impacting adjacent neighborhoods) and be shuttled to the site.
2) Eliminate through traffic. Set up "Residents Only" signage at Soledad and Exchange, Al Bahr, Kearsarge and Crespo; Hillside and Torrey Pines, Soledad and Via Sienna.
3) Implement a temporary controlled left-hand turn from Amalfi onto Torrey Pines Road. This would ease traffic during construction on Soledad and its feeder streets by allowing residents to access the Village via Torrey Pines.
4) Prohibit large trucks. The current 25 foot axle-axle limit is a start, but even these trucks tear up the streets and have difficulty navigating the narrow and twisty streets.
5) Require a construction staging plan for all private development at the time of permit processing. This includes estimated loads of debris and dirt hauling, storage of excavated dirt, supplies, equipment and workers vehicles.
6) Require infrastructure impact fees (or bonds) to repair damaged or deteriorated roads, gutters, drainage and other public resources, calculated on estimated vehicle use (both trips and weight) associated with the project.
7) Fine projects for parking/storing equipment and materials in the public right of way. Fine projects for lack of active and continual traffic control. Dedicate fines to street repair.
8) Create a construction czar/ombudsman at DSD who monitors traffic, parking, congestion, trash and debris, dirt, polluted runoff, property and infrastructure damage caused by multiple projects in impacted neighborhoods AND mitigates their cumulative impact on residents and businesses. Position paid for by fees associated with construction staging plan review and approval.
While these suggestions may sound expensive and extreme, construction in fully built-out neighborhoods with antique infrastructure and high traffic volumes is costly. At the end of my 20-year career at Caltrans in 2003, the agency was paying as much for traffic control as it was for construction. San Diego needs to shift into the 21st century with Development Services serving both the public as well as developers.
Diane Kane
Support for Glickman Hillel Center in La Jolla
This letter comes in regards to the La Jolla Light story in the April 13 issue, "Planning commission to hear Hillel plans in La Jolla." For almost 20 years, Hillel has worked with neighbors, students and the City to design a religious center that will meet the needs of our constituents while beautifying and benefiting the surrounding neighborhood.
Our project — a religious facility of permanent nature — is allowed by right in the La Jolla Shores PDO. Despite being approved by the City of San Diego in 2006, we have conducted an extensive environmental review and fundamental redesign of our plans based on neighbor feedback. We now bring to the Planning Commission a project that benefits neighbors and students alike.
We look forward to receiving permits and beginning construction of the Beverly and Joseph Glickman Hillel Center in La Jolla in the months ahead.
Rabbi David Singer, Director, UC San Diego Hillel
Editor's Note: Plans for The Hillel Center for Jewish Life project, to serve Jewish students at UC San Diego, will be heard by the San Diego Planning Commission, 9 a.m. April 27 in City Council Chambers, 12th floor, City Administration Building, 202 C St. in downtown San Diego. The building is proposed for a triangular parcel of land at La Jolla Village Drive and Torrey Pines Road. As Hillel executive director Michel Rabkin explained, "It will be an off-campus center for small group meetings, pastoral counseling, holiday celebrations, prayer services and a place for cultural exploration. It will be a drop-in center where professional staff will work with students on a day-to-day basis." More at sandiego.gov and ucsdhillel.org/glickman-hillel-center
Police should move panhandlers out of town
At what point do La Jollans say enough is enough? How many panhandlers do we need to tolerate before we take action to maintain our quality of life? More and more individuals are showing up on our corners (see Torrey Pines Road and La Jolla Parkway, and now Girard Avenue and Torrey Pines Road). They ask for money and, when you don't give it to them, they make rude remarks or get aggressive.
The San Diego Police Department (SDPD) — and a form of this letter has been sent to Community Relations Police Officer Larry Hesselgesser — can engage in quality-of-life policing. This means proactively policing an area and responding to situations before they escalate. It's just that our police department chooses not to do this kind of work.
La Jolla already gets short shrift when it comes to police resources, and now we're seeing some of the results of that neglect by the police — more homeless individuals harassing people, more homeless people camping out in and around La Jolla Shores, more homeless people popping up on street medians, etc. It's the old slippery slope argument: Not proactively policing an area leads to more and more incidents, which ultimately degrades an area's quality of life. It's a vicious cycle, and it's happening right now in La Jolla.
SDPD is the only entity capable of adequately responding to this problem. I believe that many of these individuals are grifters and not receptive to measures short of legal action. I hope SDPD can change its protocol and start assisting the community with quality-of-life measures.
Bill Smith
P.S. Standing in the median is not a place meant for pedestrians. It's probably not legal and, besides, it's dangerous. I saw a police officer waiting at the traffic signal while a homeless person was "working the corner." The officer did nothing. It truly was an unbelievable moment. As soon as it's established in the homeless community that begging/panhandling/soliciting in La Jolla is acceptable, the more of this kind of activity we will see, and that's why I'm asking for assistance from SDPD.
Could Bonair St. drainage be a health hazard?
Since before winter, work was being done on the building on the corner of La Jolla Boulevard and Bonair Street (northwest corner). Plumbing was being installed to drain the underground parking garage. A sump pump must have been installed. Since that happened, polluted drainage has been pumped onto the street and down to the beach intermittently. This water has the smell of diesel fuel, and has stained the street and gutter all the way down to the beach.
Many years ago that property had a gas station and dry cleaners located there. Could somebody please investigate this? It is possible that this water has some very bad chemicals in it.
Dana Nelson
Editor's Note: The Light is looking into this situation and will have an answer from City engineers in the April 27 issue. If readers have additional information on the concern, please e-mail details to editor@lajollalight.com
The resurfacing of Forward Street begins after four years
FYI: Your 2013 article in La Jolla Light about the poor condition of Forward Street is finally getting a response. Curb cuts and other preps are now underway … at long last.
Joseph Chalmers
La Jolla Meals On Wheels grateful for recent donation
La Jolla Meals On Wheels, a non-profit organization serving the nutritional needs of homebound seniors in La Jolla and University City, has received a grant from the San Diego Employees' Charitable Organization to pay for three carts used Monday-Friday to transport meals at the organizations' facility, so volunteer drivers can pick them up and deliver them along various routes to about 80 seniors in their homes. Clients receive one hot meal (lunch) and one cold meal (dinner) daily. Those of us affiliated with La Jolla Meals On Wheels are extremely grateful for this generous award while potential federal budget cuts loom for many Meals On Wheels programs across the county.
In addition to the senior nutrition program, La Jolla Meals On Wheels offers a Friendly Visitors Program at no charge to seniors in its service area. Clients are matched with the most compatible volunteer visitors for one- to two-hour weekly visits. These encounters are a great source of comfort and security to seniors. Since its founding in 1974, La Jolla Meals On Wheels has served more than 460,000 meals to some 1,650 clients — and assisted 35 seniors in the Friendly Visitors Program. For more information, call (858) 452-0391 or visit lajollamealsonwheels.org
Jane Semelsberger
Panhandlers, sadly, put their lives in jeopardy
I just read the letter in the April 20 issue, concerning "panhandlers" on corners and street medians. My take on the situation is a little different than the writer's. I am far less concerned about the interference with the quality-of-life of the elite La Jollans than the potential danger to the homeless individuals. I have found these people innocuous and non-aggressive.
All my adult life has been devoted to health issues of individuals. I am quite concerned that a strong breeze or a misstep on a curb could lead to a very dangerous accident involving these people. It could result in serious injury or even death. I have seen men, women and even children endangering their lives. Somehow I think nothing will be done until a disastrous result occurs.
In some regards I agree with the previous writer. Please, San Diego Police Department and City Council intervene!
David Marsh, M.D.
Where's our compassion for people in need?
This letter comes in response to the letter in the April 20 issue, titled "Police should move panhandlers out of town." That letter is a perfect example of people with a self-centered attitude who are unable to understand that everyone isn't like them and that some people may fall onto hard times and need help instead of criticism. Poor people and homeless people do not need to be apprehended by police, but need to be helped.
There are many worthwhile charities and facilities that assist people who are in need. The world would be a better place (and so would San Diego and La Jolla) if more people would donate to such charities and facilities as the San Diego Rescue Mission, Father Joe's Villages, The Salvation Army, Interfaith Shelter Network, the San Diego Food Bank, etc., etc., etc. — instead of complaining about how "bad" these poor and homeless people are. What happened to compassion and caring and "The Golden Rule"?
Linda Pequegnat
What's on YOUR mind?
Letters published in La Jolla Light express views and comments from readers in regard to community issues. To share your thoughts in this public forum, e-mail them with your name and city of residence to editor@lajollalight.com or mail them to La Jolla Light Editor, 565 Pearl St., Suite 300, La Jolla, CA 92037. Letters reflect the writer's views and do not necessarily represent opinions of the newspaper staff or publisher.
---
Get the La Jolla Light weekly in your inbox
News, features and sports about La Jolla, every Thursday for free
You may occasionally receive promotional content from the La Jolla Light.