La Jollans making headlines!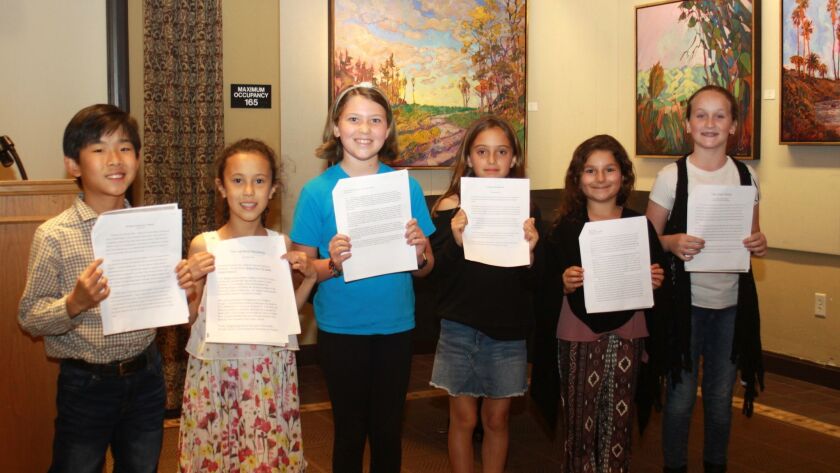 Several La Jolla students are doing their best in community service, sports and scholastics. Here's what they've been up to!
Library essay contest winners
For the Friends of La Jolla Library essay contest, more than 100 fourth-graders set out to answer the question: "If all the books in the world were about to disappear, but you could save one, what would it be? Why?"
The contest was open to all library-users, but it just so happened that the grand prize winner and top five winners were from La Jolla schools — Kai Moore, Harry Park and Emery Hom from La Jolla Elementary, and Marly Berlin, Atlanta Bass-Sulpizio and Eliana Leff from La Jolla Country Day.
At a ceremony April 11, each of the top winners read their essays to a crowd of supporters and received a prize. All the top winners received a certificate and a gift card to Warwick's books.
"We received more than 100 entries this year, and these were particularly well thought out, developed essays," said youth services librarian Angie Stava.
Eliana is this year's grand prize winner, so she received a journal and pen to encourage her to keep writing. As for the book she would save, she chose, "Where the Mountain Meets the Moon" by Grace Lin. The story centers on a young girl named Minli who lives in a hut with her family, including a story-telling father. She embarks on an extraordinary journey to find the Old Man on the Moon from her father's stories, and meets an assorted cast of characters and magical creatures along the way, including a dragon who accompanies her on her quest to change her family's fortune.
Play ball!
For her Girl Scout Gold Award project, La Jolla High School 16-year-old Lily Stratton organized a baseball tournament for players with special needs March 31 at the La Jolla Youth Baseball fields, dubbed "The Tournament of Champions." The Gold Award is the highest achievement in Girl Scouting, recognizing girls who demonstrate leadership through "Take Action" projects that have sustainable impact in their communities and beyond. She created a video outlining her process, sharing her motivation for this project and clips from the Tournament (grab your tissues!).
"I was inspired by kids in my class who, I've noticed, haven't been able to participate in sports, and kids that played in La Jolla Youth Baseball that had to stop because of their physical or mental disabilities," she said in the video. She adds that outreach was made to the San Diego Therapeutic Recreational Services and to occupational therapists at La Jolla High School, Muirlands Middle School and others.
At the event, more than 40 volunteers prepped the field, worked with players, coached, covered the outfield, staffed the snack bar and, of course, cheered on the team. Lily also made signs for each player, so everyone would have a fan in the stands. The players had adaptive assistants based on their abilities, such as being pitched to or using a tee, and having someone run with them.
To meet the sustainability requirement, Lily put together a presentation that includes all of the details required to host a future tournament, including flyers, waivers, items purchased and donated, finding participants and volunteers, etc.
Her six-minute video can be viewed at youtu.be/XfY8R3lWMgA
Journey to the Emerald Isle
La Jolla Country Day School Torrey Jonathan-Michael McCown represented the United States as part of the American Football Worldwide (AFW) ELITE high school select team, and competed the last week of March against a comparable team in Ireland. The American players also got to tour local and historic landmarks.
American Football Worldwide's ELITE team is built from recommendations and nominations from high school coaches and the NCSA (Next College Student Athlete) recruiting service. The US representative roster has representation from every region of the United States with over 16 states represented.
In this particular bout, the United States defeated Ireland 76-0. AFW president Jim Barnes said the Irish team was "outmatched" and that unfavorable weather conditions prevented the team from getting adequate practice time. McCown was not available for comment.
---
Get the La Jolla Light weekly in your inbox
News, features and sports about La Jolla, every Thursday.
You may occasionally receive promotional content from the La Jolla Light.