Through the Grapevine: La Jolla Winery celebrates 10 years, Fair awards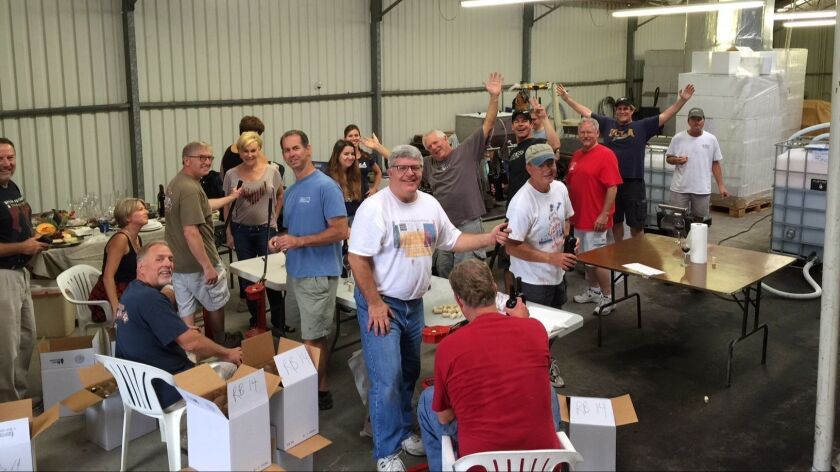 On its 10th anniversary, the La Jolla Winery has a lot to celebrate. Its membership has grown from a handful to 30. And those members went from buying grapes and making wine in a garage to buying a three-acre plot and having a hand in the entire process from bud to bottle. And this year, its Sangiovese won Gold at the San Diego County Fair's homemade wine competition in the best of division and best in show, and took home the Pete Anderson Award and Lum Eisenman Award.
The four wines, currently in bottle, include the 2016 Sangiovese, the "Nautilus" (a Zinfandel and Petite Sirah blend), the Castellana (a Sangiovese and Cabernet Sauvignon blend) and the Petite Sirah.
The invitation-only membership-based winemaking group is largely comprised of La Jolla residents, who gather over about 16 Saturdays in a year to make wine, which is only available to members.
"It's a great group. We have men and women from all kinds of professions, and we have a great time," said founding member Rob Hixson. "It's very much like a co-op where we all share the work."
To celebrate their achievements, members gathered July 10 at Tower 23 in Pacific Beach to toast the special place the Winery has in their hearts.
Of what draws him to the group, member Eric Dye said: "I like the joy of working in the field; it's a lot of fun. It's very satisfying. Right now we are hitting our stride and producing really good wine. For me, I like to give mine away as gifts. I present it to people and get to be proud of saying 'I made that!' "
Similarly, founding member Bob Lakosil, said he finds the hobby "really satisfying," and is quite proud of the wines the group produces — he served the 2009 vintage at his son's wedding. "It was spectacular," he boasted. "It was really special to me to make the wine, have it be good, and come out with it at my son's wedding. It didn't even have a label, it just said 'Nick's Wedding' on the bottle in white sharpie."
The group did eventually come up with a label, thanks to artist Alex Khonke. "The artist used a very ancestral technique: etching. It's not digital, it was done the way it was done in Europe in the 1500s. Making wine is very old art, so we wanted to achieve that visually," explained member Laurent Hamon.
The label features an image of Venus (borrowed from Botticelli's classic 'The Birth of Venus' painting) in front of the caves of La Jolla, holding a glass of wine.
And while the vintage of more recent years has been successful, bottles from some of the early years, not so much.
Member Murray Helm, who grew up on a farm in Porterville, California (between Bakersfield and Fresno) is comfortable with the hands-on work, but said one experimental batch looked more like orange juice than wine. "We tried to make a White Zinfandel, and when we bottled it, it came out orange! It was seriously orange. I still have a bottle. Now, we're producing what we are intending to produce and winning awards for it. We just get better and better every year," he said.
Hixson explained the grapes and the land also have a hand in that.
"We rely a lot on the earth to guide which wines we make," he explained. "The vineyard has been growing some great Sangiovese grapes; for some reason, they just thrive there. Our Zinfandel conversely, just doesn't grow as well, so we use what we have and make wines from there, and create our blends using what's good."
While Helm is comfortable with some dirt under his fingernails, the amount of work involved caught member Debra Patterson by surprise.
"I love wine and it's been fun to learn about it," she said. " It's been eye-opening to learn about the whole process. I appreciate wine so much more now and what it takes to make it. The labor that goes into it is unbelievable. I've never worked so hard in my life! But wine makes people happy and gets them to open up, so it's well worth it."
The process
Hixson studied viticulture (growing grapes) and oenology (wine) through courses at UC Davis, and took a class in winemaking at the UC Riverside extension program in Temecula. So the group started with an educated base.
Each year, their work starts in January, he explained, when members prune the vines and take the old vines off.
"It takes some brains, you have to look at how the vine is structured and figure out how to prune it correctly," Hixson said. "The more you do it correctly, the better the vines get. And a lot of people haven't done it and don't necessarily know how to do it, so getting to learn that is something people enjoy."
Soon after, the group embarks on the dreaded task of weeding. Followed by (which starts around this time of year) thinning the vines to make sure the number of healthy vines are balanced. In the coming months, the clusters will be thinned, leading to the beloved task of harvesting.
"When we go to the crush, we use a machine rather than our feet, but you end up with a big bin with crushed grapes in it," Hixson said. "From there, we send it to the press. We have a nice press machine and fill egg-shaped plastic barrels. We used to have oak barrels, but a batch we did turned to vinegar, which was really good, but we wanted to change it up. The plastic actually makes it easier to watch the wine."
To aid in the fermentation process, La Jolla Winery relies on the local craft beer industry, and purchases yeast from White Labs brewing company.
"The first few years, we bought the cheapest yeast you could find to get the fermentation process going, but a turning point for us came when someone realized we are in the craft beer capital," said member Joe Ryan. "A member recommended buying high-quality yeast from a local brewery. Yes it was more expensive, but our wine went up from something you might drink to something you would be proud to hand to a friend."
The fermentation only takes five to eight days, but in some cases, La Jolla Winery ages the wine using oak inserts that go into the plastic to give the wine that oakey flavor. Then, onto bottling.
"We have so much fun during the bottling," Hixson said. "It's the one day people don't want to miss. People rearrange their schedules so they can be there for the bottling. We put the wine in the bottles and drink it at the same time, and we're all together. It's a bit like the classic 'I Love Lucy' sketch, where we are filling bottles as they come down the line and drinking at the same time. It's just a wonderful time."
Each member gets a certain number of cases of wine, and membership rotates in and out as people move or change lifestyles.
To learn more about the group, visit lajollawinery.com
---
Get the La Jolla Light weekly in your inbox
News, features and sports about La Jolla, every Thursday.
You may occasionally receive promotional content from the La Jolla Light.