Merchants board to partner with Breeders Cup horse race: Local events would bring race-goers to La Jolla this fall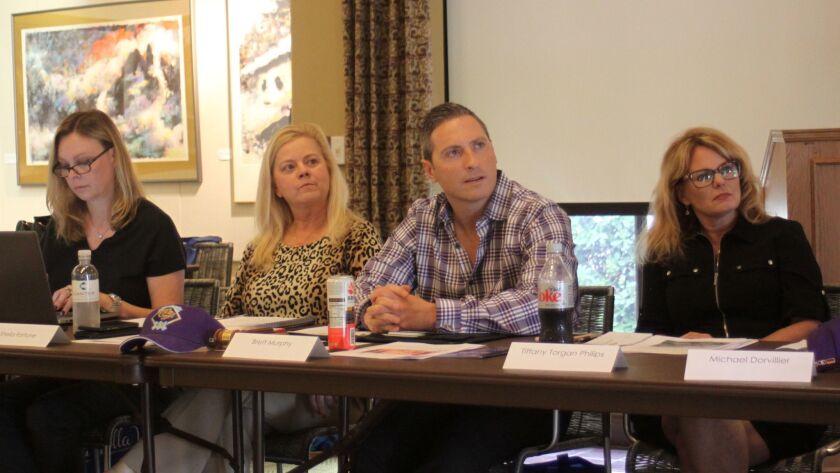 The La Jolla Village Merchants Association (LJVMA) announced partnerships and projects it will embark upon this year to get more people to visit and shop in La Jolla during its Feb. 8 meeting at La Jolla Riford Library.
The board plans to host events in connection with the Breeder's Cup event at the Del Mar Racetrack this fall, and has scheduled "merchant trade-shows" to begin in March.
La Jolla Village Merchants Association shirts have been made, and will be used going forward at events.
For the first time, the Breeder's Cup will be held at the Del Mar track. The event was previously held at venues across the country, including Aqueduct Racetrack in New York and Santa Anita Park near Pasadena. When the race comes to Del Mar, Nov. 3-4, events are being planned in La Jolla to welcome its visitors.
"We have been in contact with the hosting committee that is bringing the Breeders Cup to the Del Mar racetrack and for those that don't know, it's a really popular event for the horse racing industry," said LJVMA executive director Sheila Fortune. "(As part of the weekend) they are going to put on events up and down the coast from Encinitas to La Jolla. So we are looking at having three events in The Village."
Representatives from the Breeders Cup were not in attendance at the LJVMA meeting. (In thoroughbred racing, the Breeders' Cup World Championships is the culmination of the horse racing season worldwide and the $6 million Breeders' Cup Classic is the defining event of the international racing season. Learn more at breederscup.com)
Although just concepts at this time, Fortune said the three events would likely be a Dick Enberg Boys & Girls Club recognition gala for 400 people (Enberg reportedly called the first Breeders Cup race, and because he lives in La Jolla and recently retired, organizers want to honor him); an art/food/wine walk along a yet-to-be-determined La Jolla street; and a viewing party, which could be at a few different bars.
Venues for each of these events have not been determined.
"People fly in from all over the world for this event … and we want to capture them after the races close at 5 p.m." Fortune said. "These people are going to need a place to eat, work out, listen to music, shop and galleries to visit. They have a lot of income and we would love to show them where to spend it."
Acting chair Brett Murphy added, "La Jolla could be a big beneficiary here." It would be up to La Jolla businesses to facilitate the events.
For the proposed food/wine/art walk, board member Claude Anthony Marengo recommended taking an entire street, closing it off, and having the restaurants nearby provide the provisions.
Fortune added that organizers reportedly also appreciate La Jolla's density of galleries, so they would want to include local art vendors.
Additional meetings have been scheduled with the Breeders Cup and more details are forthcoming.
Trade shows
As a secondary LJVMA project, mini-trade shows to highlight area businesses will be held 5-7 p.m. on the third Tuesdays of the month. The first one will be March 21 and will continue in June, September and December. The blocks designated for the first trade show were not announced.
In other LJVMA news:
Eddie V's represented: In accordance with recently revised bylaws, which allow the board to appoint a delegate in the event one of the board's trustees can no longer attend meetings, the board sat Eddie V's manager Rani Chatha.
"Any sitting director who has changes in their employment situation or schedule can recommend another delegate in the company to take their place. Such is the case today, and Christophe Cevasco (of Eddie V's), has written to petition and allow Rani Chatha to sit in his place," Fortune explained. A motion to approve the change passed and she was promptly sworn-in.
T&T appointee: Laurnie Durisoe, manager of the Pantai Inn, will serve as one of the LJVMA representatives on La Jolla's Traffic & Transportation advisory board. She replaces Richard Walker, who lost his T&T eligibility when his term ended this year.
DecoBike opposition: Like many other organizations in La Jolla, LJVMA opposed the installation of DecoBike bike share-kiosks in the Village in 2013. The board voted unanimously to re-affirm its opposition.
"DecoBike does not belong in our Village because of safety issues (the kiosks do not provide helmets or bike locks), the violation of our Sign Ordinance with their advertising billboards and conflicts with local merchants," Fortune said.
But with the City planning to proceed with the installation of at least 12 kiosks in La Jolla, she added, "We drafted a letter asking that La Jolla not be included in the DecoBike program."
The letter will be sent to San Diego Mayor Kevin Faulconer, City Attorney Mara Elliott and all City Council members.
— La Jolla Village Merchants Association next meets 3 p.m. Wednesday, March 8 at La Jolla Riford Library, 7555 Draper Ave. lajollabythesea.com
---
Get the La Jolla Light weekly in your inbox
News, features and sports about La Jolla, every Thursday for free
You may occasionally receive promotional content from the La Jolla Light.