Criminals Beware! La Jolla Neighborhood Watch groups quadruple since last year
In summer 2016, La Jolla was experiencing an increase in residential burglaries and other theft-related crimes. The town responded with an increase in grassroots activism by way of Neighborhood Watch groups in sub-areas across La Jolla, and a citizen's crime advisory committee under the La Jolla Town Council.
By September, 10 Neighborhood Watch groups had formed.
Now, one year after La Jolla Light published the story "Neighborhood Watch programs become a force in La Jolla," the number of Watches has jumped to 44, and the La Jolla-area groups have refined their approach and seen a reduction in burglaries.
"From a law enforcement standpoint, we've made huge strides in Neighborhood Watch," said San Diego Police Department Community Relations Officer Larry Hesselgesser, who is charged with helping to launch Watch groups. "There are a lot more meetings, a lot more coordination, and we have Neighborhood Watch captains in certain areas who can take part of the work and help me out. Now, we have much more of a melding of police and citizens and working together, which has been much more effective (in fighting crime)."
In the citizen groups, headed largely by Barber Tract resident Cynthia Chasan, there is also a hierarchy through which information is fielded. First, a Neighborhood Watch area is established, covering one block or several. Each of these areas has an assigned block captain.
Above them, there are six area coordinators working with Chasan, who oversees the La Jolla program. She works in concert with Hesselgesser to get crime information out to residents. The coverage area under the La Jolla Neighborhood Watch group includes Mount Soledad, The Village and Bird Rock.
In these areas, Chasan said there has been a reduction in burglaries. "In 2016, from January to September, we had 178 residential burglaries. In 2017, we've had 54 residential burglaries," she said. "So far this year, we've had 41 motor vehicle thefts, but our 10-year average is 128 motor vehicle thefts."
Tools for success
In addition to the communication structure, Hesselgesser said the "most helpful" resource has been the community-based social media site nextdoor.com on which residents report suspicious activities.
"When it was introduced two or three years ago, the site helped us all come together and be more in tune to what's going on in a neighborhood. The residents talk, that information gets to the coordinators, and that gets to me," he said. "In year's past, we had meetings and then the momentum would just die out after a couple of months because people wouldn't communicate. Having the social media aspect makes it easier for people to know what's going on in their neighborhoods."
Chasan added that improvements in home surveillance have made documenting — and sharing — criminal activity easier. Specifically, she advocates for in-home equipment such as "Ring" doorbells (which automatically record people who come to a front door) or other cameras. "We are capturing video of these people and we can post the video on nextdoor.com so people know what to look for; that's made a big difference," she said.
Growing the Watch program
To further improve the workings of the La Jolla Neighborhood Watch program, resident and La Jolla Town Council Crime Watch Committee co-chair Catharine Douglass designed new Neighborhood Watch signs that provide more information to deter criminals.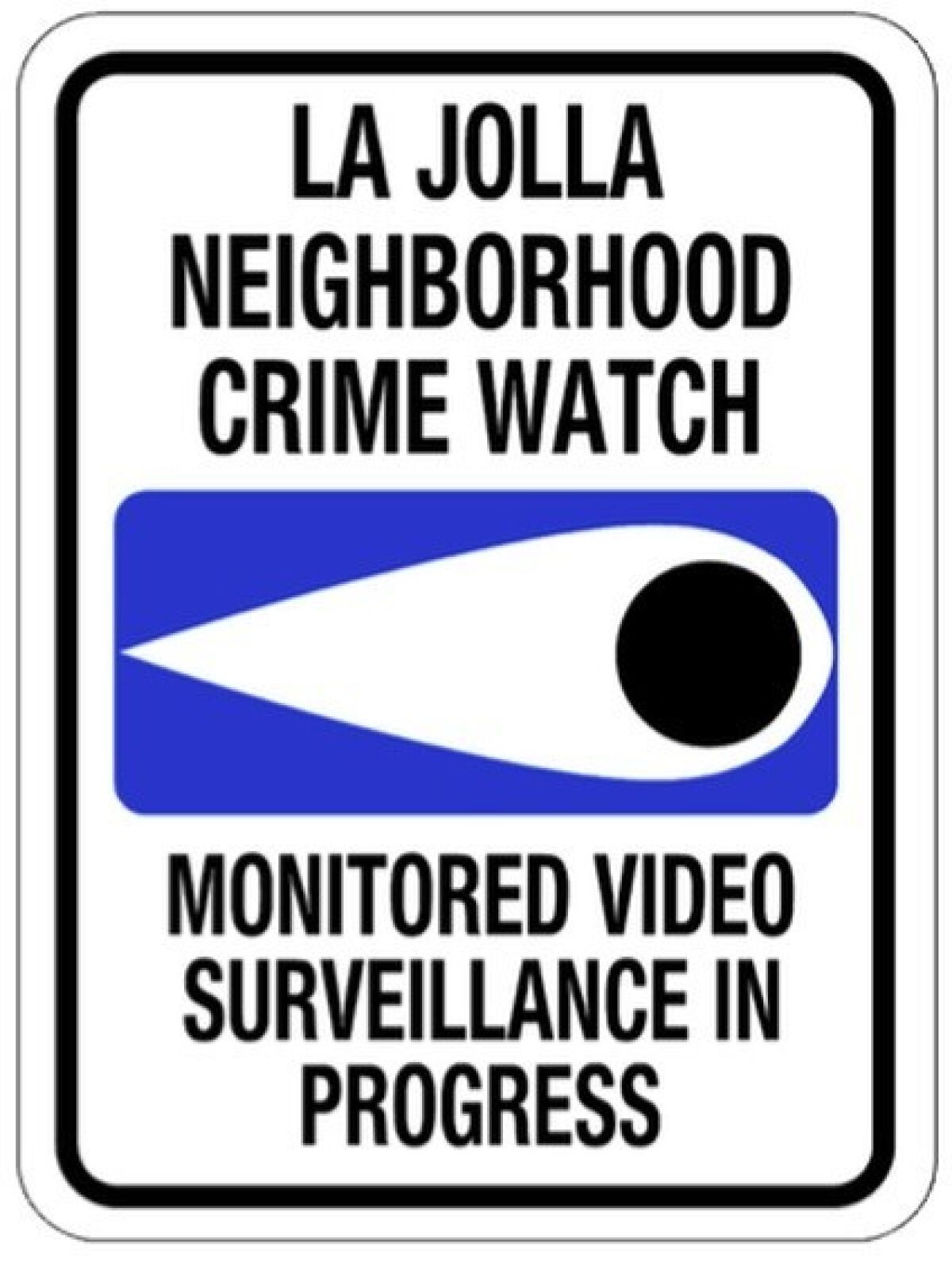 Chasan explained, "This sign was designed specifically for La Jolla. We found research that suggests if your city's name is on the sign, it looks like someone is organizing the Watch, rather than it being a generic message. So we put 'La Jolla' on the signs and a note that reads 'monitored video' surveillance, and that's different from other signs.
"If we can get 10-12 residents to gather and have a Neighborhood Watch meeting and get a few to put in Ring doorbells, we put one of these signs in their area."
One goal for the coming year is to "get the decrepit old signs replaced" she said. "If someone has one of those (tarnished signs) on their street, I would like for them to contact the offices of City Council member Barbara Bry, who will, in turn, contact me. All they have to do is have a Neighborhood Watch meeting with about a dozen neighbors and we will replace their signs with newer ones."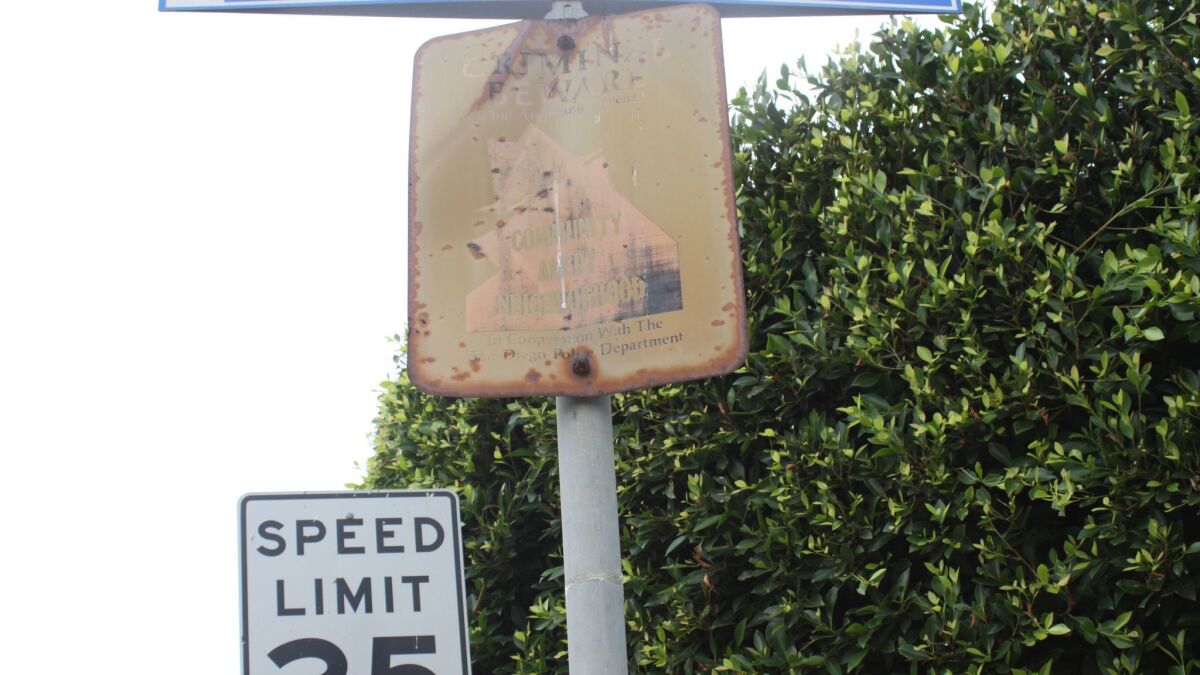 Hesselgesser added that burglars casing a neighborhood will notice whether the signs are old and uncared for, or if they are new and specific.
Another goal is to expand the program into La Jolla Shores. Chasan reports the first Watch meeting in The Shores will be later this month.
The need continues
Despite the improvements in crime prevention due to the Neighborhood Watch program, crime will still be a reality, Chasan said. She pointed out that by January 2018, San Diego is going to have fewer than 1,800 officers in the department. With more than 1.3 million people, San Diego is the eighth-largest city in the United States and the second-largest in California, according the the U.S. Census Bureau.
"When you go on nextdoor.com, you see posts of people being on hold with the police for 45 minutes and asking what the point is of having a police department. We don't have an immediate fix for the lack of officers. People can complain all they want about this being the police department's fault. It's not. We have an understaffed police department, so we have to come together as a community at this point," she said.
Hesselgesser added, "This is a little bit of a Band-Aid approach, but we don't have the ability to patrol like we used to and be proactive. We need more people to be aware of what's going on. We need the public to be the eyes and ears of the community and let us know what's going on."
Want To Know More?
La Jolla Town Council Crime Watch Committee website: lajollatowncouncil.org/crime-watch-committee Hesselgesser said the site contains answers to most of the questions he receives and describes how to start a Neighborhood Watch group.
City Council member Bry at sandiego.gov/cd1 has posted a link with resources "Set Up Neighborhood Watch on Your Block." It has step-by-step instructions, contacts, resources and more.
nextdoor.com is a community-based social media site on which residents may report suspicious activities.
Crime in La Jolla
July 2016 vs July 2017
La Jolla Light compiled the crime statistics used in our Crime & Public Safety reports for a side-by-side comparison of how crime trends have changed, randomly selecting the month of July. The City of San Diego recommends crimemapping.com for viewing crime statistics, but not all crimes are reported on the site.
• Residential burglary: 11
• Vandalism: 7
• Vehicle break-in/theft: 26
• Weapons: 1
• Drug/alcohol violations: 9
• Street robbery: 2
• Petty theft: 9
• Commercial burglary: 2
• Grand theft (value of over $950): 5
• Assault (with a weapon/sexual assault/battery): 1
• Open container in public park: 2
• DUI: 2
• Fraud: 1
• Residential burglary: 4
• Vandalism: 11
• Vehicle break-in/theft: 23
• Weapons: 0
• Drug/alcohol violations: 3
• Street robbery: 1
• Petty theft: 15
• Commercial burglary: 7
• Grand theft: 9
• Assault (with a weapon/sexual assault/battery): 7
• Open container in public park: 10
• DUI: 0
• Fraud: 4
---
Get the La Jolla Light weekly in your inbox
News, features and sports about La Jolla, every Thursday for free
You may occasionally receive promotional content from the La Jolla Light.